El Paso based interior designer, Lori McCuaig, makes her mark at an international design fair in the exclusive enclave of the Hamptons.
By: Ladonna Apodaca        Photography by:  Daniel Gonzalez Photography
Interior Design by: LMC      Design Group, Lori McCuaig, Allied Member, ASID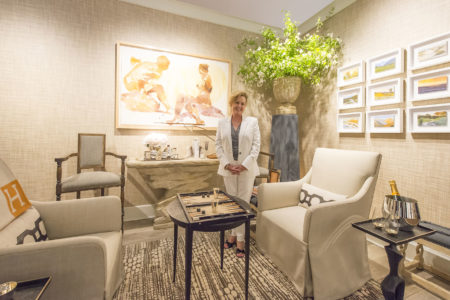 As an established luminary in the El Paso design community, Lori McCuaig has long been known for her classic style, (both personal and professional) as well as her seemingly effortless ability to transform her client's dreams into jaw dropping reality.
"Wow" factor is one of her trademarks.
With offices in El Paso, as well as the southern California community of La Jolla, McCuaig has honed her craft over the years, on a multitude of upscale projects both residential and commercial.  She has traveled the major markets extensively, as well as abroad, to shop for a clientele that has a discerning eye and very discriminating palette.
When McCuaig first read about the upcoming, first-ever Hamptons Contemporary design fair, her curiosity was piqued about LMC Design Group having a presence at an event intended to define the Hamptons domestic lifestyle.  The show would provide exclusive access to elite and influential Hamptons homeowners and a perfect opportunity to showcase her work on the east coast.  It was decided then and there, that this opportunity was not going to be one to be missed.
McCuaig promptly submitted her entry and much to her delight was in short turn, awarded an invitation to participate.  She would be among a carefully curated group of designers, prominent builders, architects and affluent home owners, many of whom are leading taste makers in the industry and in particular, part of the influential Hamptons community.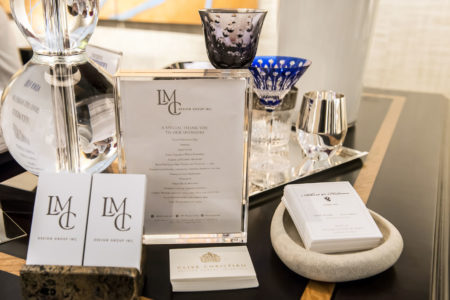 The criteria for the show was simple yet challenging … create an impressive contemporary vignette in a small space.  Most of the designers opted for the standard size space which measured a mere 8' x 15'.  McCuaig's space was double that size in length, and still it posed creative obstacles.
True to her craft, McCuaig came up with a design that would showcase her talent beautifully, as well as represent the high end vendors who agreed to lend their names and products to her creation.
The list of participants for McCuaig's space read like a who's who from the design community.  Hermes provided décor for the room in the form of a lamp, throw and tray.  Puiforcat, which is owned by Hermes, provided a magnificent sterling tea set, brought in from Paris.  Saint Louis crystal, another company owned by Hermes, lent uniquely designed stemware.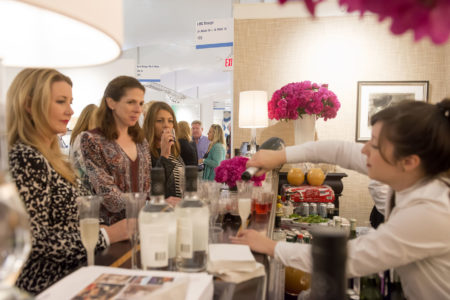 Paris Ceramics partnered to provide the wood floor, Albert & Holmes loaned the art behind the bar and the grouping of original framed plein air pieces that hung on a wing wall.   One of the focal points of the design was offered in the form of an original painting by Eric Fischl; The "piece de resistance" and common link for the vision of the whole space.
Architectural Digest sponsored the opening-night preview with an A-list host committee and a red carpet step and repeat.  A one-of-a-kind, hand-carved wooden bar by Clive Christian dominated one side of McCuaig's space, and was also one of the open wine and spirit bars for the inaugural evening.  As a key destination for a sumptuous cocktail, McCuaig's fashionably chic space quickly became one of the shows favored resting places as patrons lingered in comfortable linen chairs covered by a Lora Piana fabric, or played backgammom on a priceless set crafted by Puiforcat.
All in all, being part of the three-day event was an experience Mc Cuaig said she'll not soon forget.  Being in the company of a group described as "the most elite designers in the nation," is nothing short of a pretty big honor.  McCuaig deserves it though … she's that good.When asked how McCuaig would summarize her unique sense of style, she smiles demurely and defers to a favored quote by playwright and poet, Oscar Wilde…
"I have simple taste, only the best."