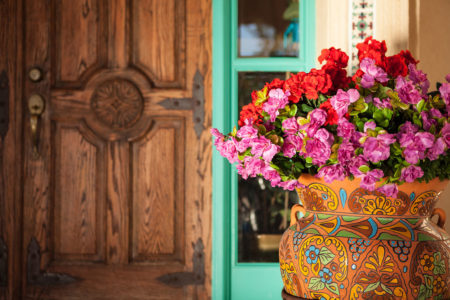 By: Meagan Kinley
Built in 1987 and purchased by the Giyanani family in 1992, this colorful westside house was originally built to reflect a Santa Fe/Southwestern style. Through the year's the Giyanani's decided to redecorate the home in 2006 to reflect the heritage of Old Mexico. Overlooking the region's beautiful mountains, as well as gorgeous valleys, the architecture of the space along with the Pella double-paned windows were designed to take in the fullness of the rich views. Designed by architect Ed McCormick and built by Cullers and Caldwell, the home is simply stunning.
Upon entering the home, the marble floors, beautiful stonewalls, and Canterra stone fountain welcome visitors into the estate and subsequently to a different time. The entry is also made grand by the delicate hand painted decorative windows that elongate the doors and allow light and nature to shine through into the space. If that wasn't enough of a welcome, the ornate custom wrought iron stairwell also dazzles the senses. Wood floors by Beto as well as Sautillo tile in the kitchen and living area spread through the house and adorn the floors, adding a splash of warmth, color, and heightening the sense of texture throughout the home.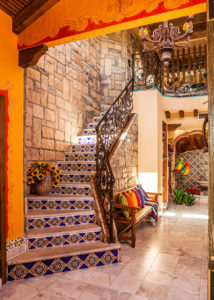 Winding through, the kitchen is equipped with two Viking stoves, a Sub Zero refrigerator, a Fisher and Paykel dishwasher, Kohler facets, and one-of-a-kind cement countertops. These combined with the continuation of stone and the unique hand painted Talevera tile seal the mission of this home and tease the senses with the perfect balance of function and aesthetic.
The color is not the only piece of this home that adds warmth, the house also has three fireplaces, one in the master bedroom, one in family room and another on the outside patio – further marrying the outside of the space with the inside. Light is also added in the addition of the large fixtures, imported directly from Mexico. These further the look and add a touch of stateliness that ties in the unique look of the furnishings. On the outside, the home boasts a tranquil custom built pool and an outdoor area with a covered patio overlooking the scenic Franklin Mountains. There is also a spacious the car garage. Overhead, the house is covered with classic Mexican Barrel tiles on the roof; while underfoot more of the striking tile, wood and vibrant pottery continue the motif, uniting the color of the true southwest with the vibrancy of culture.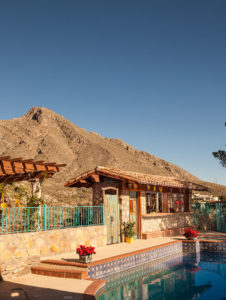 Altogether the house itself contains four bedrooms and four bathrooms. Each of the four bathrooms is fitted with Kohler sinks, bathtubs, and toilets as well as more of the same Talevera tile found in the kitchen. From the outside in, this space excites the senses and makes old colors become new once more, showing the many hues and the many faces of the luscious region it calls home.