By: Jamie Trubowitsch
A visually interesting— and well-stocked— bar cart can be your ticket to a great party. Both form and function work to your advantage, as the design can be a good conversation starter and the easy-access allows your guests to make their own drinks so you don't have to play bartender all night. There are so many ways to organize and style your cart, let alone choose what to stock, so here's a breakdown of the essentials.
Every successful bar cart should have glassware in a variety of heights. Consider a combination of a few types such as highballs, lowballs, champagne flutes, wine glasses, shot glasses, and martini glasses. It's always a good idea to keep a few jiggers on hand to measure out your alcohol, as well as a stylish ice bucket and tongs will keep your drinks perfectly chilled. Regardless of whether your favorite drink is shaken or stirred, you want to have the right tools for both; a shaker and stir sticks are must-haves. If your bottles are not all opened already, keep a bottle opener and corkscrew out. Pretty napkins and coasters are handy to have out to protect your furniture.
A bar cart is obviously not complete without drinks. It's best to have a variety of alcohol, but depending on your preferences you're going to want to choose things that you won't mind drinking afterwards. Consider a variety of staple liquors, such as vodka, gin, rum, tequila, whiskey, and vermouth, as well as mixers including tonic, soda, and bitters. If you're more of a wine enthusiast, maybe have a selection of wines instead. In any case, the more the merrier so feel free to include a mix of liquors, wine, and beer.
You have endless options for the aesthetic design of your bar cart. Whether you prefer something sleek and simple or colorful and creative, we have some ideas to help inspire the perfect style for you.
1. Color-Coordinated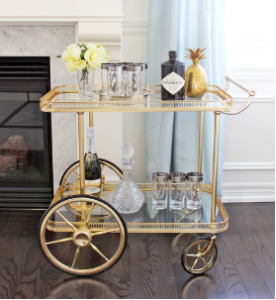 2. The Gentleman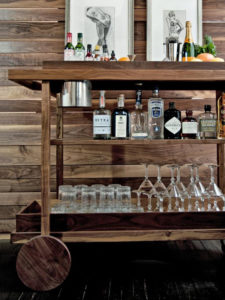 3. The 007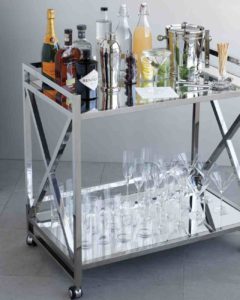 4. The Industrialist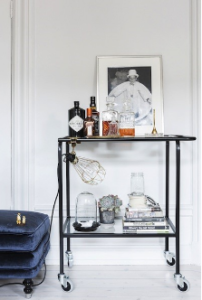 5. The Apothecary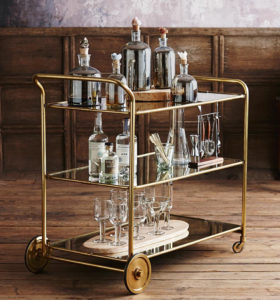 6. Eclectic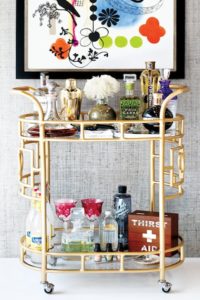 7. Festive Fiesta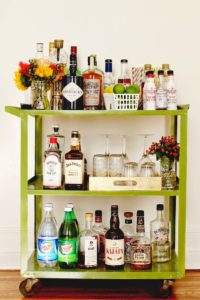 8. Rum & Roses