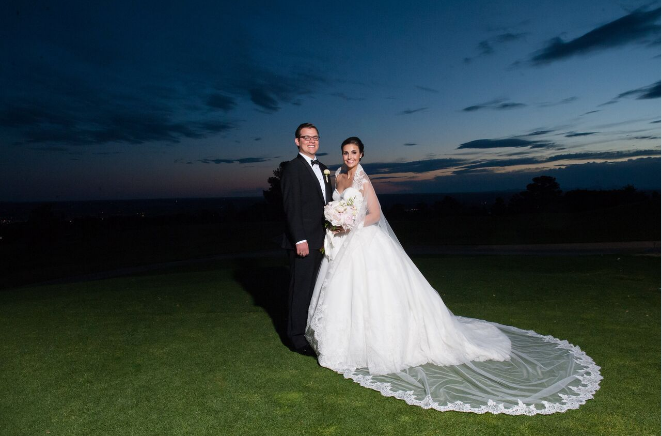 Every woman has thought about her wedding since she was a little girl. From the dress, the color scheme, the venue and certainly the ceremony delicatessen. We all have a pretty good idea about what we want: the size of the reception, a chocolate groom's cake and vanilla for the bride, and of course, potential honeymoon destinations.
Danielle Ayoub, a native El Pasoan, met her husband, Noel, right before their freshman year of college, where they both were attending TCU. She was in Austin at a party with one of her friends, who would later become one of her bridesmaids. She says she and Noel, a Houston native, hit it off immediately.
"We had such a good chemistry and we allowed ourselves to be wacky with each other. I have no recollection of what we talked about that night but I remember my friends said it was time to go home and I had not even realized time had passed."
After years of dating, Danielle and Noel wed May 24, 2015 and truly made a celebration of it. As a lifelong resident of El Paso, Danielle wanted her out-of-town guests to appreciate her family's traditions, as well as the beauty the city possesses. Her wedding extravaganza was a 3-day event.
"The first night was an amazing party at my aunt's house that was Mexican-themed, including a tequila bar, mariachis, salsa dancing, authentic Mexican candies and dinner served under the stars, overlooking the city," she said.
And, the festivities couldn't be complete without proper Spanish attire.
"All guests were asked to wear Mexican-themed clothes. I gave all the bridesmaids matching Mexican dresses."
The wedding venue was one Danielle grew up around. It gave a beautiful insight to the City of El Paso for her guests.
"Our ceremony was set on the tee box of the Coronado country club with the backdrop of the Franklin mountains, which is one of our favorite things about El Paso. We felt this was another feature of the city we felt was unique and our guests would appreciate."
For some brides-to-be, finding the right number to include in your wedding party can be daunting and often times difficult. But not for Danielle. She chose 15 of her closest friends to be a part of her special day.
"My big sister was my maid of honor. My other ladies were "honorary" sisters. All my relationships with them were in some capacity sister-like whether it was my child hood friends, El Paso friends or my sorority sisters," she said.
Danielle and Noel dated for nearly seven years before he popped the question. They tied the knot after a 10-month long engagement and had a thrill of a lifetime while on their honeymoon.
"We went on a European Cruise that Noel's family graciously planned for us. We both love traveling and adventures. The cruise was both we went from Barcelona to Italy to France to Monte Carlo, it was amazing."
Just like other married couples, the two have the occasional disagreement. Danielle says the best way to keep things harmonious is to never exacerbate the situation.
"We always give each other space and then come back in a cool and calm manner to figure it out."
Danielle's big day was made possible by a lot of talented people, from her photographer to her caterers. And, like most brides, planning can be tedious, exciting and chaotic.
"I was the most relaxed bride, but anytime I was stressed I reminded myself not to get caught up in the details and would remember the bigger picture which was that I was finally getting to marry my best friend," she said.
Danielle says the plan, right now, is to just enjoy life as newlyweds. She and Noel love to travel and are foodies, often going out to dinner with friends. The couple even has an Instagram account that highlights El Paso cuisine and foods native to West Texas.
Above all else, she says she is most grateful for her life partner.
"He is so loving and respectful to me and to the women in his life and I feel like that is what I really, truly, treasure about Noel."