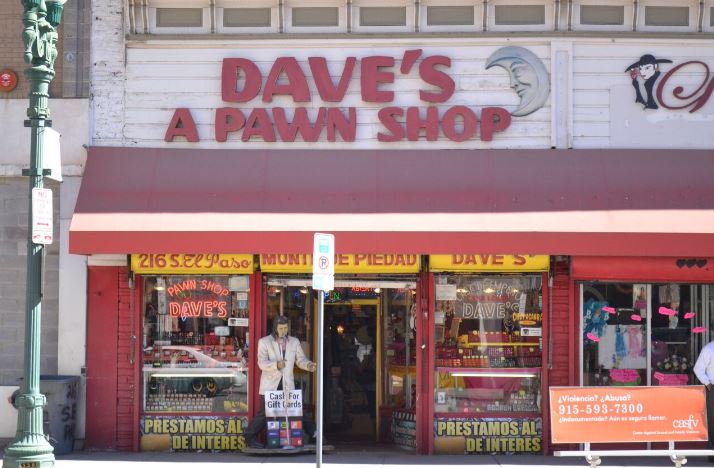 By: Jacqueline Aguirre
Dave's Pawn Shop, just up South El Paso street, right across music venue Tricky Falls, stands the last false-front store that first opened in the 1950s as a surplus store. Upon first approaching the store, a life-sized Elvis statue greets you with his signature dance move frozen in time. The windows in which the King of Rock 'N Roll stands between display the neon signs and eye-catching jewelry just enticing you to walk on in.
One step into the store, and you discover—this is not your ordinary pawnshop, it's a gallery full of some of the most interesting things—from the famed Pancho Villa's trigger finger, to a full sized mummy, Dave's is a collection of oddities.
As if this pawnshop couldn't be anymore be unique, on Sundays storeowner, Clay Baron, prepares for the transformation from Dave's Pawn Shop to Live at Dave's Sessions.
"I wanted to do something really cool, local El Paso," Baron says.
For Baron, who first filmed local artist Hope Riot playing a pawned guitar in his shop, to later hosting local band Lunas, this was only a small spark of what was to come.
After bringing in friends to take over the project, Baron expresses excitement over the new venture, "We have the video guys, the sound guys, and the musicians willing to do it, and the place. I'm more than happy to open up," he says.
The three people behind the sessions at Dave's include Javier Caballero who works with audio, and Rudy Parra and Frank Delgado, who both work on film. The collaboration stemmed from their preexisting interest in the collection store, and expressed desire to film bands in the shop.
"We realized that nobody in El Paso was really doing anything like this, it's weird," Caballero said.
After what was an "abrupt start" as Delgado mentioned, they all detail how quickly everything began to occur, and added that they were rolling with the punches and learned through experimentation.
Their main goal aside from developing a more refined video, is to present a positive light on the artists and on Dave's Pawnshop through storytelling.
"We wanted to highlight the uniqueness of the shop, because not a lot of people know it exists, as well as the artists in El Paso," says Parra.
Baron, who is present at every video session, is very inclined to move items in the store around, or fix lighting issues, while trusting the group to do anything to "make sure it's done right," he says.
Caballero, Delgado, and Parra communicate their gratitude for Baron's passion to help shoot another great video, and even consider him part of their team. Baron, who involves himself in their efforts as much as he can, even picks up a camera at times to take still shots of the set.
Once everything is set up and there's a game plan in place, they finally get to filming, Baron details that each time they film a band, people begin to stand outside behind the entry gate, peering in to settle their curiosity.
"As they're playing, a lot of people come up to the door, and watch through the gate—it's a lot of fun," Baron said.
Curiously enough, the rest of the group also noticed the random people stopping by to watch. Caballero tells about a time in particular, while taking a break during filming late one evening, someone walked all the way into the store to check out the items inside, "The shop was obviously closed, and this guy just goes in, and starts jamming out with the band, it was kind of cool," he said with a chuckle.
Their passion in having live sessions at Dave's Pawn Shop has attracted a lot of attention from many people. With music from artists like Austin North, Foxy Mojo and Hot Shot Kixxx, and others who have already filmed in the shop, the team has earned thousands of views on YouTube. They enthusiastically vocalize the heed from other local artists interested in shooting a video of their band in the shop.
In their future endeavors, the team hopes to continue in their efforts of filming in the pawnshop, while highlighting other artists, and stories, while keeping everything local.
"We want to highlight El Paso as a city, and the businesses, as well as the artists," added Parra who believes that Dave's Pawn Shop is unique and fascinating, even calling it the "Ripley's of the city."
Live Sessions at Dave's are set to release a new video featuring Alabama Deathwalk, and like Dave's Pawn Shop, this project is something like you've never seen before.