By: Shelley Mozelle & Jennifer Ross
Photography by: Dav Anmed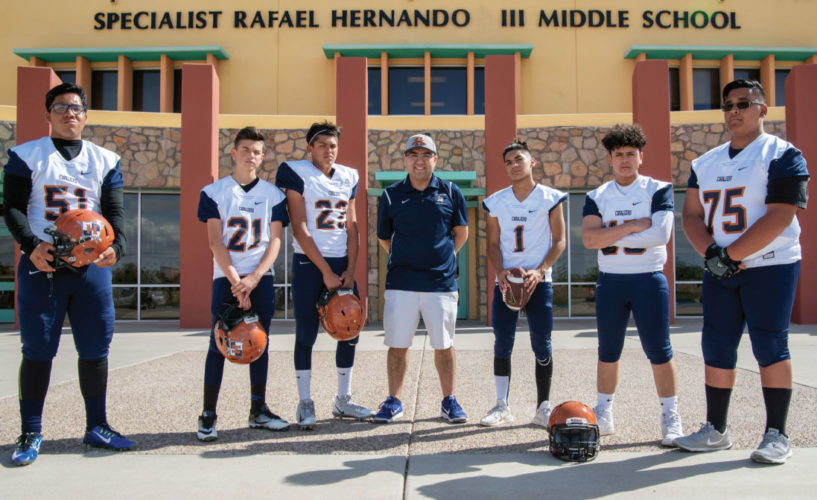 Eric Palomares, Assistant Football Coach at Hernando Middle School in Socorro Independent School District, woke up to just another day, excited about the Friday night football game. It was August of 2016, and little did he know that average day was soon to take a turn. He would suddenly be thrown into the spotlight during an almost tragic event at his team's football game.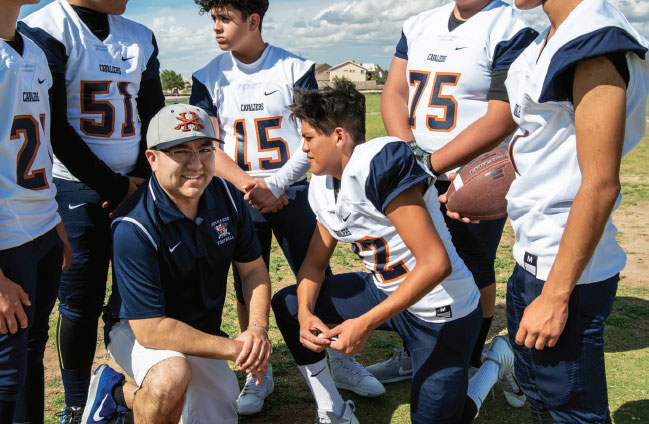 Although all coaches are certified in CPR, Coach Eric Palomares came to the team with a strong background in the medical world. After graduating Bel Air High School, where he studied EMT in their magnet program, he then attended UTEP and aspired to be a doctor. He studied pre-med before discovering that passing the MCAT was tougher than he thought. Eric got a job working as an EMT for a private ambulance company, which he did for four years. As life took its turns, Eric eventually found his love in the world of coaching football, never realizing the importance and more so, the purpose his EMT background would have.
It was during the football game, after a helmet-to-helmet crash, that the head coach yelled "player down" and motioned for Eric. When he reached the player, the words "head injury" came out of his young mouth, his voice diminished, his eyes closed and then he stopped responding. Eric went into high alert and since the player was laying head-first, he took precautions and held his neck to rotate the young man. There was no pulse and his breathing had stopped.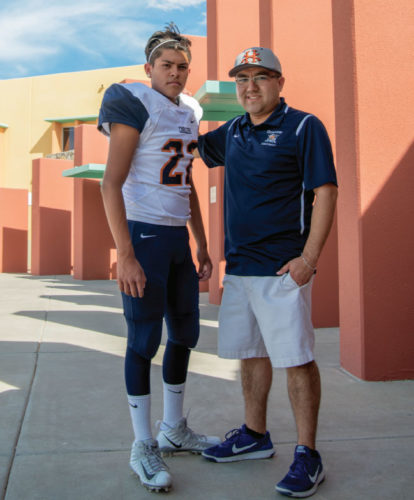 As Eric describes it, he went into the zone; he says it was as if he stepped out of his body. He began CPR and fought to save the young football player's life. He yelled for an AED, but it was locked inside the school and time was of the essence. Eric kept asking how far away the ambulance was knowing the clock was ticking. The crowd gasped, minutes passed as he continued CPR while waiting for the ambulance. When they finally arrived, the young player had a pulse, but his breathing was sporadic. It wasn't until the ambulance took over, placing the player on the stretcher, that the coach realized the gravity of the situation. It was only a few years ago that he'd lost a 15-year-old young man in similar circumstances. "It was real sentimental to me," he says, "because I've done that at work before, but I've had no emotional attachment to someone that I've done that for. When I saw him, and [knew] how hard he and all of my players have worked all year, it was surreal."
After the ambulance left, Eric started picking up the medical equipment that was scattered from the intense situation when he realized that no one was helping him. When he looked up he saw that those around him were standing in shock, staring at him. They called the game, something that only happens when things have gone bad. They had just watched their teammate escape death and then watched as their coach resuscitated him. Without Eric and his experience, the outcome of this situation would have no doubt been grave. He was soon hailed as a hero for his quick response in saving his player's life.
I asked Eric to remember what happened next and he said he took some time before going to the hospital. He rode with his players on the bus back to the school. When asked how the players were, he said, "They were all devastated." He adds, "Unfortunately, it was an away game, so on the bus ride home they looked at me to explain the whole story and it was a very teachable moment to them. I explained to them that you never know how fast your life can be taken away and you've got to enjoy it. And even now with my students in my classroom, I teach them to work hard to prepare for things. I tell them to do the best to their ability."
Two and a half hours later he got to the hospital. "I expected the worst and he's there laying on the bed, he's awake, his eyes are open, he couldn't recall anything that happened," Eric says. "It was nice that I was the first one that talked to him and explained what happened."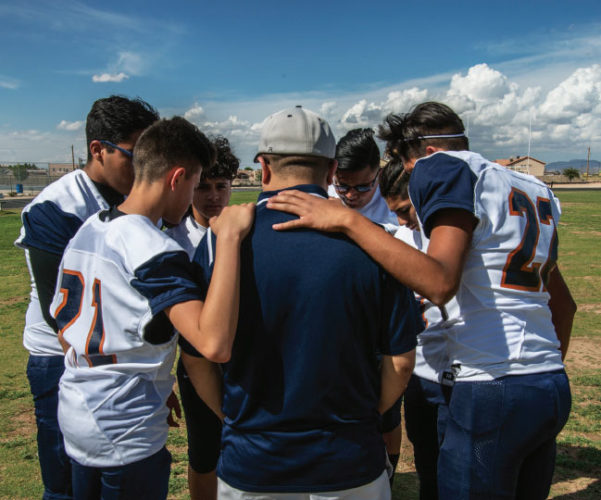 For a brief minute during the photo shoot, we were able to talk to the young football player who almost lost his life on the field that day. I asked him what he remembered and he laughed and said, "It was the second quarter, I was playing a 2.1 conversion and I made a couple of hard hits." He remembers waking up in the ambulance and hearing his mom crying. I asked him if he could describe the bond between himself and Eric. The young football player said, "I want to say a big thank you, give him a hug for saving me. He saved my life, I thank God for this man and that he's here." When asked if he'll play football again he says, "Yes ma'am."
Our writer Jennifer Ross also got to interview the heroic coach.
JR: Why did you become a coach?
EP: I wanted more one-on-one time to motivate them and get the best of them. I didn't speak until I was five-years-old. They wanted to put me in Special Education. My brother was older than me and he would always answer all of my questions. We were always together. But my kindergarten teacher is the one who worked with me. She spent a lot of one-on-one time with me. Fortunately, it was a small Catholic school. She brought out the best in me.  You need time with students outside the classroom and that was the best opportunity for me. I started as assistant coach at the Catholic school and it made me happy. They need good role models.
JR: Were you involved in sports or extracurricular activities as a kid?
EP: Yeah, just in middle school. I wasn't that good. That's what makes me a better coach. I went out for seventh grade football, tried out for all the sports and didn't make anything except football because they didn't make cuts. So, I made the team and stayed on the team in eighth grade because I loved football.
JR: What is your favorite part of the job?
EP: Impacting students, not just my subject, but about life. You never know when you'll be given an opportunity to be successful. I tell them once you find something you love, you'll never have to work a day in your life.
JR: What do you want people to know about you?
EP: I don't want to be recognized. I'm actually surprised I said yes to this interview, but I think when you do your story, people will see who I am as a person.
Thank you, Coach Eric Palomares, for being ready when life threw a curve ball, specifically, to you on that hot August evening.