By Lauren Macias-Cervantes, Photos by Dav Anmed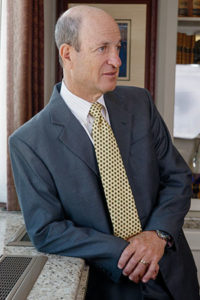 Nobody likes conflict, especially in legal matters, but Stuart Schwartz is recognized as the expert in resolving conflict in commercial litigation and creditors' rights. The fourth generation El Pasoan has been practicing law for nearly four decades—all at ScottHulse Attorneys at Law. 
"I come up the same circular driveway into the bank building that I have for the last 38 years," said Stuart. "El Paso's always been important to me and my family in terms of its development, its growth, its vitality." 
Though Stuart has a brother and sister that are also attorneys, his roots are in retail. Remember The Popular department store? It was the Schwartz family business. Stuart remembers working summers at the store warehouse and special sales days at the stores, but knew retail wasn't his career of choice. 
 "Going into the department store business was not something I really considered, because I couldn't put a pair of pants and a shirt together," he said smiling. "I figured I was not the right person for that job." 
 His great-grandfather, Adolph Schwartz, immigrated from Hungary to the United States and came to El Paso in 1883. El Paso's population was less than 10,000, and the elder Schwartz would soon help the city grow. In 1902, he opened the family's first The Popular retail store. The retailer became El Paso's largest locally owned department store and expanded to four locations before closing in 1995. The original building downtown still stands today.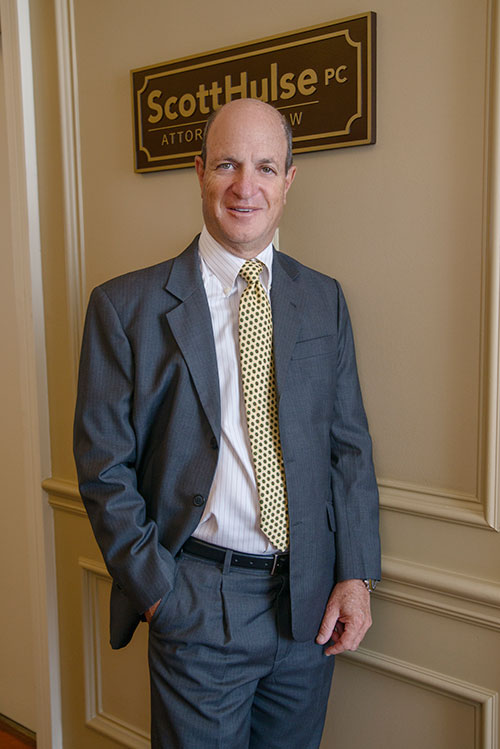 Stuart chose to move away for school—first Northwestern University for his bachelor's in political science, then Southern Methodist University Dedman School of Law for his Juris Doctor in Law. Without hesitation, he returned to his hometown to put his degrees into practice. 
"I never really considered practicing anywhere else or not returning," he said. "This is home to me and will always remain home to me." 
He says assisting clients in resolving disputes is most rewarding about his job. He finds ways to achieve mutual goals by educating clients and considering the risks and rewards, making sure his client is aware of the challenges in pursuing a certain course of action and knows their options. 
 "I thought I had the gift for gab," recalled Stuart when asked why he decided to become a lawyer. "I enjoy associating with people, being around people. I thought I could make a difference by practicing law." 
His career is filled with accolades and accomplishments. Stuart credits his success to choosing his specialty of commercial litigation and creditors' rights and gaining recognition statewide as resident expert. 
Stuart currently serves as lead editor of the three-volume Texas Collections Manual published by the State Bar of Texas and is one of only two attorneys in the state of Texas board certified in Creditor's Rights by the American Board of Certification.  He is also a Senior Fellow in the Litigation Counsel of America; it is a prestigious post as membership is awarded to less than one-half of one percent of American lawyers and is by invitation only. Senior Fellows are selected based on effectiveness, accomplishment, dedication to the goals of the organization and superior ethical reputation.  In addition, Stuart has been recognized as a Texas Super Lawyer from 2010 through 2017.   
Though his schedule is demanding with court dates and deadlines, Stuart finds time to be a frequent lecturer for the State Bar of Texas on creditors' rights topics and contributes to his community.  
 "Community service has always been important to me and my family, and has for generations," he said. "My great-grandfather, grandfather, and father all served as president of the Greater El Paso Chamber of Commerce.  My grandfather, Ervin Schwartz, was a founding board member of Providence Hospital; my father was president of the Symphony, on the board of Providence for years and chaired the El Paso Housing Authority.  In addition, all three have played major roles at Temple Mt. Sinai, each serving as president of the congregation.  My mother volunteered at Providence for over 20 years.  Shari, my wife, also served as president of Temple Mt. Sinai a few years ago and has served as president of the Junior League."   
 Philanthropy is also part of the ScottHulse culture.  
Currently, Stuart is Capital Campaign Chairman for El Pasoans Fighting Hunger Food Bank. He previously served as president and treasurer of the Jewish Federation of El Paso and vice chairman of the El Paso Public Television Foundation. 
"For me those types of efforts are equally important, and should be for everybody, to reach out and not be isolated or insulated by their work," he explained. "It is important you have a balance of family, work and community involvement and I think I found my balance." 
His contributions also stem into local politics, having served as County Commissioner (appointed) and as past chairman of the El Paso International Airport Board of Directors. He is also the current chairman of the City of El Paso's Ethics Review Commission.  
 "I thoroughly enjoy my civic and community involvement and I find it to be a critical aspect of who I am. It fills a need for me." 
 Making a difference in El Paso is a non-negotiable on Stuart's priority list. He genuinely cares about the city's future. 
"I want to continue to live here and watch El Paso grow and be a part of that growth." 
Recollection of the Borderland's development he witnessed growing up includes vivid childhood memories of attending Sun King baseball games at Dudley Field with his grandfather. 
"His one rule was if one of the Sun Kings hit a homerun, he bought you a hotdog," said Stuart. "There were several games when I was downing too many hot dogs." 
Today Stuart takes in an El Paso Chihuahuas game at Southwest University Ballpark occasionally and would like to see more social opportunities like restaurants and bars, where people can congregate, in the vicinity. 
"I'm excited to see people downtown, watching people mill around the new San Jacinto Plaza is really inspiring for me," he said. "You have entire families coming back that haven't been here for years." 
 As for Stuart's family, he and his wife Shari have two sons, two grandsons and a 14-year-old miniature Schnauzer that loves carrots. Shari, who earned her master's in education, recently retired from the El Paso Independent School District. One son lives in Austin, working in real estate development, and the other in Washington, D.C., working at the U.S. Department of State; the avid golfer and cruise enthusiast is glad his children were raised in El Paso. 
"We need to show our appreciation by making El Paso a stronger community than it already is. I love the Mexican-American culture, the mix of El Paso. I love the fact that everybody gets along so well. I think it was a real benefit for my children to be able to grow up in that environment in public schools with friends of all different backgrounds, it makes El Paso a special place."