By: CHRISTINA CHITTENDEN
photos courtesy of: DOTVIDEO DESIGN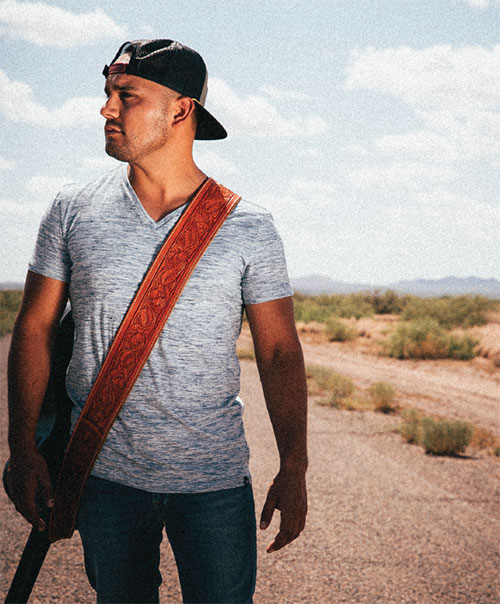 While local musician, Frank Ray, thoroughly enjoyed being a Las Cruces Police Officer, he always knew that his career was never going to fulfill his dream of being a country music star.
"The music industry really started to take off," Frank said. "I decided it was time to roll the dice and give it my all." After talking it over with his fiancée, Emily, they did some number crunching and determined what they would need to do to survive if he wanted to become a full-time musician—and the rest is history in the making. "I had an incredible amount of support from the police department, which I truly appreciate, and things have just been great so far," Frank added.
Although his love of singing and passion for music has roots that run deep into his childhood, Frank decided to pursue a career in law enforcement after college, becoming an officer for the Las Cruces Police Department. As a kid, Frank's mother always encouraged his love for singing and he was constantly involved in every choir opportunity he could let his voice be heard on. "At that point, it was just a hobby—it wasn't something that could pay the bills," Frank explained. "I eventually started to establish myself and began a band in Las Cruces which started to achieve a lot of notoriety. We had the privilege of opening for a number of acts including Craig Campbell, Keith Urban and Mark Wills. Playing on stage in front of 10,000 people was by far the most pivotal point in my career." Things started to really take off and get serious from then on. After wearing the badge for ten years, in addition to following a thriving life as a musician, balancing two careers became extremely difficult. Frank decided to take a different shot on life and sought after his passion of making it big in the country music industry.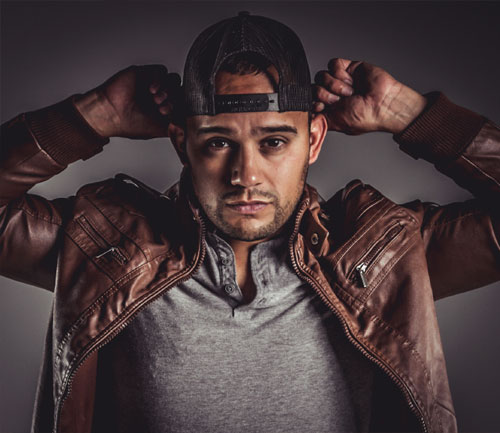 After meeting with the group of awesome guys at White Knuckle Productions, coordinated by Oscar Chavira, Frank left his band in Las Cruces to pursue his career in music full-time. "As much as the band enjoyed what we did, unfortunately it wasn't as easy for everyone to leave the stability they had back home." In the last few months, Frank has done more traveling than he has in his entire life—from Nashville, Tennessee to Panama City Beach, Florida, the upcoming fall months have even more places in store, as he makes his way to Buffalo, New York, Kentucky and Nevada. "My fiancée was used to traveling and has been all over the place, so she adores my newfound hobby of collecting magnets from all of the places I get to visit," he laughed.
Frank met his beautiful fiancée, Emily, about three years ago at an event which she had arranged as the marketing director for a company in Las Cruces for his old band to perform at. "When I got there and met her, I was like 'Woah' and my persistence paid off because now we are getting married next year," he said.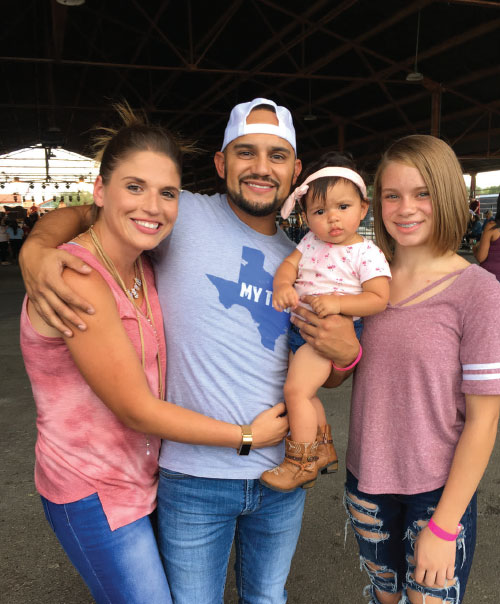 For Frank, family is everything. As a father of two daughters, it's important to him that they understand his perseverance and drive for pursuing what his heart was set on. "My daughters admire what I am doing so much," Frank said. "With that being said, one message I'd love to put out there for those with big dreams and aspirations is to GO FOR IT, take a chance and bet on yourself. You have to possess the confidence that things will all work out. It's important for me to share my story—yes, I was a cop. Yes, I had a stable life. Everything was lined up, but ultimately I was just going through the motions. I really just want to drive home how important my family's support is, as well as my band and the people that follow our music. Everyone that makes it possible by putting forth so much effort to make everything happen—that's what truly keeps me going."
Frank's current top hit, "Every Time You Run," reached 77 on the charts, an unheard-of amount for a new artist. "It's something we are really proud of," Frank said. "It can take weeks to come out on the Top 100, so for us to debut at this number, it really created a buzz—and I could have never anticipated that it would come out on the Top 40, but it did, so now we are really getting a lot of attention from other stations which is so exciting."
Frank expressed his heartfelt compassion for the recent events in Las Vegas, Nevada and the devastation of the tragedy. "I have seen my share of violence throughout my law enforcement career, but when you see something like this it just really puts you at a loss for words," he said. "It hit people on a scale that's just inexplicable—people go to these festivals for fun and now there will always be an element of fear. It's truly heartbreaking."
So, what can we expect from Frank Ray in the near future? His eventful 2017 lineup, which concludes in Reno, Nevada is part of a college showcase, which he says will likely shape his schedule for the coming 2018 year. He will be opening for country music star, Mark Chesnut, in Vidor, Texas on February 16, 2018. In addition, Desert Entertainment, one of his booking affiliates, is currently lining up a city tour in March 2018 which will host other up-and-coming artists. His plan is to continue to hit radio stations around the country and promote his hit single, "Every Time You Run" in between several other small gigs.
To see updates and tour information, follow Frank Ray on Facebook or at www.FrankRayMusic.com!