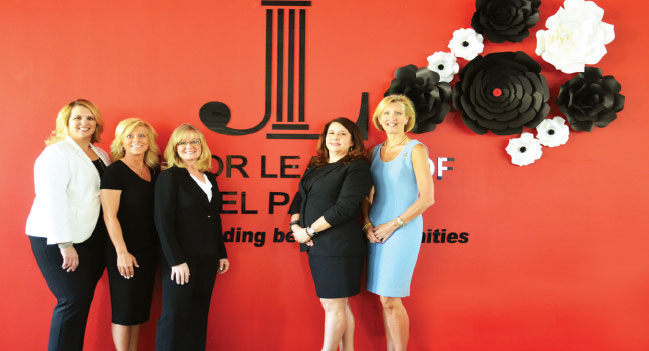 By: Clarissa De La Torre
he Junior League of El Paso Inc. (JLEP) has a rich history of serving our community spanning many decades. Officially established as a chapter in 1933, our goal has always been to prepare our members to be effective leaders and dedicated volunteers in our community. We have accomplished this and so much more. Today, our organization consists of more than 500 members. We are professional women who work full-time jobs and are mothers and wives. We are a diverse corps of women who empower one another and we rise by lifting others.
Our members carry on this proud tradition to this day by dedicating their time, talents and energies to countless hours in identifying the critical needs of the community, raising awareness, fundraising and executing community projects to meet those needs. In fact, each year our volunteers give approximately 26,800 hours of volunteer service worth an estimated $630,000 to our community.
In November of 2017, JLEP will be celebrating its 44th year of "A Christmas Fair", which through a combined 7,900 volunteer hours, nets an estimated $250,000 to be used in projects and programs for the El Paso community. We hope to catch you being "Merry & Bright" at this year's highly anticipated event, sure to wow shoppers and visitors alike with over 230 merchants, tons of entertainment and great food, an exclusive preview party (including both a live and silent auction), private shopping experience, two children's parties, photo opportunities and pictures with Santa.
For over 85 years, we have welcomed women who exemplify our commitment to voluntarism. We guide them and provide training, which has enabled countless women to reach their full potential as individuals and community leaders. Through our community projects and programs, the women of JLEP have seen firsthand not only the positive impact we can create, but also the true power of women building better communities.
If you're interested in joining JLEP and want more information about our projects, visit www.jlep.org.