By: Krysta Ayers
Photos By: Sharilyn Wells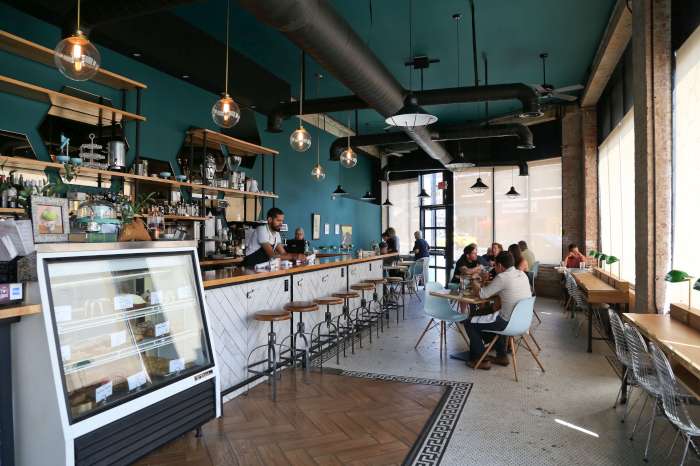 There is something to be said about walking into a well-decorated and thought-out space. It makes the space feel complete, whole, inviting; it makes you want to stay awhile. This is what I've found with Salt + Honey Bakery Café. Just like the atmosphere, it's hard to describe what exactly Salt + Honey is in just a few words. It is a bakery, a breakfast and lunch spot, a place to grab a coffee or—if you're in the mood—a beer or wine. It is also a place to relax or get some work done.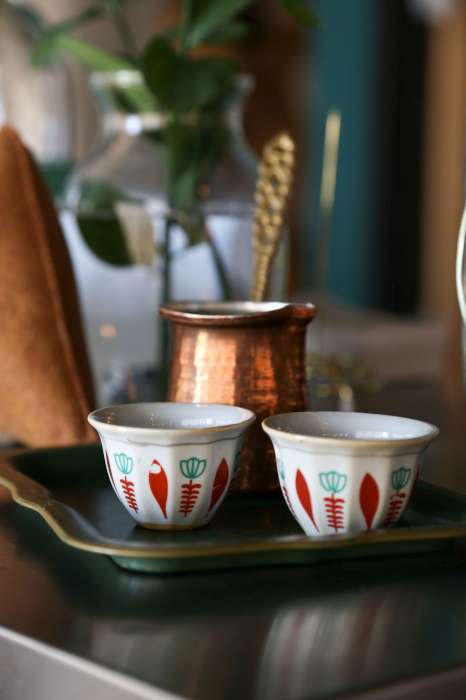 Upon walking in, you are greeted with the original white honeycombed tile of the 1922 building, a bright and welcoming atmosphere and the perfect shade of teal splashed against the walls. The original brick is also on display, giving a peak into history and a sense of the industrial look that the owner, Maggie Asfahani, was looking for. Along the bricked wall on the left-hand side, two larger tables—for bigger parties—are sandwiching a living room set consisting of a large tan leather couch (perfect for photos), a simply stated rug, a wooden coffee table and two modern chairs. It is something you have probably seen on your Pinterest or Instagram feed. This section is quite literally honeycombed off—two tall honeycomb shelves are used as dividers—one from the bar and the other from the entrance. It is a tasteful nod to the name of the café. "The name came first and the concept of the honeycomb came after," says Maggie. She divulges that this has been a dream of hers since the young age of eleven.
In the center of the café, the big area that your eyes are immediately drawn to, is the custom-made bar. This is where you can easily order a coffee to-go and salivate over the baked goods on display, all of which were baked or created by Maggie herself.
"[In the name itself] I wanted something that reflected something natural, earthy, sweet," recalls Maggie.  She adds, "[I was] first thinking of a place for writers and artists." Which is why the café almost got named Ink + Honey. It is also the reason that there are plenty of outlets around, as well as a lot of places to sit.
For the design of the café, things came together pretty easy. Since I was lucky enough to sit with Maggie's architect—who also happens to be her brother—and designer, I was able to get more insight on how the process unfolded. Rida Asfahani, owner of Roots Architecture, and his designer, Sammy O, were very instrumental in making Maggie's vision a reality. One thing that can't be stressed enough, is how many people were involved and collaborated for this space.
"There's a lot of components that go into [constructing a business]. I think that a lot of people don't understand how hard [it is to start a business] and how many moving parts there are, and to do something like this is really difficult. This is your savings, your life's dream, a complicated project, but a part of El Paso is rebuilding. This is a community-building thing," said Rida.
Since Maggie had dreamt this for years, her passion and vision was very clear. "Maggie had a certain aesthetic that she wanted: a midcentury French café, and [we made] that more modern with the chairs and even the lights," says Sammy on how easy it was to collaborate with Maggie.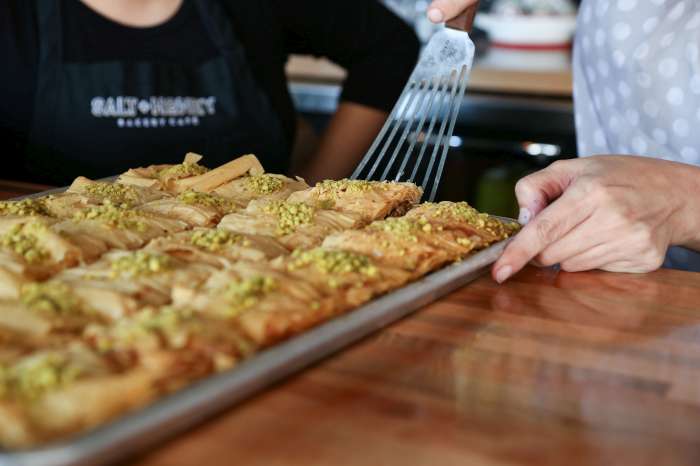 "I had an idea of what I wanted and I've been blessed with the opportunity to have traveled a lot so I had kind of absorbed from the places that I have gone or [from] Instagram accounts with a specific aesthetic in mind. Then I would see those in real life, especially when I went to both England and Australia. [Sydney] has a very robust brunch culture, it's very summery. It's very LA, but even more relaxed," says Maggie. "We actually had customers that came in from Sydney and they told us it reminded them so much of home," Maggie adds proudly.
The food that is served is not to be overshined by the interior design, though. From the baked goods to the lunch items, everything has a mixture of flavors that your taste buds will greedily beg for. Maggie tells me she does have a flavor profile that she tries to stick to for her recipes. "Fresh, comforting, slightly Lebanese," responds Maggie with a laugh. "It comes from me being Lebanese but also growing up on the border, and also having traveled a lot."
Though the construction process took about a year, it has all been worth it in the end. The history of the building has been restored and now a new layer of history can start as part of the Five Points area.
"If it weren't for Christina [from Joe Vinny and Bronson's] … she's the one that brought the spotlight for everyone to come back. I really feel that they were the pioneers in seeing what the area was and getting people excited to come to Five Points. And the more businesses pop up, the more people will be attracted to the area and it'll be more business it'll be for everybody and more success for everybody," concludes Maggie.
So, find yourself surrounded by friends, or in a corner of solitude with your book or computer, and enjoy the many delicious local things that Salt + Honey has to offer. Most likely, you'll see Maggie in the back, baking something great (and slightly Lebanese) for you to eat.