By: Kayla Melson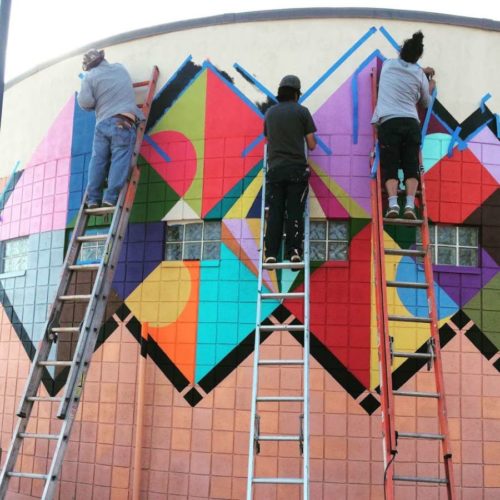 Blank. Plain. Ordinary.
That's how many south-central El Paso residents would describe the geometric exterior of their local Clardy Fox Library—until one day, a burst of color graced its walls.
Artist and longtime neighborhood resident Adrian Lopez unveiled "Color Burst" in July after spending nearly three weeks creating the mural using funding from the Museums and Cultural Affairs Department (MCAD).
"This award was … a blessing because it got a lot of things started and there were a lot of things that fell into place in a very good way," Adrian says.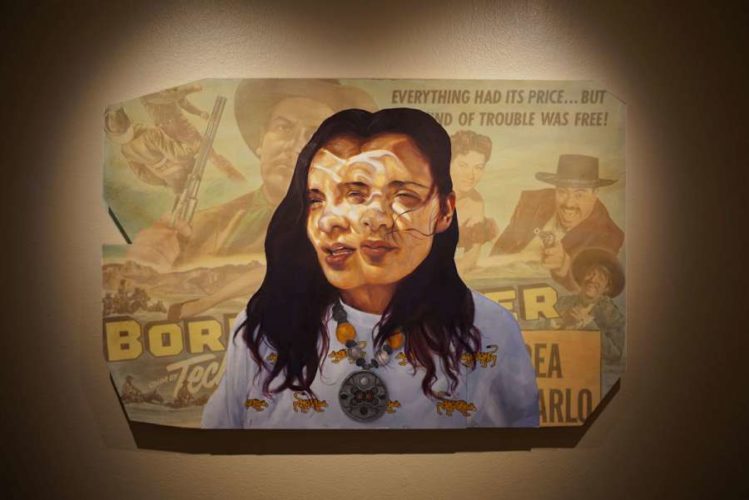 Adrian, 29, received approximately $2,000 from the department's Artist Incubator Program, an initiative that aims to individually help local artists. That money, along with paint donations and the help of more than 40 volunteers, allowed the native El Pasoan to handcraft the bright, angular piece of art.
"I didn't make a whole lot of money out of this," Adrian says with a laugh, "I look at this as a gift to my neighborhood more than anything. But, in the long run, it is going to be something that pays off."
Since its establishment in 2011, the program has helped dozens of local artists by awarding up to $3,500 to each accepted applicant. Artists have the entire funding year, which ranges from September 1 to August 31, to complete their paintings, murals, drawings, films and other pieces.
"The Artist Incubator Program gave me the opportunity to create new work and grow as an artist," multidisciplinary artist Laura Turon, another recipient of the program's funding, says.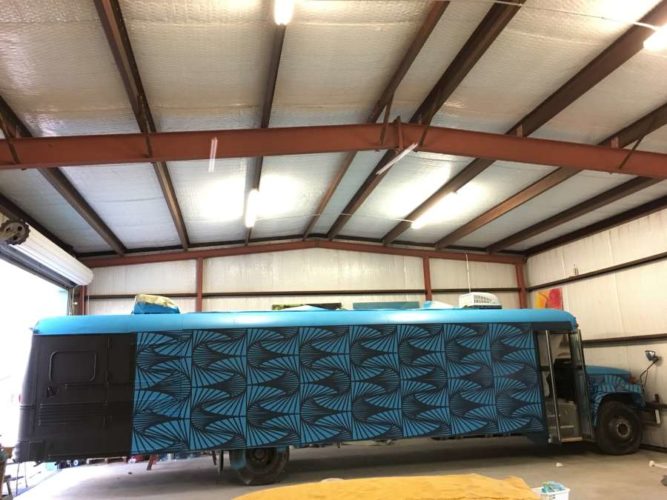 Laura, 29, used her allotted $3,500 to create "Paradox," a mobile art display. Debuting July 27, the school bus-turned-exhibit features Laura's handiwork on its interior and exterior—the inside is completely covered with LED-illuminated paintings and drawings while a detailed blue mural adorns the outside of the bus.
"I was very excited and motivated," the UTEP alumna says, remembering when she first received her acceptance letter. "I had been working on my project for a while and needed funding for [it]."
Two-time grant recipient Zeke Pena put his funding towards creating two interconnected works that explore border community life—including immigration, border wall, and the Rio Grande— through paintings, drawings, photography, and videos. "It really encourages you and inspires you to make good work," Zeke, 34, says of receiving the funding. "Personally, it was really critical for my development."
Since completing the projects, the interdisciplinary artist has displayed his work in numerous exhibits across the region, and has even made appearances in national publications such as Vice and Remezcla. "I really feel like the grants are longer than just the years that you get them in," Zeke says, "the work continues to live and you have other opportunities to show [it]."
The native Las Crucen, who currently occupies himself with graphic novels and other narrative work, hopes the program will expand to help other local talent. "It's a stepping stone for a lot of people," Zeke says. "It's a huge opportunity, especially in a community like El Paso where we have very limited resources."
The Artist Incubator Program is just one of five initiatives that falls under MCAD's Cultural Funding Program, which helps financially support local art, music, and culture. In fact, the city-run department, which oversees and operates many of the city's museums, festivals and public art functions, is part of "the only municipality in Texas that grants money out to individual artists," MCAD's Cultural Development Coordinator Rebecca Munoz says. "It's something very rare."

The Artist Incubator Program and other granting categories listed under the Cultural Funding Program—the Operating Support Program, Project Support Program, Community Arts Program, and KicksART Downtown—collectively account for 25 percent of MCAD's entire operational budget.
"It's something that we're very proud of here at MCAD – the ability to really support the growth of local artists … and the ability to fund new work," Rebecca says.
The five programs help fund artists, art education, arts and crafts shows, as well as popular attractions like El Paso Opera, Neon Desert Music Festival, Music Under the Stars, El Paso Marathon and more.
Thanks to increased community outreach efforts, applications for the Cultural Funding Program saw a 15 percent increase this year over last – a trend Rebecca hopes will continue. "We're always seeking different ways to reach out to the local community and to get more local artists involved in our programs."
Anyone interested in applying for MCAD funding can visit http://mcad.elpasotexas.gov/arts-funding.