By: Denise Nelson-Prieto Photography by: David Parish
Drew and Jamie Frank, 13 and 12 respectfully, have kick started a sneaker revolution in El Paso.  Kickpin, a sneaker pop-up, located at The Shops on Mesa, offers one-of-kind, limited edition, rare shoes and clothes a couple of times each month.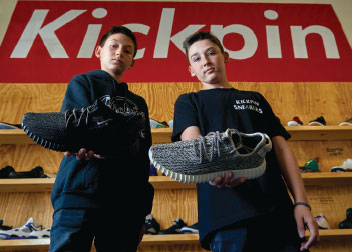 These brothers have honed their entrepreneurial spirit, which started as a love for shoes and blossomed into a highly successful business. They have now joined the ranks of "kidpreneurs" the world over.  "We always wanted to do something with shoes,"  said Drew. "My brother and I have loved shoes our entire lives, and there was nothing like this in El Paso. We wanted to bring something different to the city."
The impetus to establish Kickpin was also nurtured by a deep-seated entrepreneurial proclivity, which stemmed in part from the boys' grandfather, Gerald Rubin. He is the founder and CEO of beauty supply behemoth, Helen of Troy. He stepped down a few years ago after manning the helm for 46 years and is now CEO of River Oaks Properties.
"He was the CEO and founder of Helen of Troy," said the boys' mother, Dana Frank. "But when he was 16, he started a beauty supply business with his brother."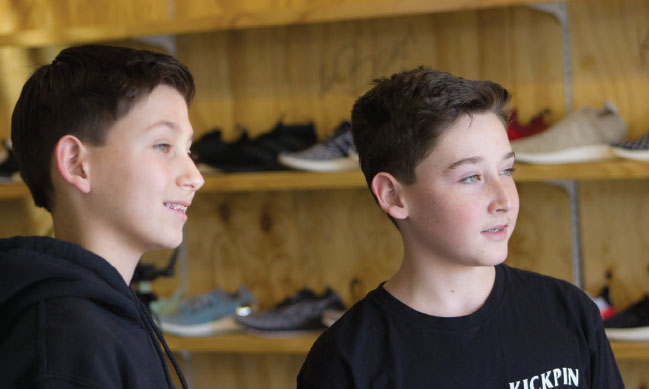 For the Frank brothers, seeing their grandfather's hard work and determination, along with his encouragement to start their own business, quickly established a platform for success.
Kickpin launched last December and was quickly determined to be the "It" spot to buy shoes. Kanye-created Yeezy's, Adidas, Nikes, Jordan's and other popular brands line the shelves. The boys even managed to get their hands on a pair of Yeezy's autographed by the creator himself.
The seemingly overnight success of Kickpin, fueled by the ubiquitous buzz of social media and good old-fashioned word of mouth advertising, even reached the ear's of some of the nation's top recording artists.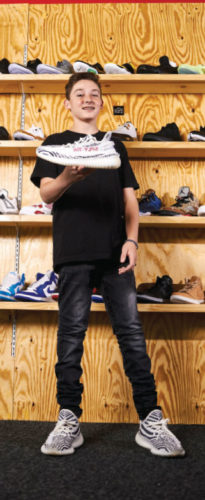 Trap-rap heavyweight, DJ Carnage, with rapper Lil Yachty in tow, used Kickpin as the setting for their meet and greet session prior to their performance in El Paso in early February.
"[Carnage] was performing here that night and decided to sell his merchandise at our shop," Drew said. "Lil Yachty also came—it was crazy."
"Location" sensation, chart-topping superstar, Khalid, dropped by the store before his hometown gig at Tricky Falls the same weekend.  The Frank boys show no signs of slowing down with their business. Their website launches this month, as well as the Kickpin Foundation, which will utilize a portion of the shop's sales to purchase shoes for kids in need.  The idea of the foundation originated from a charitable gesture by Drew last year.  "I used all my Bar Mitzvah money to buy shoes and socks for kids less fortunate than me," he said. "We're going to start a Kickpin Foundation to continue this."  The boys partnered with the Braden Aboud Foundation last year and bought socks and shoes for all the students at Bealls Elementary School, some children at the YWCA shelter and the Lee & Beulah Moor Children's Home.  "The foundation . . . is a continuation  of giving to shelters, schools, anywhere there's a need," Dana said. "We'll give back a percentage of our sales to the foundation."
Dana also sees her sons' motivation and dedication to their business as a way to cultivate crucial life skills which will help throughout their lives. For her, the time management skills, responsibility and maturity she sees from her sons is invaluable.  She and her family were also pleasantly surprised to see the amount of work the boys were willing to put into their endeavor.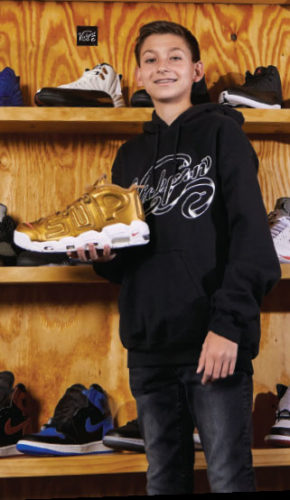 Drew and Jamie established business relationships, partnerships and collaborations all on their own through a lot of networking and elbow grease.
"They're prioritizing and devoting themselves, and it's showing them how to be successful," Dana said.
Through the launch of the Kickpin website, the Frank brothers hope to establish a worldwide customer base. They already have a steady clientele that has gone from local to national in just a few months.  They also plan on adding more inventory to their clothing lines, which presently includes street fashion mega-designer, Bape [A Bathing Ape], as well as skate culture innovators, Supreme.
They specialize in hard-to-find items, including their tike-sized Baby Yeezy's.
For the time being, the pop-up shop hours of operation will remain intact due to time constraints, as the boys are still in middle school. They do have plans however to continue to grow the business, possibly into adulthood.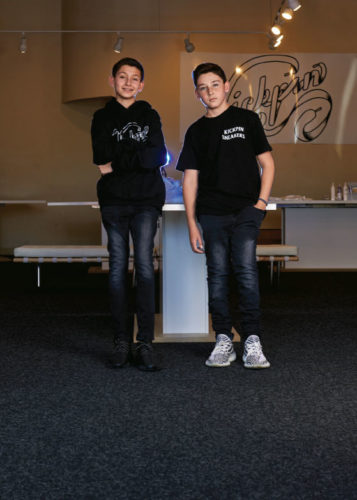 "We would love to continue because we love to do it," Drew said. "We want to expand the brand and [work] with some of the biggest names out there."  Through hard work, great time management skills, dedication and familial support, the Frank brothers have turned a dream into reality.  "We would love to continue because we love to do it. We want to expand the brand and [work] with some of the biggest names out there."