BY: Kayla Melson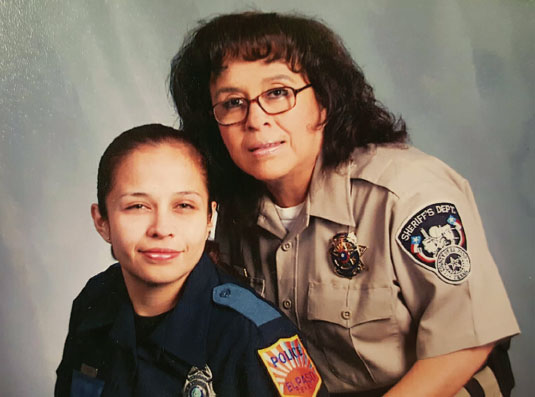 It was when she learned of an animal abuse case in the Fall of 2016 that Vanessa Acosta discovered her passion.
El Paso Animal Services officers rescued Raven, a 1-year-old Black Labrador mix, when they found her with a four-inches-too-small collar painfully embedded in her skin. The collar, which was intended to be worn by a cat, was so tight that Raven required anesthesia to treat the life-threatening wound. "She was a victim … and she deserved a second chance," Vanessa says. "I think all animals deserve a chance."
Several months later, Raven is now in a loving home. Her abuser, who has been arrested and charged, bonded out of jail and is still awaiting a court date. Vanessa says this happens all too often and, many times, Several months later, Raven is now in a loving home. Her abuser, who has been arrested and charged, bonded out of jail and is still awaiting a court date. Vanessa says this happens all too often and, many times, only leads to insufficient punishment. "We need to educate people on getting stronger laws, because a lot of times [abusers] just get a slap on the hand and nothing happens to them," Vanessa says.
Raven's case inspired Vanessa to begin her own non-profit rescue organization, Law N Paws, to help save more abused and neglected animals. "They don't have a voice, so we need to be their voice," she says. "We have to protect them."
Law N Paws currently works by rescuing animals in abusive situations and placing them in the homes of the organization's five foster parents. Typically, Vanessa says anywhere from 40 to 50 dogs and cats in their care at any given time. "We're still looking for more fosters so we can take out more," Vanessa adds, "they just keep coming in." So far, Law N Paws has helped approximately 20 animals find their forever homes.
A longtime dog-lover and 17-year veteran with the El Paso Police Department, Vanessa officially started Law N Paws in February 2017 using her own money and donations from friends and family. While half of its title is named after her career field, Vanessa says the organization is something she does outside of her work. "This is … separate from my job—this is my passion," she says, holding one of her rescues in her lap.
Vanessa, a detective, says her co-workers at the department also contribute to Law N Paws by donating, fostering and helping at its fundraiser events. "We're a big family—we all want to help each other out," she says. "People see that law enforcement does care about animals … we're human too!"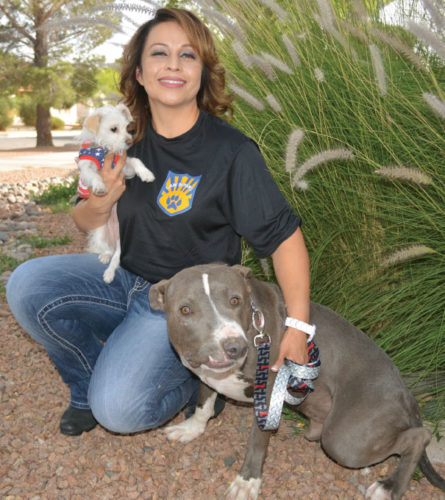 Vanessa created the organization with the help of her mother, Maria Acosta, who also made a living in law enforcement. Now retired, Maria helps with the business side of Law N Paws, including handling donations, deposits and expenses. She also chooses names for the animals based on their personalities and physical characteristics.
"We're all really proud of [Vanessa] … and thankful," she says of her daughter starting Law N Paws. "A lot of people don't care about the animals, so somebody has to care."
In addition to helping save animals, Vanessa is also working to raise awareness of animal abuse and the serious implications it can potentially have. "No matter how many you save, it's going to continue to go on and on because people don't understand that it's a big issue," she says. "What people don't realize is that this transferred aggression leads to child abuse, elderly abuse, domestic violence and it just goes to bigger things."
Carrie Teran, a foster parent and volunteer for Law N Paws, agrees. "I think a lot of it is ignorance and lack of education," she says. Carrie has worked with Vanessa since March and says she's in it for the long haul. "[Vanessa] is the real deal because she's doing it for the right reasons," she says, adding that some rescues focus more on money and popularity. "I believe in her and I trust her," Carrie says.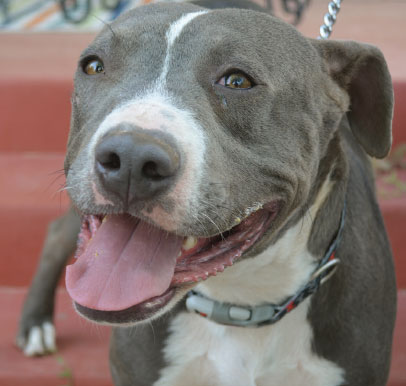 Going forward, Vanessa hopes to eventually expand Law N Paws into a large facility in order to save more animals. In the meantime, she says she tries her best to save as many as possible. We can't help everybody"I wish I could, I wish we had more funding, but unfortunately, we're limited," she says. "But we do what we can … that's all we can do."
Until the organization is able to save more lives, Vanessa finds solace in the countless animals Law N Paws has already rescued. "You see that smile on the dog and you see that you helped that dog and know they have a chance at getting another home," she says. "They appreciate everything you do for them and it's just a great feeling."
Anyone interested in helping or adopting from Law N Paws is encouraged to visit the organization's Facebook page or donate to its GoFundMe and PayPal accounts using the email LawNPaws@gmail.com.

Law N Paws Wish List
Dog food chicken based brands: Dog Chow, Pro Plan, Blue Buffalo, Royal Canin, Simply Nourish, Hills Soft dog treats (Greenies, Pup-Peroni, Nudges)
Flea Preventive & Canine Dewormer
Pro Plan Forti Flora supplement
Oatmeal Dog Shampoo
Training Pads (large, Xl)
Dog toys
Pet Carriers/Kennels/Play Pens
Stainless Steel dog bowls
Bath Towels
Baby wipes
Cleaning Supplies-spray bottles, paper towels, Detergent (Gain, Tide) Lysol aerosol spray, Lysol disinfectant cleaner spray, Pine-Sol, Dawn dish soap, Pro force lemon fresh disinfectant