Author
Erin Coulehan
Photography
ZaZu Productions
Hair & Makeup
Delilah De La Paz, Dry Bar
Down in the old West Texas town of El Paso, one might not expect to find a hub for hockey that is producing Olympic athletes at the local rink near the zoo. From the El Paso Rhinos' history of success to El Paso winning the honor of Kraft Hockeyville USA 2020, the Borderland community has a way of cultivating growth on ice.
It's a blustery day in early January. Most people are still recovering from New Year's Eve celebrations, but Camryn Heon, a sophomore at El Paso High School, is looking ahead way beyond resolutions.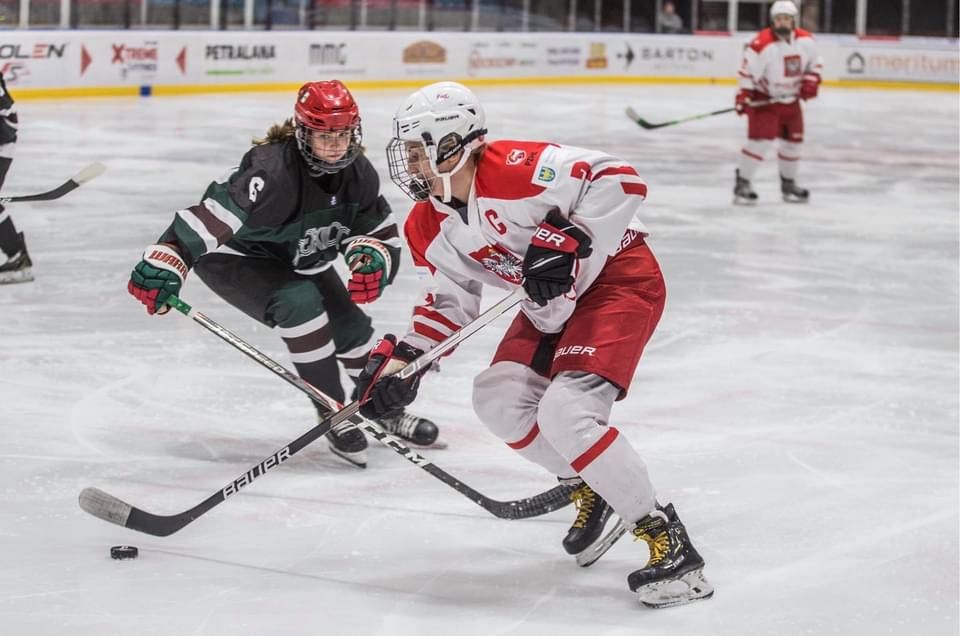 Heon, a 16-year-old El Pasoan who has dual citizenship in the United States and Mexico, is the youngest player on Mexico's national women's hockey team where she represented the Sun City in Bytom, Poland for the pre-Olympic qualifications in October 2021.
Despite the whirlwind of travel, tournaments, and being a teenager, Heon remains grounded and proud of where she comes from.
"I always say I'm from El Paso — not like Texas or the United States — because El Paso is so different from most cities and different places," she says. "El Paso really brings together Mexico and the United States. So to me, it's amazing being a Mexican citizen and a U.S. citizen and being a part of both worlds, living and playing in Mexico but also coming back to see my family and living and playing here."
Heon got her start on the ice at about three years old in figure skating and emphatically says it was not for her.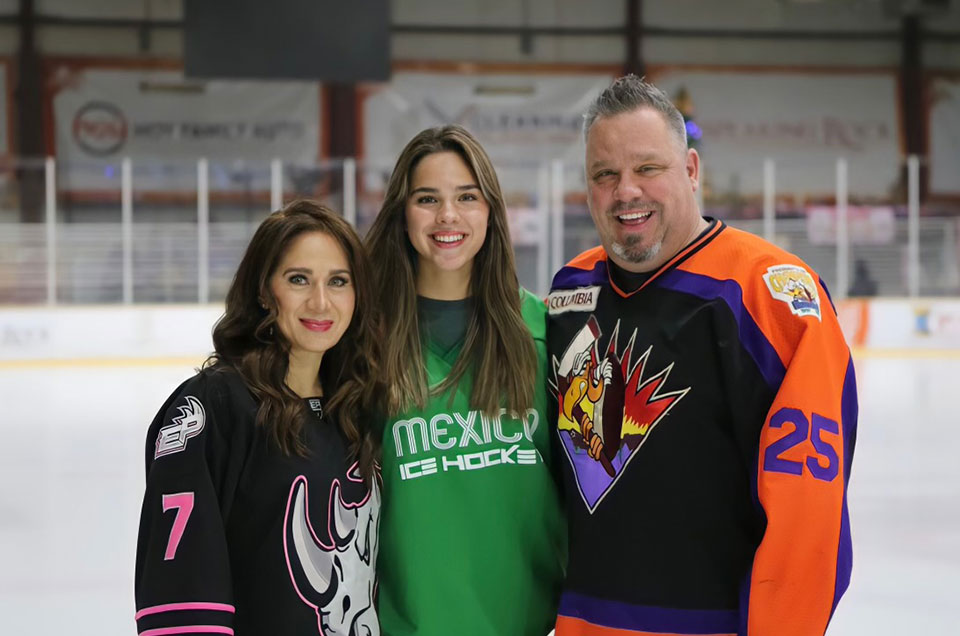 "I absolutely hated it. It was too cold and hard to skate" she laughs, "and I got into playing other sports like soccer."
Her dad, Corey Heon, General Manager of the El Paso Rhinos junior teams, attempted to get her back on the ice when she was about six where she discovered a sense of camaraderie with the other players.
"I gave it another try," she said. "I saw that there were a lot of girls my age trying and in the same position as me. I absolutely fell in love with it because I wasn't the only one."
Girls hockey is among the fastest-growing youth sports in the country, according to USA Hockey, with more than 80,000 young women lacing up their skates since the 2018-19 season. Over the last decade, the participation of girls and women in hockey has grown by 34 percent.
Like soccer, hockey is team-oriented and centered on continuous motion with three forwards, two defenders, and a goalie.
Unlike soccer, hockey is played on ice skates while the players wear pounds and pounds of gear and use large sticks.
Heon plays as a defensewoman, one of the most physical and exciting positions.
"I like to play really aggressive defense," says Heon. "So I like to hold the blue line really well. In the opponent's zone, I really like to keep it in, keep attacking, and keep pressuring."
Heon traveled as part of Mexico's national women's hockey team, ranked 26th out of 42 countries by the International Ice Hockey Federation, to Bytom, Poland in October for the Olympic pre-qualifiers.
She says she first became involved with Mexico's under 18 team when she was 13 but quickly impressed the coaches so much that she was bumped up to the women's team.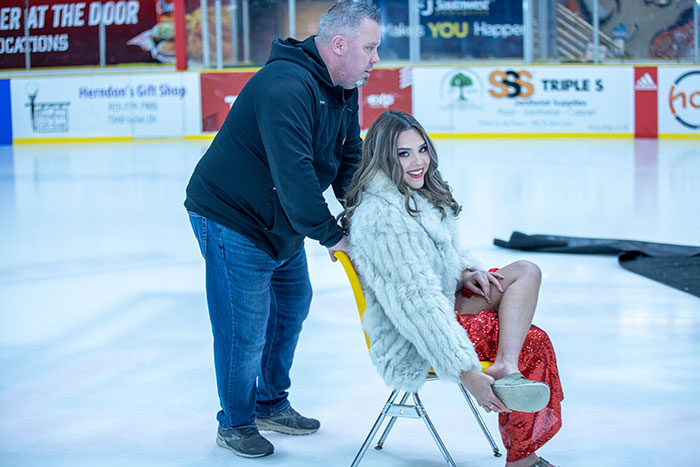 "They invited me to try out, and I made it past all the cuts and ended up on the women's national team from Mexico," she says. "That was really exciting, going from 13-years-old, and I guess thinking I could only play on the under 18 team, but then finally having my dream come true to play on the women's national team."
Although being part of Mexico's national women's team feels like a fantasy fulfilled, Heon and her family have been working toward the Olympic opportunity for years, with her parents supporting her every step — and skate — along the way that's taken them across borders and around the world.
Lori, Heon's mother who is from Chihuahua, Mexico, has driven Heon to and from Mexico many times in order for her to get the training she needs as part of her daughter's commitment to athletic and academic excellence.
In addition to her hockey training, Heon is an active member of the Student Council, National Junior Honors Society, and Spanish Honor Society.
"This is all her," Lori says proudly on the day of our photoshoot. "We always instilled the importance of education but it was her decision to do all this."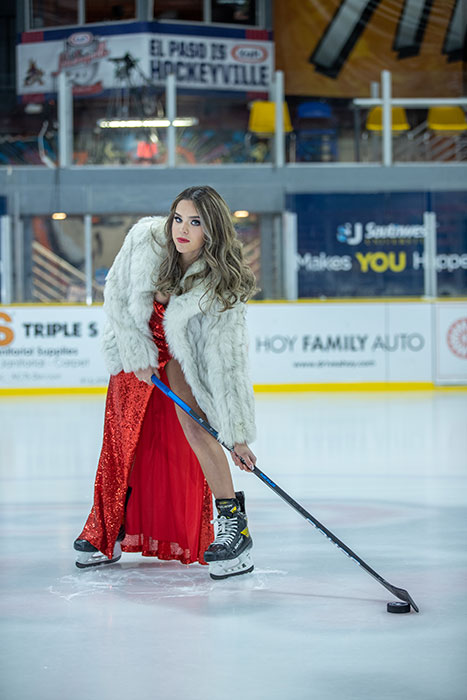 With the Olympic Games just right around the corner, Heon remains focused and is looking ahead to more traditional rites of passage like graduating high school and applying to college in between listening to SZA and binge-watching episodes of "Grey's Anatomy" when she can.
Her vast experiences at such a young age have created a robust collection of stories she's eager to tell.
"My goal after high school is to hopefully get into the journalism school at Harvard and become a sports journalist," she says "I've been thinking about doing that for a very long time, I love writing."
Heon is a fierce defensewoman on the ice whose star quality shone from a young age.
"At the crack of dawn, Camryn would be on the ice practicing with boys older than her and she'd confidently and aggressively win puck battles, beat other players in races to the puck, take slapshots hard enough to bruise a goalie, and even occasionally check boys twice her size," recalls Tyler Deloach, Director of Operations at the El Paso Rhinos.
Heon credits Deloach with serving as a role model for her as she's grown on the ice and as a woman in hockey. "Seeing how she's so strong and independent on her own. I think that helped me over the years too," says Heon.
Deloach has known Heon for most of her life when their parents worked for the El Paso Buzzards in the late 1990s and early 2000s, and both young women later became involved with the El Paso Rhinos themselves where Heon would sell promotional pucks.
"Fearlessly, she would walk up to any person, regardless of their age, size, or appearance, and convince them to buy at least one puck," says Deloach.
"People could hardly say no to her infectious smile and outgoing personality. Over time, she became a chuck-a-puck selling sensation. Regular Rhino fans looked forward to seeing her at games and new fans were always impressed by her charisma and maturity," she adds.
In addition to the ferocity of her defense on the ice, Heon also strikes fierce poses as a model and looks up to current-day supermodels like the Hadid sisters.
She says a close friend's grandmother, Bobbi Shapiro, helped start her modeling career and put her in touch with Bazaar Models CEO Jackie Garcia.
Following the pre-Olympic qualifications, Heon headed to the International Ice Hockey Federation Women's Championship in Jaca, Spain in April and playing in the 16 and under Girls Nationals in Pittsburgh, Pennsylvania in late March.
After her worldwide whirlwind, the young scholar, model and athlete is moving to Colorado where she'll play on Team Colorado 16 and under Girls AAA team as part of the team competing in the U.S. nationals this summer.
For now, she's hoping to learn all she can from her Olympic teammates at the games after bonding with them during the qualifiers.
"I'm a lot more dialed in and a lot more focused because there's a lot more on the table," says Heon. "Playing with Mexico really opened my eyes on how not everybody gets the opportunity. So you need to value the opportunity and really like cherish the moment that you're in."
Heon and I ended our afternoon together with a promise to keep in touch and then she mentioned there was more she wanted to say.
"I would like to add hockey is for everyone," she said firmly. "And don't limit yourself to what you think is possible. Anything is possible, like, reach for the stars. I didn't think I would be at this moment but here I am. And if you want to do it, you can do it."