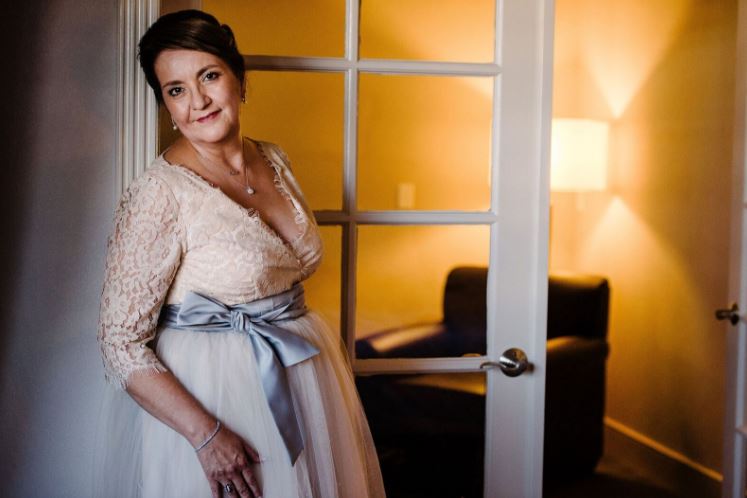 By: Margo Lepe
Photos By: Stephane Lemaire
There is a plan and a future for each one of us. Martha and Greg Lush knew that from the moment they were introduced to one another by their dear friend, Amanda Lopez, who later served as Martha's Maid of Honor.  The two were enjoying a lovely dinner in Santa Fe, New Mexico, when she says he got very quiet before popping the big question. It being a second marriage for both, Martha says she and Greg both possess a sense of maturity, life experiences, respect and honesty to their relationship.
It was on a hiking trip in Sedona, with Greg's family, when Martha says she knew Greg was the one. She spent time with his family there, and on their way up to Escondido, California to attend a family wedding. Everyone was so welcoming and accepting towards her; she just felt like part of his family. That's when it really hit home for her.
Following their seven-month engagement, the couple left all the big decisions to their friend and wedding planner, Patrick Carey. Because Carey was familiar with their taste, the pair felt confident he would go above and beyond to create a beautiful event. In an effort to help everyone relax a little more during a meet and greet, guests were welcomed with cocktails while enjoying live guitar music played by Ricardo Valencia. Martha says one of the most memorable details about her and Greg's beautiful ceremony included a live version of her favorite song, "Ave Maria," sung by Jessica Flores.
Martha says it was hard work fighting back tears, and trying to not trip over her skirt, as she walked down the aisle. However, when she finally spotted Greg, she was stunned at how handsome he looked. When the two locked eyes, he also started to get teary-eyed. In hopes of making him smile, so they could get through their vows, Martha shot him a funny face.  Once she made it down the aisle, their dear friend, Judge Linda Chew, gave what they described as "the most beautiful wedding vows which had everyone in happy tears."
The bride, along with the rest of their families and friends, were simply amazed with all the final touches perfectly placed inside the El Paso Botanical Gardens.  "Everything from the delicious dinner served by D'Lox catering to the late-night tacos by La Vianda catering, the night was just magical," says Martha. She credits Patrick for an evening that just flowed wonderfully.
As the couple awaited their special day, they kicked off their celebration with a pre-honeymoon trip to Italy. Following their nuptials, they returned to Santa Fe where they celebrated a little more.  Martha says they continue learning something new together and it's a pleasure to be with someone who is so easy going. She describes Greg as a very attentive and giving person — which likely led to their decision to support their local community; instead of gifts, they asked their wedding guests to donate to The Children Crisis Center or to The Humane Society.
Martha, an El Paso native, and Greg, who is originally from Palo Alto, California, agree that while they love El Paso and everything it offers, are currently looking at homes in Santa Fe, with the possibility of dividing their time between here and there. For now, they are happily enjoying their time as newlyweds, which Martha says consists of a solid foundation of respect and remaining supportive in good times. She vows to continuously nurture her marriage and always remain grateful to God for hearing her prayers and bringing Mr. Right into her life. Martha says it's vital to her to never take each other for granted and always kiss before going to sleep. "Every day is a new blessing with someone who loves me for who I am and who I love for who he is. We will take care of one another and have many adventures together." She says that while every relationship is different, there should be true commitment to one another. "Marry someone for all the right reasons, but learn to be happy with yourself first."
VENDOR LIST
Venue: El Paso Botanical Gardens
Photographer: Stephane Lemaire
Flowers: Patrick Carey Events
Catering: D'Lox Restaurant
Catering (Late Night): La Vianda Catering
Tables/Decor: Patrick Carey, Table Occasions
Coordinator: Patrick Carey, Patrick Carey Events
Cake: Elite Cakes
Lighting Design/DJ Sound: Christopher Ferris, Cedar Entertainment
Live Musicians: Jessica Flores, Ricardo Valencia
Event Assistants: Rene Fernandez, Teri Engle; Patrick Carey Events