By: Krysta Ayers
Photos Courtesy of EXIST 1981

"Right now is an exciting time in El Paso," says muralist and fine artist, EXIST 1981. In Banksy-esque fashion, he does not want his name to be revealed, but the El Pasoan let us in on what is more important—his art.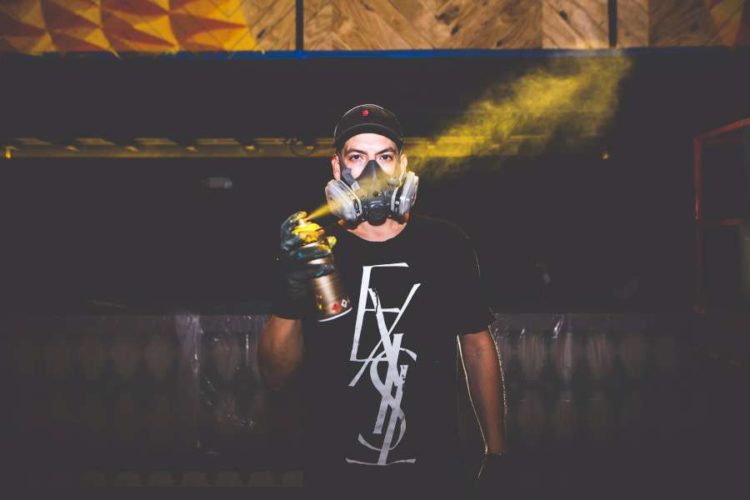 "As a kid in elementary school, I always scribbled and drew patterns. Later, in my early teens, I was really into graffiti and learned more about drawing from graffiti than anything. In high school I took some art classes and really knew it was something I was good at and really enjoyed doing for hours." Right after high school is when he moved to San Diego to really delve into his art.
Upon moving to San Diego in 2000, EXIST 1981 had a lot going on for him. Silk-screening his own stickers and posters, he posted those around town in San Diego and El Paso, which gave him a lot of attention. He also started printing his own shirts and clothing—a huge success since 45 retail shops nationwide started to sell them by 2005. "It was a total DIY project and to be honest it became too much. At the time I was balancing school, freelance jobs, my clothing, and my late night obsession with graffiti and street art. Each one demanded a lot of time and work."
"Doing murals was the natural progression of my art." With all of his explored mediums, drawing, painting, silk-screening posters and stickers, his next move was to study graphic design at school where he says, "The posters got bigger and bigger, and finally moved on to large scale murals. I believe I needed to spend all those years exploring all of those different mediums and also building a name for myself within the art community."
He's in a different place than when he started. The street art perspective has also changed into a more positive mind frame, graffiti as an art form is now sought out instead of painted over. "When I started out it was all 'Do-It-Yourself' and very secretive … it was an interesting transition to go from putting up art on a building without permission, to later having businesses and building owners seek me out. They not only gave me permission but paid me to do what I love. It's unreal. It's both a pleasure and a challenge to put your work in public spaces for all to see."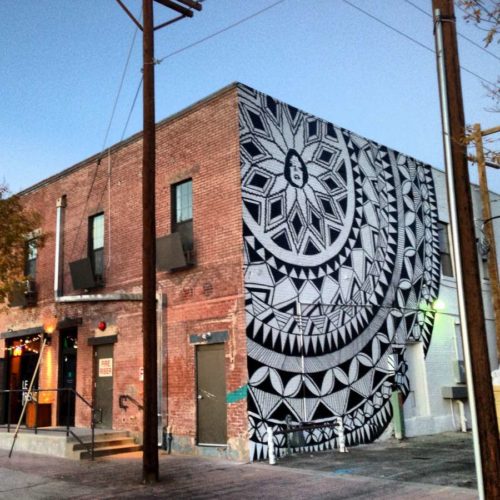 You've seen his work before—and you've probably taken a selfie in front of it. At The Mix building in downtown, a black and white mural can be seen while driving on Paisano, the first large mural he completed in El Paso. At the Montecillo shops, his mural adorns the side of a shipping container for the restaurant Malolam. It is the face of a woman encircled in vibrant, intricate designs. It is this mysterious intriguing shadow of a woman's face that is seen in a lot of the work that he does. And it's work that's done in different mediums, not just spray paint. "It really depends on the job," he says, "when I painted the Alamo Drafthouse, that was done with brush, stencil and spray paint, same with Malolam. In my fine art I use enamel, acrylic, silkscreen, resin, hand-cut stencils and spray paint."
He's still very involved with El Paso and its art scene. Just recently he was commissioned to do the art work at the new eastside bar, Born and Raised. For six years he has also been in charge of curating the art selection for the live art at Neon Desert Music Festival. "I enjoy being able to get a talented group of locals and friends from out of town and paint together for a weekend. It's great to get in front of El Paso's youth and let them see the different processes we take to create our pieces." He is acutely aware of how art affects people. You can see it in the art he creates, the shots he posts on his Instagram account and how he works with people in the art community. He also adds, "El Paso is finally starting to embrace progress and I want to contribute as much as I can to that progress."
"The intimidation of a giant, blank, public canvas," he says keeps him motivated. It is the whole process of the entire project that he loves. "It is very gratifying to see a large scale piece I've accomplished within three to five days." Take his first large scale project in San Diego, for instance. Done in 2007 and located at the very popular restaurant, El Camino, he was commissioned for two more projects afterwards and it "snowballed" from there.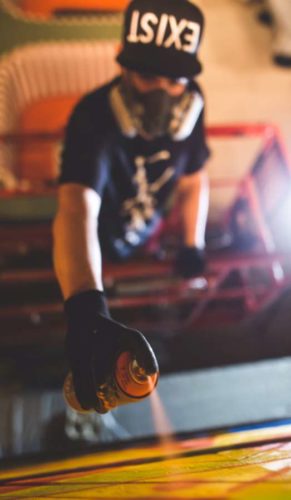 His Secret Lair project is his more recent in San Diego. "The Secret Lair was my space in Little Italy San Diego, it was a temporary place for me to paint for a couple months, culminating with an art show. I invited a handful of friends from our collective called the Cohort Collective to come paint when they had time. I kept the location a secret during the process up until the day of the art show. There was a phone number that was given out on social media and when anyone called it, the address was given."
The future for EXIST 1981 is bright—as cliché as that sounds.  The art community is one that celebrates collaboration and success among friends and with every project EXIST 1981 is a part of, his community is right there with him—even El Paso as a whole. "I have very talented friends to keep me pushing the limits." We hope those supportive pushes lead him to keep coloring the streets with his vibrancy.