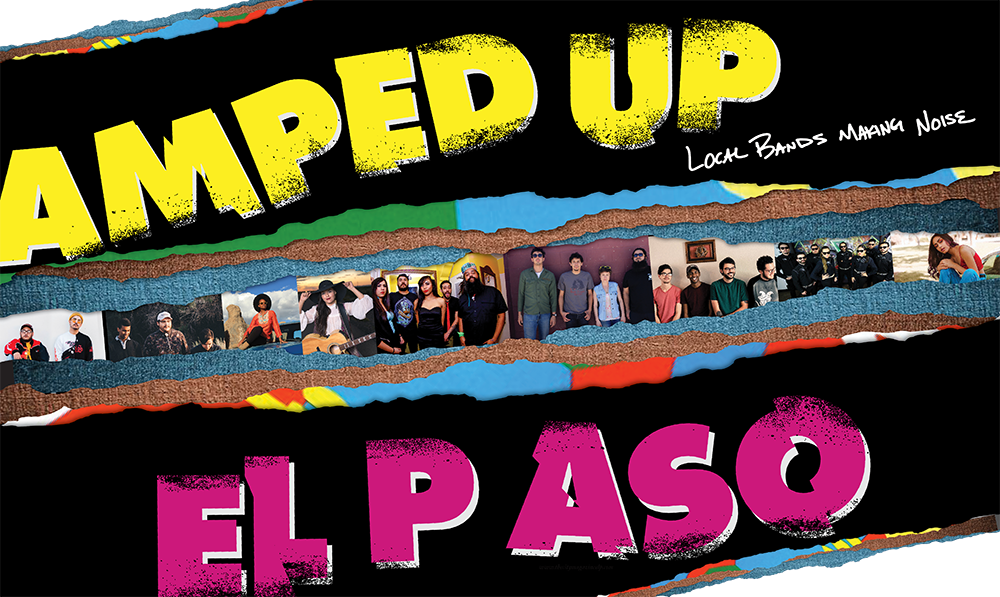 The Swell Kids
By: Zak Hansen
Photo By: Michaela Roman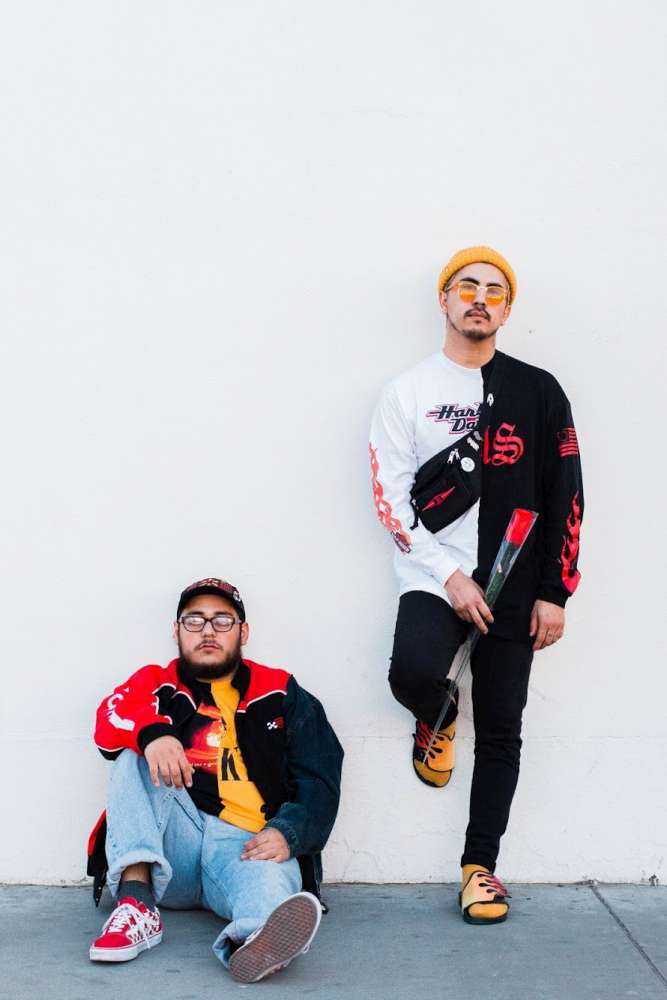 It's been a big year for The Swell Kids. Less than 12 months after the release of their debut full-length "Good Problems: A Collection of Feelings," which dropped October 2017, Alex Bejarano and Eddie Vasquez took the stage at Don Haskins Center in front of thousands for back-to-back sold-out shows, handpicked by El Paso's current hometown hero, the Grammy-nominated and platinum-selling Khalid. Alex, one half of The Swell Kids, had just one word for it: "insane." "With two days to prep for what was easily the biggest show of our lives so far, we were able to schedule multiple rehearsals, create promos and marketing, design new merchandise and put together a team to make sure the show ran as smoothly as possible," he said.
It's a moment the duo has been preparing for since they started making music together in 2011, but Alex and Eddie's friendship dates back much further. The El Paso natives and hip-hop dancers and choreographers met at a dance studio and quickly teamed up to teach classes at studios and schools around the city. Growing up on a steady diet of rap, smooth R&B and up tempo EDM, their diverse musical tastes weave their way into everything The Swell Kids create, genre tags be damned. "One month we can release a dreamy pop song with soft vocals then the next month release a heavy track with strong bass and progressive rapping on it," Alex said of The Swell Kids' hard-to-pigeonhole sound.
That versatility will serve them well as they look ahead. "Bigger and better things," said Alex about what's on the horizon for The Swell Kids. "That's always been our motto since we started. We want to push ourselves to create more content and eventually start playing shows/festivals outside of El Paso."
Emily Davis and The Murder Police
By: Andrea Macias
Photo By: Andrew Jara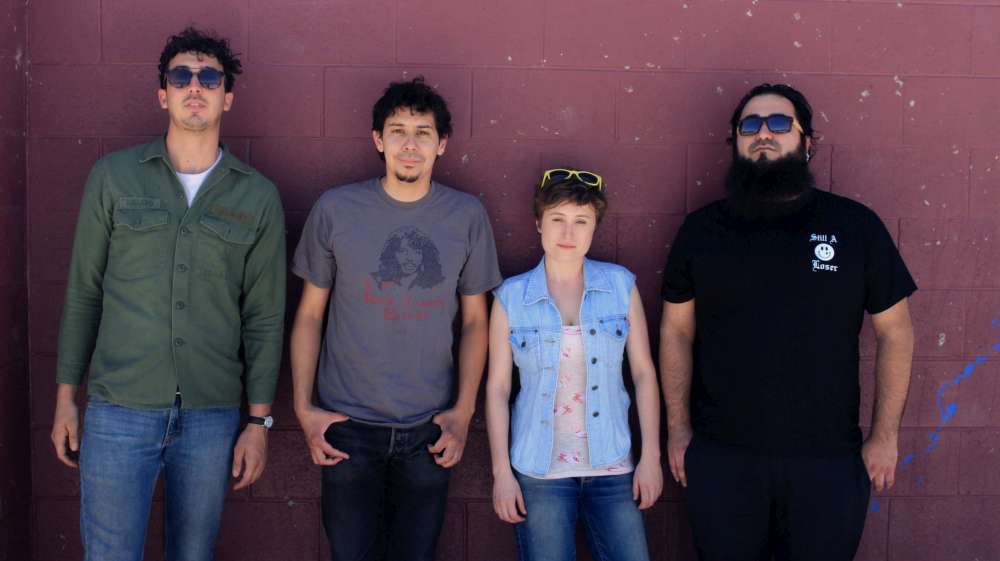 The wide eyes of Emily Davis merely show a glimmer of her talents and tenacity. Beyond the spirit in her eyes, you'll find strength in her voice. It is a voice that has grown and evolved, and is now complimented by the members of her new band, Emily Davis and The Murder Police.
Previously featured as a solo artist and songwriter of the band, Emily Davis' follow-up is one of growth. From her early start 14 years ago, Davis' newest addition has only been active for the past two years. The band is led by Davis who sings and plays the guitar. Their sound comes from a common interest and love for southern and classic rock, but Davis best describes it as an amalgamation of alternative and folk rock, with a little bit of punk on the side. "I'm not sure of too many other local acts that blend elements of folk and punk like we do. We don't sound like a typical Daze n Daze type of folk punk band. We bring other genres to the table. We rely on a lot of rhythm and a lot of melody to match," says Davis.
After solidifying their lineup, the band jumpstarted a Kickstarter campaign, raising $11,000 to begin touring the states and local venues in El Paso. Most recently, Emily Davis and The Murder Police are gearing up and preparing for the release of their debut album, Same Old World, which will be streaming on most platforms and will be available for download on Davis' bandcamp site.
More than anything, Davis wants El Pasoans to learn of the wealth of artistic talent in the city. "I think most El Pasoans are unfamiliar with our music scene and would be blown away by it. We've grown with our scene over the years—we grew up in it and we've grown in our music because of it. "That growth is evident when watching the band. As she hits that stage, gleams at the audience and belts out those notes, you will discover the spirit that embodies Emily Davis and The Murder Police
Billi Free
By: Andrea Macias
Photo By: Scarlet Monk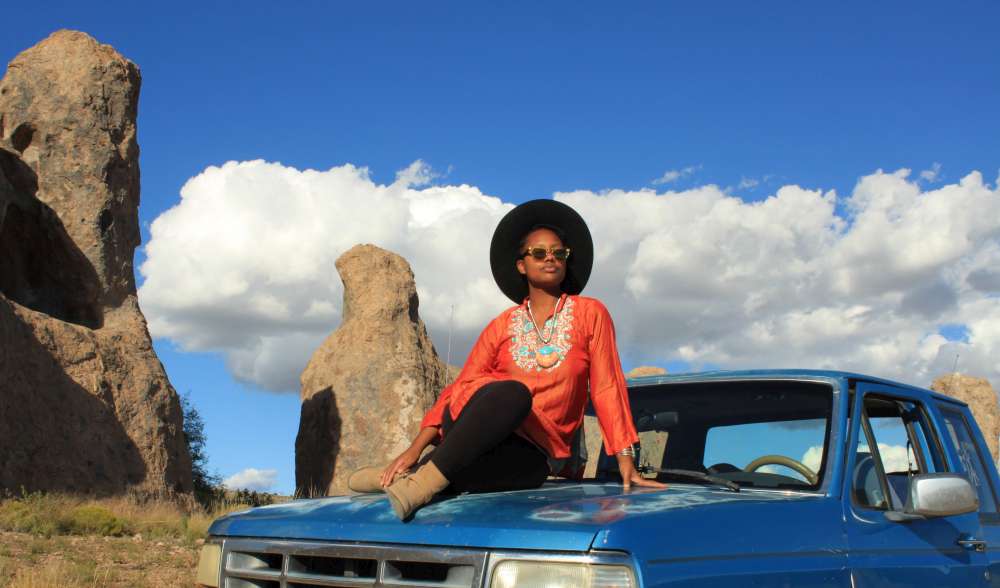 There is power behind Ama Billi, also known as A. Billi Free. From her style to her speech, A. Billi Free is undoubtedly an artist.
Paired with clever beats, eloquent lyrics and a smooth delivery, Ama Billi is making her mark in El Paso. She is a midwest raised, southwest emcee, vocalist and performance artist. Since she was young, Billi has been playing and creating music best described as a blend of hip-hop, jazz and electronica. "I started my performance career in Chicago singing vocals for a variety of hip-hop and world music acts before I moved to the southwest," she said. Now as an El Pasoan, Billi is working on creating a name for herself. Beyond writing her own lyrics, she also creates her own beats, which seem effortlessly put together when you listen to songs like "BLK MGC" or her earlier creations like "1st Love."
Her ability to write and produce comes from a powerful desire to engage audiences and connect to music with that energy. She is an artist that lives to create, giving her purpose and therapy along the way. Billi has been able to achieve this satisfaction through live performance across the city and adjoining states. Her most recent release was a collaborative EP called "CNJR." This past August, she released an EP, film score and beat titled "Room of Surfaces." She is an active artist constantly involved in new projects, putting her purpose to use. "I hope to achieve a connection with all sorts of audiences, and to gain inspiration to keep forming and sharing ideas and concepts to do my part in fostering peace and balance on the planet."
A. Billi Free is only getting started in El Paso. She thanks the city's soothing landscape in nurturing her writing and moving ahead. Her influences from the bigger cities in the midwest with the pull of the desert have been infused in her music in a novel and entertaining way. "For El Paso specifically, the musicians, music lovers and everyday people are resilient and welcoming. This moves me to keep creating content that is open and upbeat, even in the midst of any chaos," she said.
Trost House
By: Leslie Sariñana
Photo By: Simeon Beardsley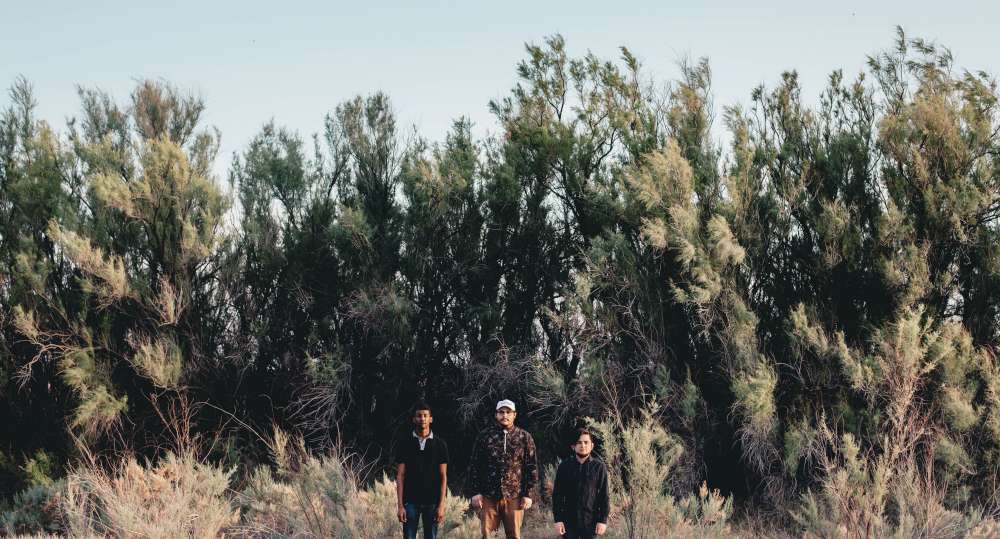 The El Paso music scene can at times feel oversaturated with local bands and solo artists trying to make it, but it's a musician's dedication to their art that makes them rise above all other acts. Trost House is one of those acts. Comprised of Sebastian Estrada, Dereck Williams and David Vasquez, Trost House perfectly embodies the soul of the city. Their name alone plays homage to the historic building in Sunset Heights, built by Henry C. Trost. "Our identity by our name alone is very cemented to El Paso," says Sebastian of their name and why it means so much to them.
Trost House started as a duo in 2014, when Dereck Williams and Sebastian Estrada started working on music, and soon enough they recorded their first album in late 2015. Their sound is a cross between punk and alternative, and is self-described as "a West-Texas blend of swirling cleans and howling fuzzies." For frontman Sebastian, being in Trost House is all about the experiences and bonds he creates with his band members. The band members are big on helping each other become better musicians and writers. "It's been a really fun growing experience. For me, personally, it's been really rewarding. I've made a lot of good friendships with all the band members and the [music] community. It's been really fun seeing everyone grow."
That bond goes beyond Trost House as members of the band are very involved in other local acts and are good friends with other musicians in town such as Sorrytown, Back of a Car, The Other Half and If We Were Turtles.
You need to see Trost House, live at a show to understand the raw and emotional sound only El Paso bands have. While they don't plan to release anymore music until late winter, you can catch Trost House at their next show at Love Buzz on November 20th with fellow local acts Fat Camp and State Limbo.
If We Were Turtles
By: Austin North
Photo By: Nayeli Taylor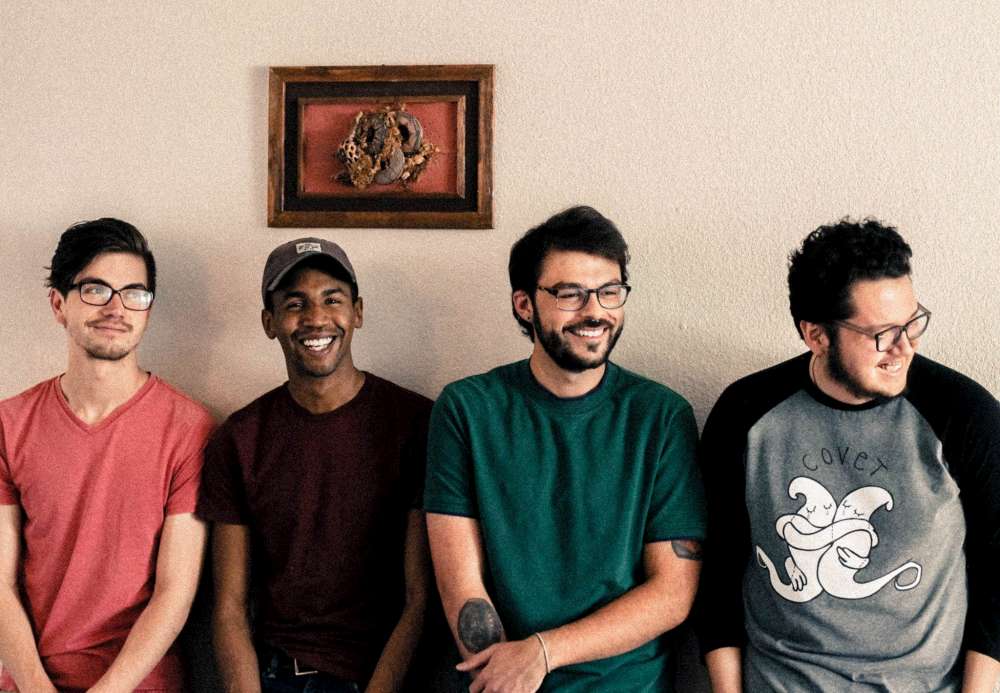 Music is an integral part of our society—it is such an emotionally involved and talent filled industry, whether one is a professional or a hobbyist. The El Paso music scene has developed immensely in the past year, and there are plenty of active bands that exemplify this development. Where some focus on talent and skill, some focus on the songwriting and the impact a song will have on an individual. Some, however, focus on both.
Take If We Were Turtles (IWWT), a four-piece indie rock band that has as much passion for their instruments as they do in their songwriting. The band is comprised of members David Vasquez, Luis Bueno, Stephen Aguilar and Daniel Rivera, a versatile matchup of skilled musicians who each manage to add their own flair to each song. "I always tell people we're indie rock," said frontman Dave of the band's music. The band has a unique musical background, with varying influences and upbringings, however, "We're all really big fans of Minus the Bear and TTNG," said Dave. These bands, sonically comparable to IWWT, provide a clear jumping off point to familiarize oneself with this style of indie rock. "We started jamming back in high school," Dave said, with the band further developing over the past few years.  Recently, they've been quite active, playing shows at all of the venues around town, and they have big plans for the future—keep up with them to find out.
Of their songs, swirls of ambient guitars glide over upbeat and energetic beats and melancholy vocals, creating a truly enjoyable and fun, yet emotionally intensive experience. Of the band's creative process, Dave said that the band has become more of a democracy, allowing each member to contribute their own parts to the songs. With courageously vulnerable lyrics and a mastery of complex guitar techniques, they manage to wow audiences at their live shows, becoming one of El Paso's most in-demand local indie bands out there. "The music scene has changed so much," said Dave, "It used to be really competitive … but in the last two years there's been a sense of community. We're not just a normal rock band," he said—he feels that IWWT hold a unique spot in this community, with their unique brand of a specific genre of rock setting themselves apart, sonically, from their local peers. Listen to them on Spotify, and keep up with them on instagram @i_w_w_t.
Dulce Mal
By: Jacqueline Padilla
Photo By: Papa Joe Photography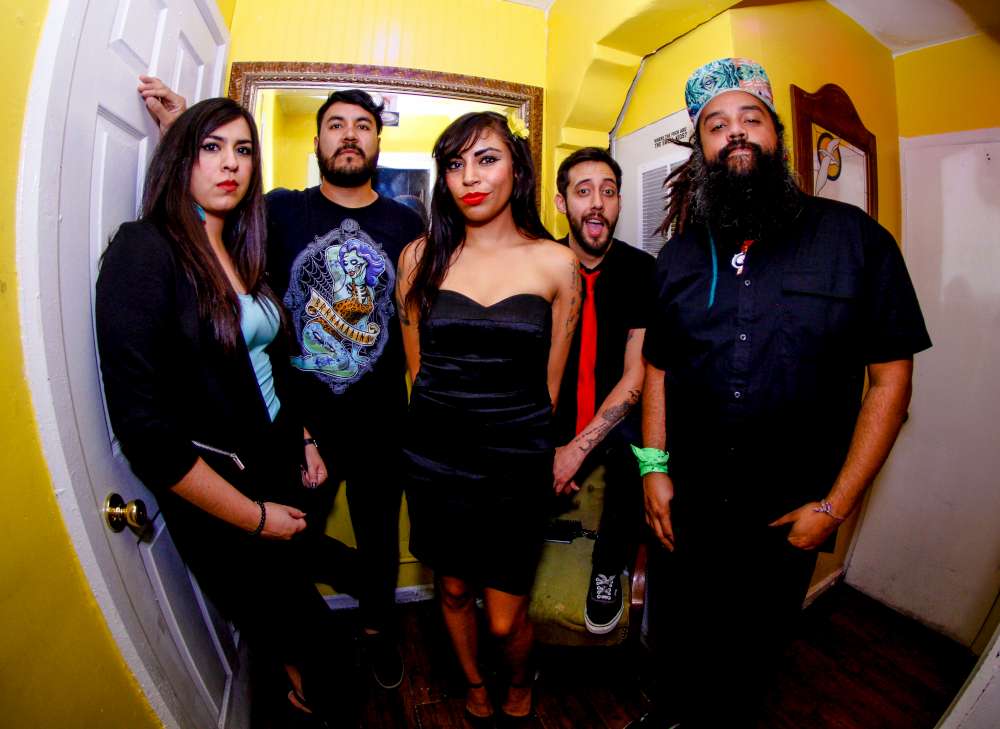 Music has a way of bringing people together and local band Dulce Mal is no exception. They use their unique bossa nova sound to not only speak to their fans, but to unite Ciudad Juarez and El Paso as one. In a span of just three years, Dulce Mal has let out hits such as "Geminis" and has performed alongside bands such as Enjambre, Golden Ganga, Little Jesus, Jarabe de Palo and Caloncho, just to name a few.  Their reggae flair that inspires everyone in the crowd to dance also stole the show at this year's Festival Sin Fronteras, Downtown El Paso Street Fest and Neon Desert Music Festival.
After completing such huge milestones, Dulce Mal plans to continue to share their passion and upbeat melodies with the Sun City. The band plans to release their first EP and newest single, "Mamacita," this November—which draws inspiration from the border cities and their own personal experiences while living on the frontera.
"Although our music depicts our own stories, we hope that by using personal, authentic interactions as a base for our songs that others are able to identify with them as well," stated vocalist Helen Vargas.
With plans to wrap up 2018 with the debut of their EP, Dulce Mal hopes to start the new year by focusing on performing at festivals and touring, both nationally and internationally such as Ruido Fest in Chicago and Vive Latino in Mexico City.
However, as the band continues to gain popularity and grow, their roots stay true to who they are. Cumbia-like sounds and smooth Spanish lyrics capture their audiences. The band acknowledges that El Paso and Juárez have been a true platform for them. "People have approached us and let us know that although they may not understand the language or the lyrics, that they love the music and what we are doing."
Carla Riojas
By: Austin North
Interview By: Alyssa Cardona
Photo By: Juan Carlos Garcia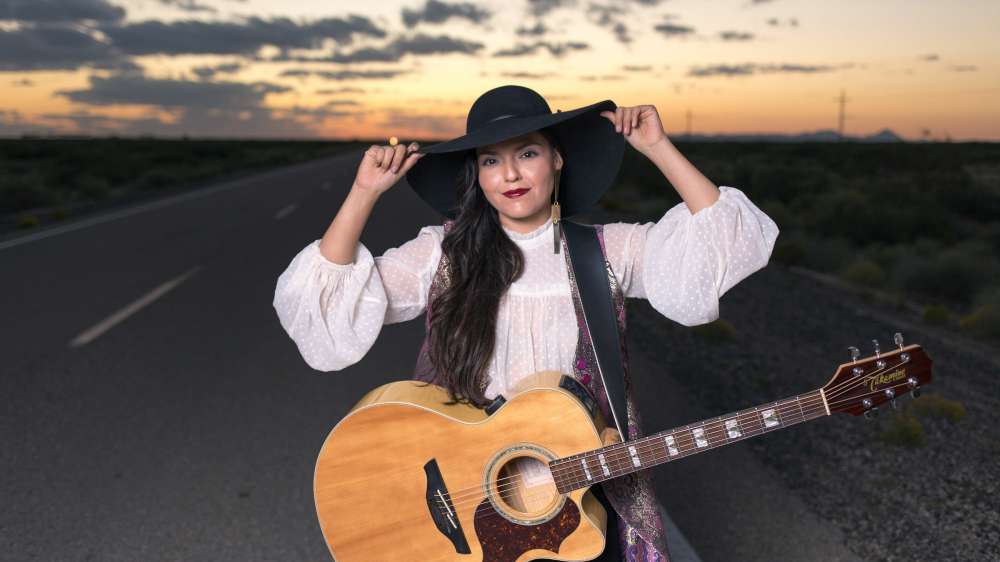 Carla Riojas is a Spanish artist from El Paso and Ciudad Juárez worth looking out for. Throughout her musical career, she has opened up for major artists like Paulina Rubio, Ely Guerra and Raúl Di Blasio, and when listening to her voice and songwriting, it becomes immediately clear why she has had these opportunities—she deserves it. Inspired by artists such as Alanis Morissette, Jewel, Juan Gabriel and Lola Beltrán, and with powerfully charged, emotional lyrics regarding love, self-acceptance and mental health, she is an artist with serious ambitions.
For Carla, "the most important thing is self-love." Her music exemplifies this, with heavy topics that are explored in detail.  She began making music with a modest start, composing her first song with a family member at a Christmas gathering. "I realized the act was a catharsis," she said, talking about the emotional release inherent in writing and singing.  Realizing that she had the talent to sing, along with her already established talent of playing guitar, she dove headfirst into writing music. Four years after she began to learn to play guitar, she recorded her first album, which was a record full of acoustic songs—"I noticed that people identified with them," she said of the songs.
Fast forward to now—Carla has plans to release her new record "Amo Lo que Soy" that she and her team have spent three years working on. Produced by Manuel Calderon of The Chamanas, the record is "dedicated to those that feel different, be it by their sexual orientation or way of being," she said. "Depression is always the same but I'm not, I have more tools to confront it," she describes—a clear theme of the record. Carla finds meaning in the lyrics in her songs when writing, but similarly finds new meaning in them once they've existed in the world for some time.  Her song "El Dilema" centers around the concept of a forbidden love, however she later realized that the song is better dedicated to her mom. "I was telling her I'd always be with her despite me leaving," she said.
"I feel music has accomplished its purpose in helping me deliver the message that there's another form to live by," she said, stressing that music helps people transcend living with labeling ourselves. "Even though people try to make us feel different, as long as we know who we are and own our truth, the world will be better," she said. Look out for her upcoming album next year, and check out her website carlariojasmusic.com for tour dates, more info and her recent single "Junto A Ti."
Tribes
By: Zak Hansen
Photo By: Ben Chavez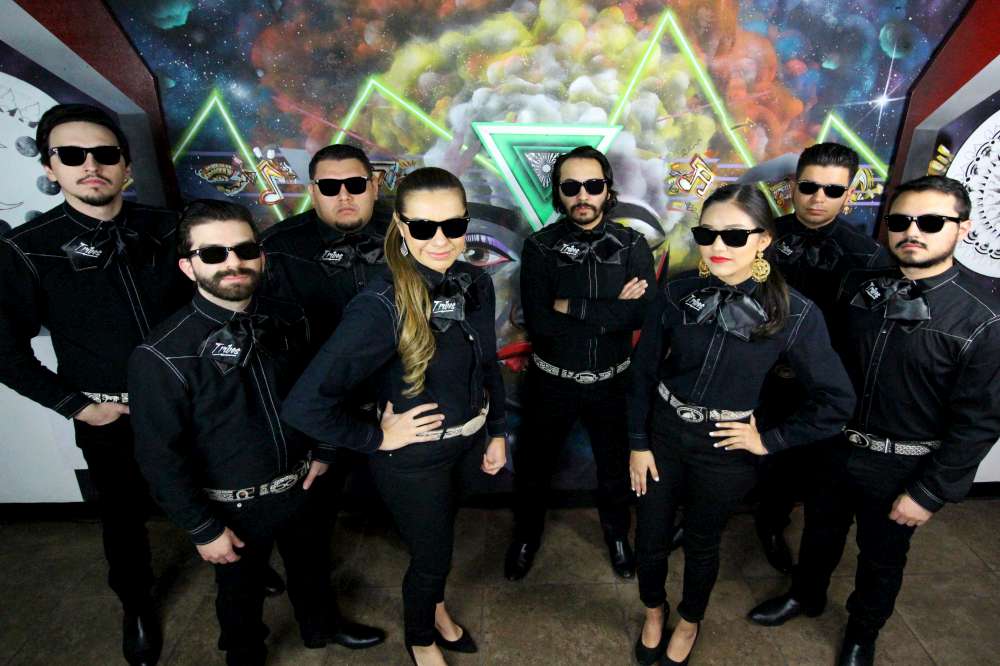 Fusing mariachi with indie rock and clad in all-black traje de charro—complete with dark sunglasses—Tribes is blazing a trail in a genre almost entirely their own.
The nine-member group is the brainchild and self-professed dream project of El Paso native Mike Hernandez, a classically trained musician with a heart forged in the sweaty basements and crowded vans of the DIY punk scene. After years spent with punk bands helping cement the local scene in the early aughts, Mike made his way to Houston, joining up with Victory Records signee The Royalty. After an EP, full-length and a few years of touring, Mike made his way back west to El Paso.
In those years, he made the acquaintance of L.A. punks The Bronx, whose side outfit, Mariachi El Bronx, was the first to merge punk rock with classic mariachi music. As a longtime student of music with a deep-rooted love for traditional mariachi music informed by a life along the border, this new style of music was indeed the best of both worlds for Mike, and Mariachi El Bronx recruited him for their tour. But he wanted more.
With a clear vision for his new project, and an enthusiastic blessing from the folks of Mariachi El Bronx, Mike set to work finding musicians for his project, drawing members from the ranks of El Paso's punk and mariachi scenes. Working in a music school, Mike crossed paths with Gisselle Lopez, the group's singer, then just 16 years old. Floored by her talent and nonplussed by her age, Mike knew she was the perfect fit for the group. Along with Gisselle singing and Mike on guitarron, Tribes includes Nate Sansom on vihuela, Joe Madrid on guitar, Cindy Cabada and Eddie Garcia on violins, Juan Gonzalez and Mario Guerrera on trumpet and Steve Oropeza on percussion, adding a "cocktail kit" setup unique to the group—a break from traditional mariachi.
Tribes' first seven-inch was released in July, recorded at Ross Ingram's Brainville Studio and released with a sold-out party at the Alamo Drafthouse, complete with live performance and the premiere of the band's "Night Future" music video, shot at the iconic Rosa's Cantina. With back-to-back performances at StreetFest and Chalk the Block behind them, Tribes is looking ahead to its Christmas Pajama Party & Market set for Dec. 16. at Ardovino's Desert Crossing. The all-ages, by-donation event will feature performances by Tribes, Sleepspent, Irie Lee, Table Manners and special performances by "Let There Be School of Rock" and "Sound Stage Nine" students. Ahead, Tribes will be hard at work in the studio, building up their catalog of releases and working on new music for a full-length record slated for next year, with a tour short to follow.
Wildsters
By: Andrea Macias
Photo By: Joisel Pabon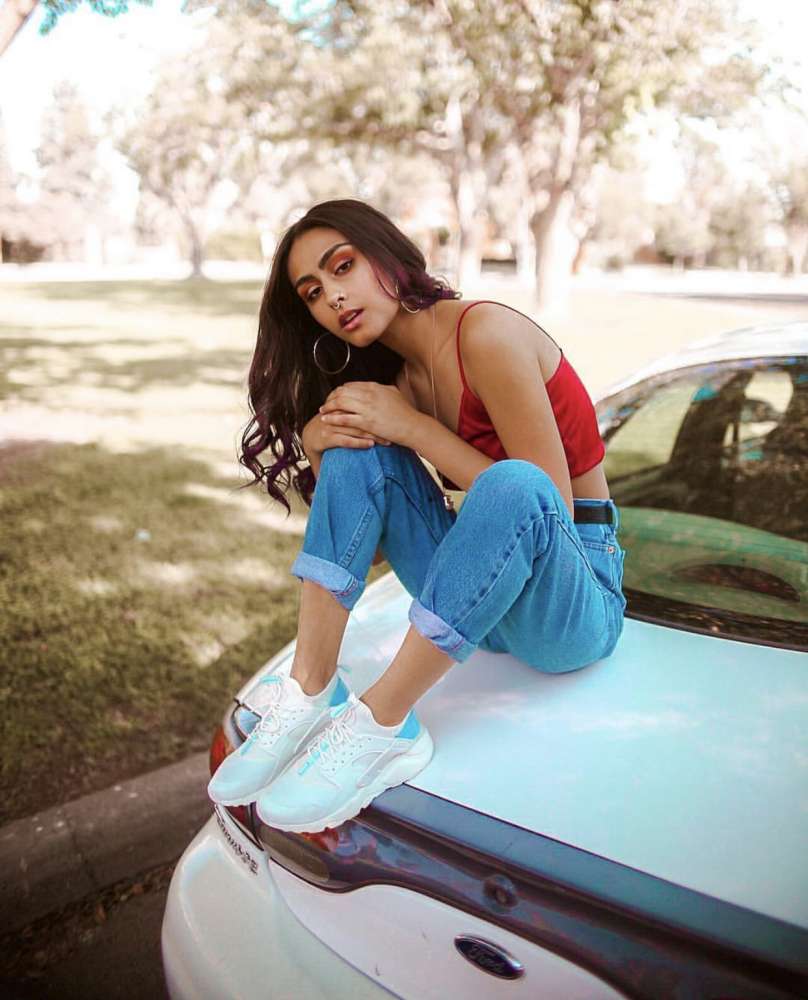 There is something distinct about Joisel Pabon. She has an essence to her that is comparable to artists like Lorde, Khalid and Cuco, in that they are young, talented and as they say, aesthetic AF. She has been thrown into the midst of up-and-coming artists, turning her warm and wondrous voice into a giant following. After living in Denver and Puerto Rico, Joisel landed in El Paso, attending Silva Health Magnet High. Her inspiration to sing came from her father, who is also a musician, leading her to become an instrumentalist until high school when she began to train classically. She fell under the guidance of her choir director, Elvin Porflit, throughout that time and after high school, when she decided to start her musical career as an independent contemporary singer-songwriter.
"I've always loved music, its sound and how comforting it can be on a universal level, it can be a healing tool, a transformative tool or a tool for growth, even," says Joisel. Since her starting her career three years ago with her first release "Novacaine," Joisel has continued to work on and develop her sound and genre. She has pulled influences from her environment and its people, from her supporters to artists like Lady Gaga to Travis Scott. Her style is recognizable, relatable and close to the epitome of the younger generation, yet combines influences from the past. Dreamy pop sounds compared to those of the 80s, combined with 90s style rap and R&B, blended with a modern mix wraps up her sensational sound. "I think my music is a bit different than others in its style and writing, I don't think I've ever been able to compare my sound with others … I also think that being a woman in the music scene, or just being a woman in general, comes with its struggles and tribulations, but I want to be able to inspire other women to be themselves as an artist, unapologetically."
Her positive enthusiasm has lead her to successes and performance opportunities at local venues such as the Lowbrow Palace, Club Here I Love You and most recently, her first festival debut at Neon Desert Music Festival. Even with the amounts of success she has seen so far, Joisel realizes that there is still more work to be done. Her focus now is to achieve inspiration and aspire to inspire in everything that she does. Joisel also mentions that she is most excited to show a sense of growth in her voice and maturity in her writing throughout her new content. She is taking her talents and producing works of music that will only garner more attention from people, young or old, in and beyond El Paso.
"The El Paso music scene is very important. I don't say this lightly—the new generation of creatives is amazing, underrated and incredibly talented. I am glad to be a part of it and I think we should push to work together and support each other as much as we can."