By: Zak Hansen
Be it out-of-state or out-of-country, a great way to prepare for any excursion is a trip to the bookstore for the requisite maps and guides. However, there are a few travel-centric bookstores around the world that are destinations in and of themselves—no guidebook or translating required.
A search for the best travel bookstores in the world starts in London, home to two of the world's top booksellers: Daunt Books and Stanford's.
Daunt Books is considered by many to be the finest travel bookstore in the world, not to mention the first custom book shop in the world. From its original location on Marleybone High Street—founded in 1912 and housed in a former Edwardian bookshop—Daunt has established a chain of successful shops around London (in Holland Park, Hampstead, Cheapside, Chelsea and Belsize Park) and its own publishing house, Daunt Books Publishing. Daunt has also amassed legions of followers from all over the world who are drawn to its massive stocks of travel books— organized by country for easy browsing—along with maps, guides, phrasebooks, history, fiction, books on cooking, local flora and fauna and even children's books. This is a book-lovers heaven.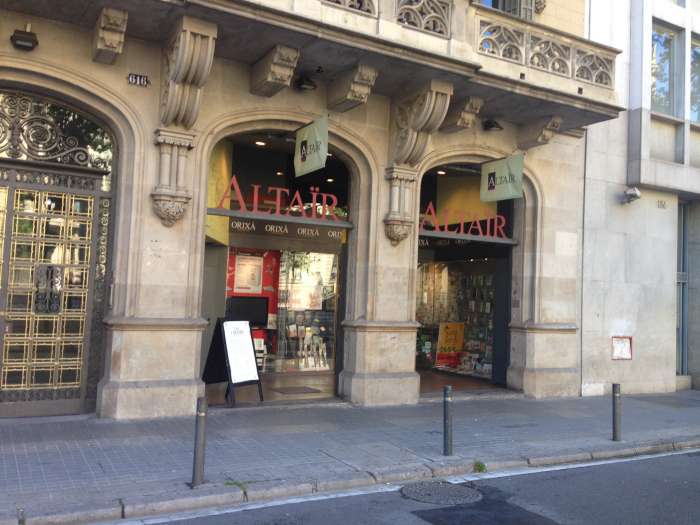 Readily rivalling Daunt Books for the title of Best Travel Bookstore in the World, Stanford's, also in London, was established in 1853 by Edward Stanford. It's called its current Long Acre shop home since 1901, and celebrated its 150th birthday in 2003. As the world's largest map retailer—founder Edward Stanford was Cartographer to King Edward VII—Stanford's stocks thousands of maps from around the world, along with globes, world literature selections and just about anything travel-related. Among its famous clientele is Dr. Watson, who traveled to Stanford's at Sherlock Holmes' request in "Hound of the Baskervilles." Not sure yet? Even the floors at Stanford's are maps.
With locations in Barcelona and Madrid, Spain's Bookstore, Altaïr, stocks more than 60,000 maps, references, travelogues, guidebooks and European-focused travel literature in Spanish, Catalan and a dozen other languages. Since 1979, Altaïr has strived to be "a cultural space, a meeting place, an exchange of ideas, a connection between travelers, the elaboration of projects and, increasingly, a space for cultural activities linked to the fact of traveling."
While several of the world's top travel bookstores are abroad, there's still plenty stateside, with no better place to start than the Big Apple.
Since opening in 2008 in Manhattan and Brooklyn in 2012, New York City's Idlewild Books has gained a fast following as one of the best travel bookstores in the world. Specializing in travel literature and guidebooks (all sold for 10 percent off), Idlewild— the original name for New York International Airport—also stocks books in a variety of languages. Both Idlewild stores also offer ongoing classes in Spanish, French, German, Italian and other languages to get travelers ready to converse wherever they may land.
When the famed Globe Corner Bookstore in Cambridge, Massachusetts closed its doors in 2011, after nearly 30 years, Brookline Booksmith snapped up its stock. Booksmith's Globe Corner Annex, as it's called, sells travel guidebooks, travel literature, maps, travel accessories and more from its shop outside Boston.
Westward, ho!
Cindy McClelland founded Changes in Latitude in Boulder, Colorado in 1993, fresh off a 15-month, around-the-world trip. The store's staff of travel-lovers have collectively traveled to more than 100 countries and have the expertise and enthusiasm to get every fellow traveler where they want to go—heck, they've probably even been there. In addition to a large selection of travel books, Changes in Latitude also sells packs, suitcases, accessories and travel clothing, along with gifts and gadgets from all over the globe.
In 1989, Distant Lands opened its doors in Pasadena, California as a travel-only bookstore and passion-project of lifelong travel hound, Adrian Kalvinskas. Since then, the store's inventory has quadrupled and now includes much more than the maps and guidebooks that made it famous. Travel gear, clothing and accessories, luggage, even its own travel agency—anything the world traveler could need can be found under Distant Lands Travel Bookstore and Outfitters' roof.
Sadly, two of the top travel bookstores in the US—Wide World Books & Maps in Seattle and Traveler's Bookcase in Los Angeles—closed their doors in 2016. A third famed travel bookseller, London's aptly named Travel Book Shop (made famous in the movie "Notting Hill") is no more—all the more reason for you to take that trip today.