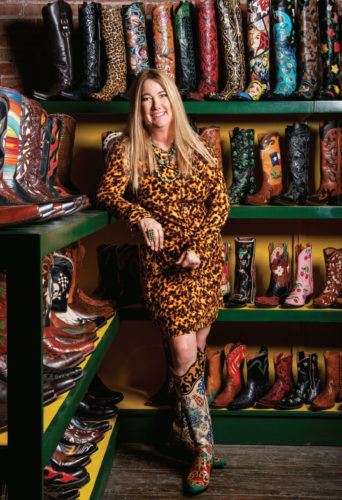 By: STEPHANIE AMERENA photography by: DAV ANMED 
Next to the El Paso train station, on the same street as the weekly downtown market, Rocketbuster Boots resides in a newly renovated 100-year-old building on Anthony Street with "Rocketbuster Boots, Showroom and Warehouse" boldly printed on the side. Once you enter Rocketbuster Boots you feel the vibrant personality that radiates from the knickknacks hanging from the walls, like a plaque reading, "On this site in 1897, nothing happened," to the boots themselves,  like a Pop Art inspired pair with comic panels reading, "She had a plan of her own, and sitting around waiting wasn't any part of it!" Each piece deliberate and filled with a unique look. Going on their 28th year of business, Rocketbuster Boots prides themselves on creating boots that customers can wear and not have to worry about the rest of the outfit. You can be caught in your black yoga pants and if you have a pair of Rocketbuster Boots on, everyone will say you look fabulous. The woman behind this vision and standard is Nevena Christi.
Nevena Christi, or as it says on her business card, "BOSSLADY," is not originally from El Paso. From New York, she went to school for fine arts then moved on to fashion design. Nevena was no stranger to design, having studied at some of the finest schools in Europe and New York. She had 15 years of experience working as an artist, graphic designer and fashion designer. At one point, she worked on designing china and scarves, then moved onto dresses and textiles. She came to El Paso in 1995 to commission Rocketbuster Boots to collaborate on some outrageous boots for Nicole Miller's New York runway show. Her husband, Marty Snortum started the business and bought the building that Rocketbuster Boots currently resides in, but Nevena took the business to the next level. When she moved here, she saw the potential that boots could have, especially in accuracy and measurements like clothing should be. Believing that boots should have an amazing fit ratio, Nevena was changing boots into actual designer clothing. Her main competition is creating the next idea she gets to see if they can do it. Fearless when it comes to the art, she is willing to take on any challenge that customers try to throw at her.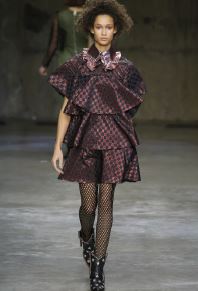 With this reputation, it is no surprise that Rocketbuster Boots was recognized by other artists and designers. Around Christmas time, their busiest time, Nevena got an email from Henry Holland, British designer of House of Holland, who is known for his T-shirts that have hot-off-the-press news headlines and scandalous comments. After following their social media pages, Holland said he wanted some Rocketbuster Boots for his London runway pieces. With this great opportunity, there was also the challenge of a time crunch. Holland needed the boots in L.A. by January, ready for London fashion week in February. Remembering her fashion background, she wanted the thrill of the challenge and to visit her old life and friends in London. Nevena accepted.
The stars of the runways were five thigh-high boots that had: Woody Woodpecker, cherries, snake boots that said "Let's get loaded," and mules that said "Bitches." Everything crazy, wild, and filled with that unique Rocketbuster Boots personality. Nevena said that it was great to work with a designer again, to try something so challenging in such a short amount of time and to expand her creativity in an outrageous, crazy, wild, and most importantly, fun way. After the show, El Paso was credited in the London fashion show and received a tremendous review from Vogue magazine saying they were "American couture and everyone should Google them." Nevena emphasized how New York fashion reviews are hardly ever kind and the press can be very catty. When Nevena got home with that review, she was very excited.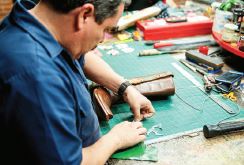 With that, social media noticeably increased. Even with their six-month waiting list, and a price range from $1,000 to $8,000, there were ten new international orders and emails that kept coming in. People come from all over the world for their boots such as: New Zealand, Japan, Australia, and North Dakota. Nevena even met a teacher at one of her old schools in New York that wants her to speak to her textile class. After London Fashion Week, the future is determined on what is more fun. Nevena said, "If it is not fun, then why are we doing it?" Nevena wants to continue to do outrageous pieces for highly visible personalities so people can see them and think about what they can creatively do with boots.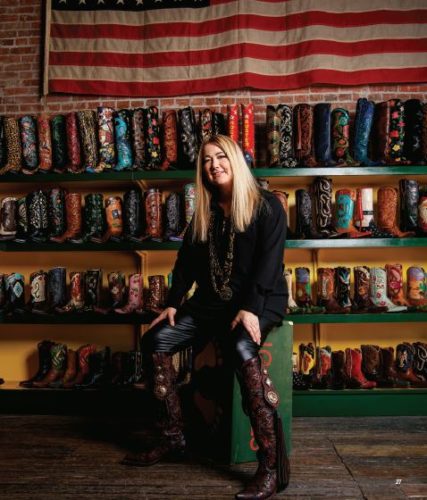 The ultimate goal for Nevena and Rocketbuster Boots is two 20-foot boots on each side of El Paso to attract people to the city and contribute to the town's economy. Once here, they can also see boot prints from Rocketbuster Boot products, much like the Hollywood walk of fame. By doing this, Rocketbuster Boots is highlighting how El Paso is the boot capital of the world and how we should be proud of it. This is their way of contributing to the town, by advertising El Paso to bring people here, and when they are away, in places like London, being a good poster kid for El Paso. In both scenarios, Nevena follows her favorite quote from Walt Disney, "Do what you do so well they will want to see it again and bring their friends."