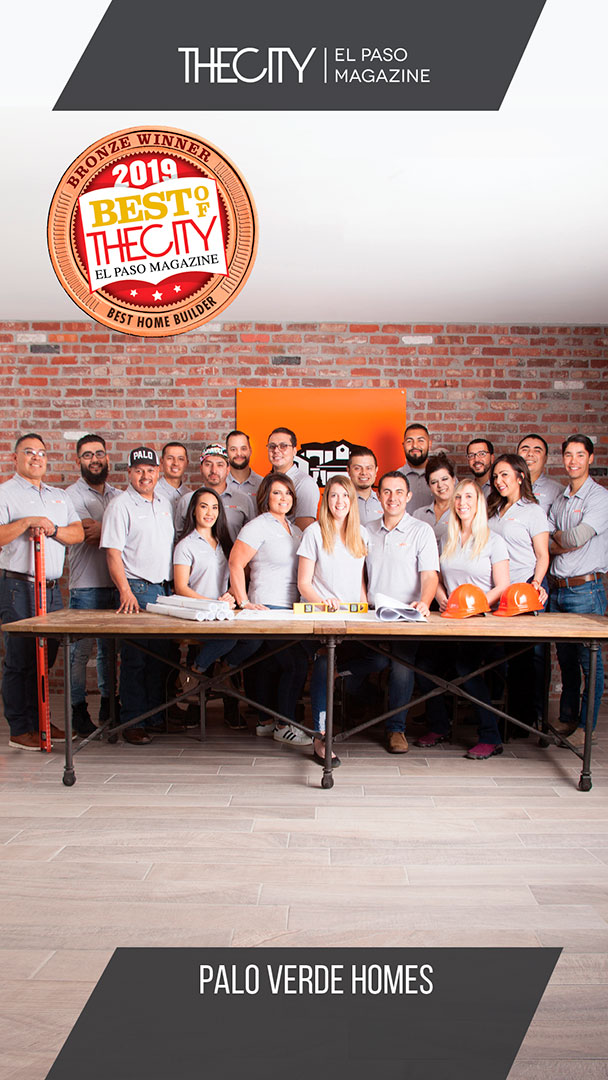 For over 13 years Palo Verde Homes has taken pride in building beautiful quality homes in El Paso and Southern New Mexico. Every single customer is important to us which is why we strive to provide the best in features, floor plans, materials, and workmanship in addition to the best possible customer service. Our focus is on safety, quality, cleanliness, and continuous improvement. 
Thanks to the hard work and dedication of our Palo Verde Homes Team, The Harris Real Estate Group, our contractors, suppliers, business partners, and customers we have garnered several recognitions including being named one of America's Top 200 Builders for the past five years, an annual EPA Energy Star Leader, the EPAB 2015 Builder of the Year, City Magazine Builder of the Year in 2016 and 2017, and a City Magazine Builder of the Year Top 3 Finalist in 2018 and 2019. 
 We thank the over 1,300 families that have trusted us to build their home and look forward to continuing to serve even more families moving forward. Palo Verde Homes, where what coming home should feel like. 
 We would like to recognize our team (alphabetical order) Zack Aranda, Mario Cabral, Angel Davila, Jerardo Delgado, Lane Harris, Claudia Jimenez, Edgar Lopez, Ubaldo Madera, Ryan Maez, Chelsea Mayer, Carissa Montiel, Raquel Montiel, Edgar Olivas, Kandice Palomino, Levi Puente, Javier Ramirez, Armando Rios, Gina Valdivia.
Palo Verde Homes
7100 Westwind Dr., Ste. 250
El Paso, Texas 79912
(915) 584-9090
Photographed by: Daniel Frederick