By: Taylor Hines
Photos by: Ryan Ortegon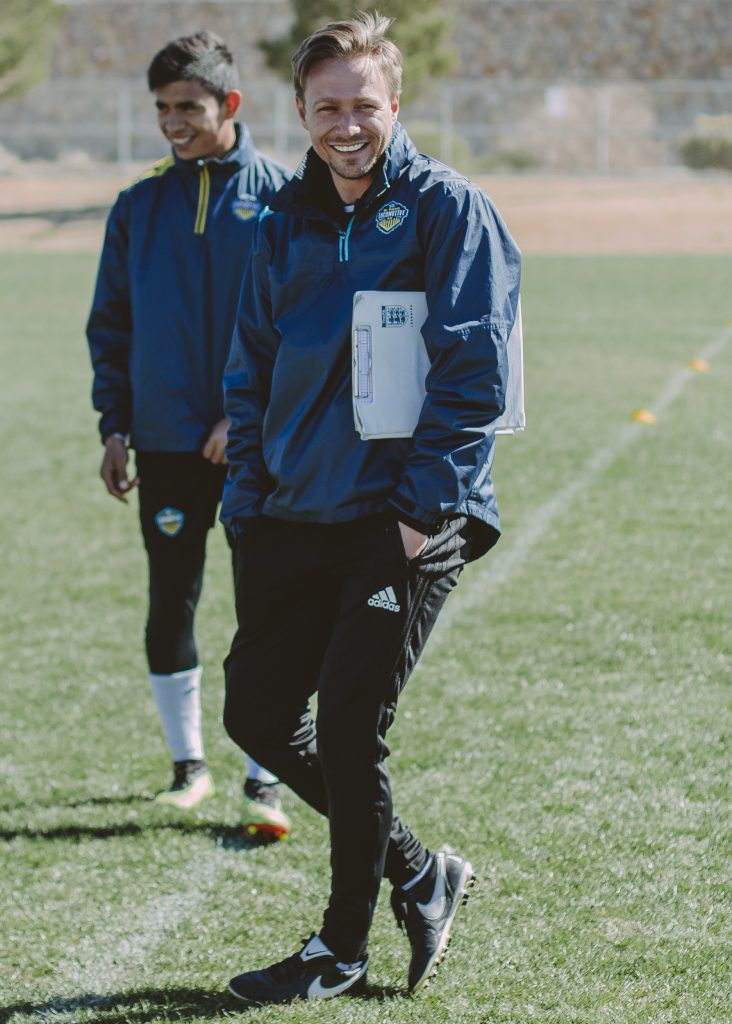 Now, I want you to close your eyes and picture a football coach. Okay, maybe keep your eyes open, this could get a bit difficult. Picture what you think the run of the mill football coach would like. How did you piece them together? Did you draw inspiration from a vast array of improperly fitted "team" polos tucked into sweat pants; although the coach hasn't used their "athletic" gear for any athletic feat since what they would describe as the "golden days." You probably also gave them a bit of padding around the mid-section, a clipboard, accompanying branded cap and supportive trainers that keep the knees feeling good all day. Take that image, shred it, burn the clippings and dispose of whatever remains—this football is the original football, here we call it soccer or futbol. Whatever we call it, El Paso Locomotive FC Head Coach Mark Lowry calls it his next station.
Chalk it up to Beatle Mania and the British Invasion of the 60s as to why the colonies take a 27-gauge syringe of straight Anglophilia and push down on the plunger. Lowry is the epitome of the cool well-dressed Brit that Americans fawn over. From head-to-toe he exudes confidence and a swagger that is the echo we associate with English Football Managers. Lowry is more than an archetype: he is the real deal and here to elevate El Paso's professional soccer franchise.
Lowry's life started across the pond in England, more precisely Solihull, in what he would describe as a "fairly normal childhood and upbringing." Like most children around the world, Lowry took his first steps with a soccer ball in tow but, unlike most children, he would have the chance to play the beautiful game professionally. "I would say that I had more talent than most of the kids around me and had the opportunity to do something with my talents," said Lowry before he takes a thoughtful pause and continues, "In my mind it was something I always wanted to do and it was something that was achievable. But, after some time, the pressure really got to me."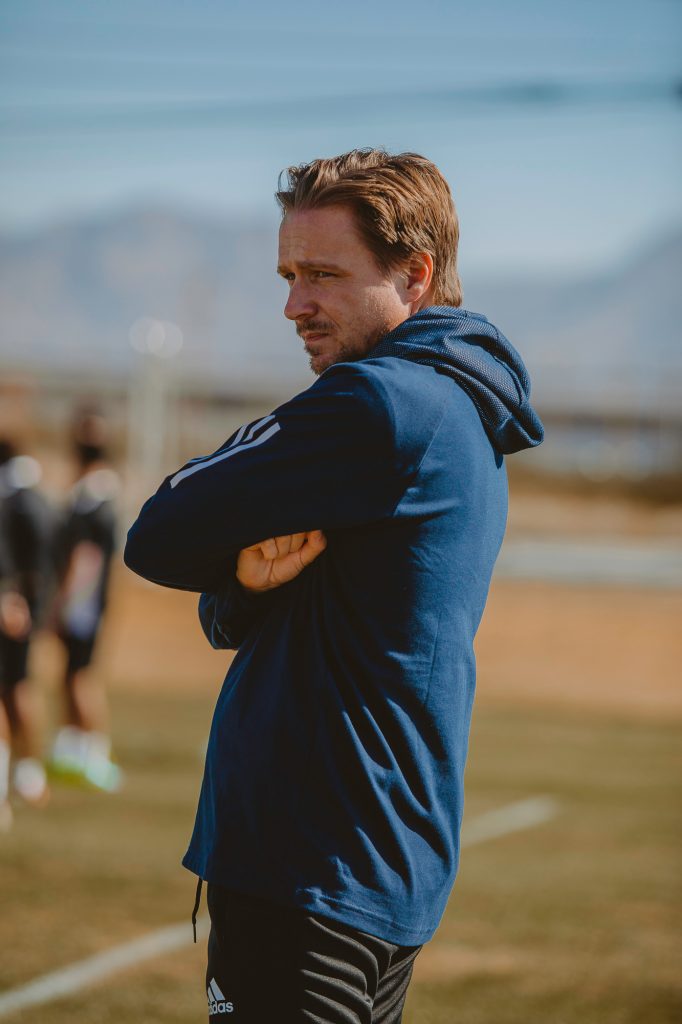 As a young man around the age of 19, Lowry had already played with esteemed youth academy's and senior level clubs in England. His path to a long and prosperous playing career was set in front of him but the paved road wasn't the one Lowry wanted to go down. "It really affected how I approached and felt about playing the game. Everything in front of me was achievable, but was it worth the sacrifice? I realized at that point that I needed to remain in football, but not as a player. That transition into coaching felt like the most natural route," said Lowry.
Getting his coaching licenses at a very young age opened up the opportunity flood gates for the young and hungry Lowry. The young Brit decided to try his luck in the States, moving to Orlando at just 21 years of age. He found his rhythm, joining the coaching staff with Orlando's U-23 squad which ultimately landed him on his journey to the Sun City. "Every player, every coach, and everyone has that next level in them. As a coach it is my job to bring that next level out." Lowry secured his first head coach position with NPSL club, Jacksonville Armada, where he spent two years. The move to the next level of the US Soccer hierarchy came by way of an opportunity with a new club here in El Paso.
El Paso Locomotive FC is one of the newest expansion clubs in the USL Championship, which is considered the second tier of the professional soccer pyramid in US Soccer (Major League Soccer holding the highest spot). The opportunity to start a new franchise as the head coach is not a moment that comes around frequently, and Lowry knew the move was the right one at the right time.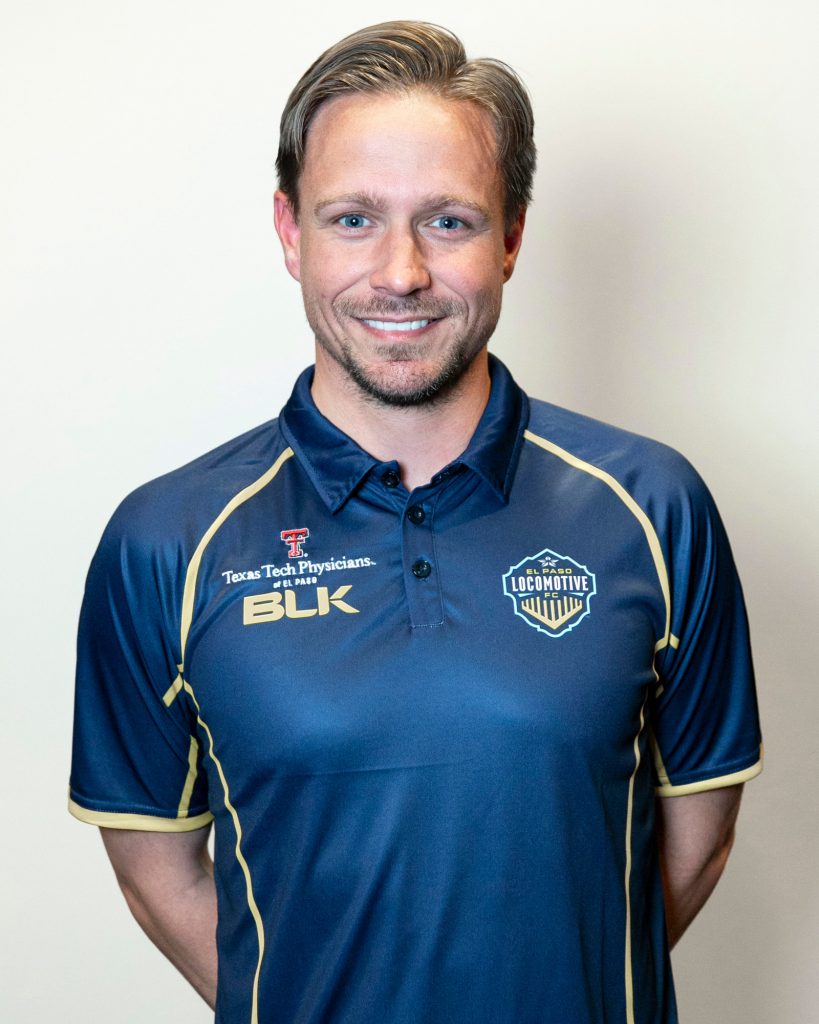 "I have really been fortunate enough to not only have worked as a coach in multiple levels, but also have had the chance to play at a highly competitive level. [Being] a young coach … has really helped me relate to my players. Being there and having done it, I have the ability to relate to them and the stress and pressure," said the 33-year-old Lowry who just happens to be the youngest coach in the league. You can see this statement ring true when you watch how he gels with his squad. Respect and comradery hang heavy in the air during practice. There are laughs, jabs, jokes; juxtaposed against a tenacity and ferocity of training. Anyone who has played any rung of somewhat higher-level soccer can see that Lowry is the coach you always wished you had. He is the coach and leader you remember and attribute success to.
Lowry has found his stride and brought the right pieces together to create a culture. "I only want the right people here. The people who want to be here and want to work, those are the ones I want." Lowry continues, "It is a long season. There are ups and downs. When you go through the bad times, you want the right people to surround you. It makes the whole process move forward which is what it's all about."
Lowry tells me that who he wants to be as a coach has evolved over the past few years. He looks back at those whose philosophies have brought him this far and those that will carry him ahead. He leaves me with one final thought that transcends any sport, job or career. "If you love it, you'll find your role."