Gouda Polenta Short Ribs
By: Jesse Maynes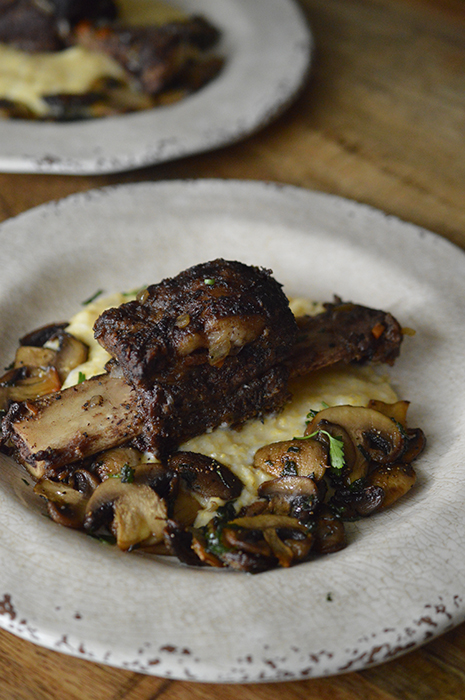 Polenta is, by definition, a thick mush of cornmeal. Please, allow me to fix this poor definition by giving it the explanation it deserves. Boiling cornmeal turned out to be a great idea—thanks ,Italy!
Polenta can be compared to grits, but it's stronger (coarser) and it will hold its shape better in the cooking process. With unmatched versatility, it can be creamy or have a little firmness to it. It can be cooled and molded into shapes, then cut and grilled, baked, fried … etc. The point is, I wasn't familiar with it before last year, and when I saw it on menus and in recipes, strayed from it. I've heard that you're your own worst enemy, and I get it now. But polenta is a lot of things, maybe that's what's so special about it in the first place. Because it's so versatile, it can be paired with an unlimited amount of options. Let's say goodbye to winter properly with some savory beer braised beef short ribs and crispy, herby, buttery mushrooms. I want to clean the palate from these heavy flavors by adding smoked gouda to my polenta, it'll hit you with the first breath after your bite and won't leave you with an oily aftertaste that a fatty cut of meat can often do. This makes the perfect opportunity to visit your local butcher to get beef short ribs cut to expose the bones, aka French Cut (Thanks, Coronado Prime Meats). Exposed bone is a great plating tool and will awe your guest with no extra effort on your end.
Braised Short Ribs w/ Polenta & Crispy Mushrooms
4 beef short ribs (4 inches, bone exposed)
1 small onion, diced
3 clove garlic, crushed
2 carrots, diced
1 stalk celery, diced
1 bottle Guinness stout beer
2 tablespoons flour
3 tablespoon oil
1 cup beef stock
Salt/pepper
1 tube ready-made polenta
1 cup milk
1 bay leaf,
6 tablespoons butter
1 1/2 cups smoked Gouda
2 cups button mushrooms, sliced
1 1/2 tablespoon butter
parsley, fresh
Directions
Heat 1 tablespoon oil and 1 tablespoon butter in deep sauté pan (5 quart Dutch oven) on medium high. While oil heats, season short ribs with salt and pepper on all sides. Once seasoned, lightly toss ribs in flour to evenly coat. Sear ribs on all sides creating a solid crust. 1-2 minutes per side.
Once browned, remove ribs and set aside. Lower heat to medium/low and add 1 tablespoon butter to pan. Once melted add onion, carrot, garlic and celery. Sauté until tender, stirring often. Once tender, slowly pour in beer and beef stock. Stir to incorporate while scraping bits off bottom of pan. Bring braising liquid to boil, reduce heat to low, return ribs to braising liquid and cover for 1 1/2 – 2 hours, until ribs are very tender.
While ribs cook, add polenta to medium heat pan, break up potato masher until no lumps (or if you like a little) remain. Add milk and bay leaf, whisk until combined and smooth, slowly bringing to a simmer.
Add cheese in three part (half cup each part) stirring in between each, making sure cheese is melted. Remove from heat, remove bay leaf, add 2 tablespoons butter, season with salt and pepper and stir until butter is melted. If too thick, add a tablespoon of milk and stir until desired thickness. Set aside and cover.
Warm 1 tablespoon oil in medium sauté pan on medium high heat. Once oil is shimmery, add mushrooms and caramelize until browning occurs and mushrooms have released most of their liquid. Add 2 tablespoons butter and fresh cut parsley until mushrooms are crispy. Remove from pan and drain on paper towel.
Plate up with polenta in the center of your plate, round half your plate with crispy mushrooms, finish with rib and fresh parsley.