By: Marie Moore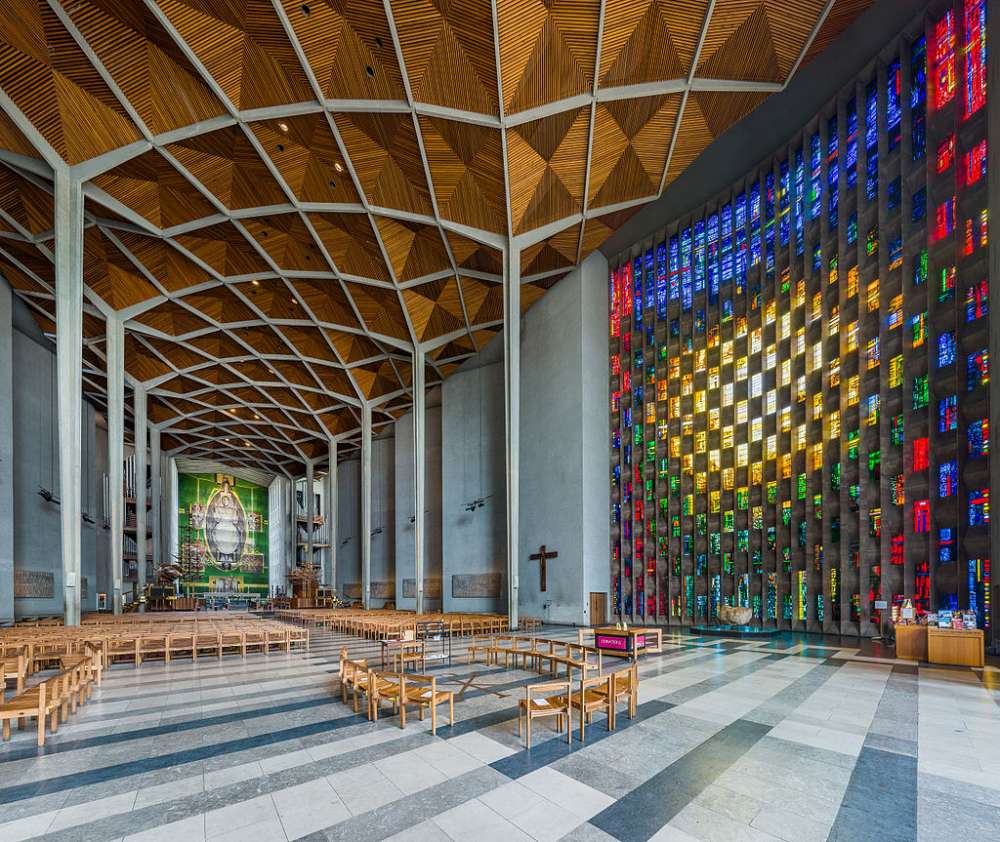 There are some scars too deep and vivid to hide. Sometimes the best you can do is honor them by paying homage to how and why they happened and what you learned from the blow.
In August, 2001, I stood before the Monument to Peace in Coventry Cathedral and read the words "Lord, Let us Forgive" hung above a roughly hewn cross created from the metal shards of shells that bombed that church during World War II.
Around me lay the ruins of the original church built by historic nobility … its scorched walls and eerily empty window frames, broken bricks and blasted towers … remnants of terrifying times.
But I also witnessed something else that day. Something which I have never forgotten. Because standing next to the old cathedral is the new one and it is filled with a spirit of forgiveness and hope for humankind that is so powerful—it's worth getting on a plane and flying all the way to England to experience.
The new Coventry Cathedral opened in 1962. Since then, it has welcomed thousands of visitors who come to feel the sense of peace and reconciliation embodied by the startling study in contrast that exists there.
Angela Barden remembers the day she attended the opening ceremony:
"As a schoolchild I went, along with many other children, to the consecration of Coventry Cathedral. I still remember it so well, so I must have felt that it was a very important occasion. I still have the bookmark we were all given that day. On the reverse of the bookmark it says 'Given to the children as a memento of the consecration of the new Coventry Cathedral, 25th May 1962.' I did not want to lose it, it was precious to me so I scrawled 'DO NOT TOUCH, THIS IS MINE' on the back. A typical thing for a child to write when she is trying to stop her big brother from pinching it!"
The Church of St. Michael, commonly known as Coventry Cathedral, is the seat of the Bishop of Coventry in the West Midlands of England. It has stood since the 14th Century.
The new building, initiated in 1951 and completed in 1962, was designed by Basil Spence. It currently offers educational and liturgical programs, serves as a center for the arts and a focal point of the city's cultural mission.
Inside, the "West Screen" features patriarchs, angels and saints etched on a glass wall, linking the old cathedral to the new. In addition, The Tapestry of Christ, Nave Windows, Cross of Nails (medieval nails collected from the ruins) and Chapel of the Stalingrad Madonna are just a few of the riveting pieces that adorn this site.
It should be added that a duplicate Monument to Peace is located in Hiroshima. A forgiveness ceremony was held, simultaneously, in both cities, when they were unveiled.
Coventry Cathedral … a memorial, a monument and a testament to forgiveness.