By: Veronica Nevarez
Businesses and consumers, alike, need to stay ahead of the curve in our rapidly changing marketplace, and that includes in terms of how products and services are positioned in the public eye, and generally speaking, how society stays informed. The "media mix" utilized in both aims, whether through print, radio, TV, digital or social media marketing, is important in both how companies stay relevant and we get our news.
The following local women have mastered the business of media on various levels, and have successfully applied their sophisticated expertise over the years to help keep us informed and industries productive. As such, these talented women not only thrive in their own right, they have and continue to lead the way in putting businesses and individuals, and our great city as a whole, on the map. Now, read on and prepare to be inspired …
Estela Casas, News Anchor at KVIA ABC-7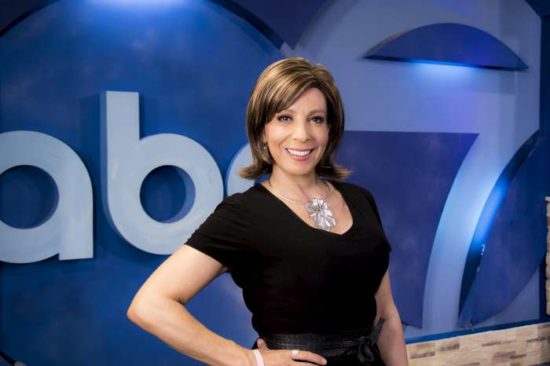 One of our city's most prominent and beloved women, Estela Casas, News Anchor at KVIA ABC-7, is the embodiment of leading by example. Estela is not only El Paso's highest-rated and longest running anchor of all time, she's also a gifted and talented singer. Awarded with a Voice Performance scholarship to Arizona State University, she sung in Mexico on Televisa for "Hoy Mismo" and "México Majia y Encuentro," along with other popular appearances before shifting her focus to broadcasting.
Inducted into the El Paso Women's Hall of Fame, among other things, Estela has been a powerful force in women and children's advocacy. In recent years, she's battled thyroid cancer and more recently, breast cancer, of which has now become a platform for her to educate and inspire those dealing with the disease on every level. The "Stand for Estela" campaign fund has yielded tens of thousands in donated funds, which in turn benefits local residents battling the disease. Regarding her own cancer journey, although no easy feat, Estela's candor on the matter with those who've come to know her in the 30 plus years she's been in the spotlight, has proven invaluable. Not only has it helped others cope, it's helped her cope. Celebrating 25 years in April 2018, the profound inspiration found in Estela's love for her community is priceless and for that, we'd also like to thank her for her longstanding and enduring commitment to our city.
Georgina "George" Riddle, Director of Sales at Townsquare Media El Paso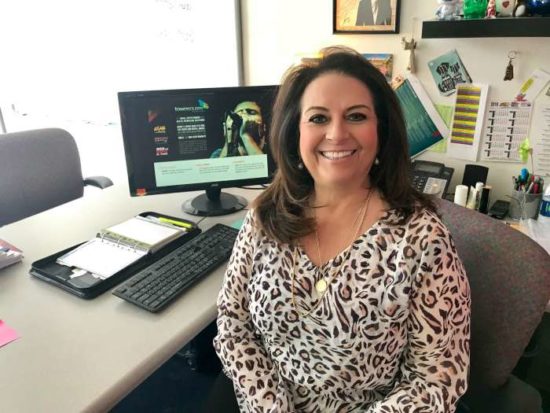 Radio sales guru, Georgina "George" Riddle and current Director of Sales at Townsquare Media El Paso, which operates KLAQ 95.5 FM, 93.1 KISS-FM and 600 ESPN, has been in radio for 26 years. Her start came by way of a mutual friend and her own introduction to now Market President, Brad Dubow, at a local event party. Interestingly, George came to her native El Paso after a brief stint in securities while in Kentucky and transitioned into sales upon her return. She landed Townsquare as an Account Executive, quickly climbed the management ladder and the rest is history.
When asked whom she'd name as her mentor, George says meaningfully, "Brad … with an exclamation point" and adds, "He's a creative genius." Among other things, she credits her strong writing ability, vital in producing successful radio spots and event promotions, and points out that as a whole, Townsquare is in the business of selling ideas—not just advertising—and genuinely refers to clients as partners, while priding herself on the entire inner workings of the company. In April, Townsquare Media El Paso achieved the top spot as 2017s "Market of The Year" for ratings, revenues, digital achievements and as the largest local event group of the company's entire 67-market media group. In making her own lasting mark, George has categorically led her team to its own great success!
Shauna P. Ziegler, News Director at KFOX14/CBS4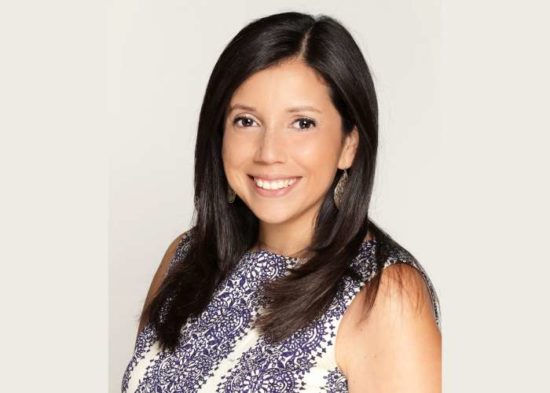 Working as a weekend intern for a local TV station marked only the beginning for Shauna P. Zielger, News Director at KFOX14/CBS4, and what would become a lasting and successful news career. Born in Jacksonville, N.C., her father's Marine Corps deployments took her family all over before her final move to El Paso at age 12. Her real start came during, as she jokingly recalls, the time her entire family went on a California vacation, while leaving her behind to find a job. Not exactly happy about their decision, she admits it was a "blessing in disguise." It was while "home alone" that Shauna, ultimately, landed the role of weekend Assignments Editor in 2003 at KFOX14. Fifteen years later, Shauna now oversees both stations along with 50 plus hours of news per week and provides vital direction to their 75-person news staff. Having worked a number of roles at the station, everything from KFOX morning News Producer to Executive Producer, she says of her work, "It's exciting every day… you have a front row to history."
As for her mentors, Shauna names Lauren Macias-Cervantes, once Executive Producer, for teaching her the ropes and prior News Director, Dave Bennallack, whom she credits for believing in her. Imparting her vision to continue "making a positive impact on the community," Shauna clearly proves that she's the woman for the job.
Secret Wherrett, Publisher at El Paso, Inc.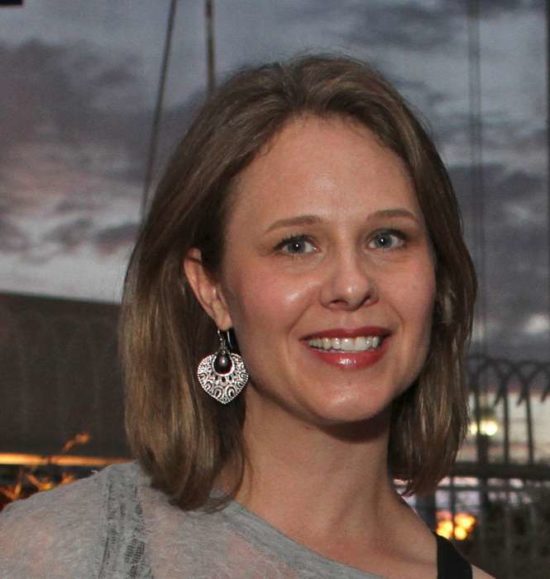 Although seemingly far-fetched for the once Silicon Valley public relations specialist, Secret Wherrett, Publisher at El Paso, Inc., has proven successful in advancing her family's publishing operation. Her father, Tom Fenton, launched El Paso, Inc. in 1995, after serving as Editor and Publisher at the El Paso Times. Describing him as a "career journalist," Secret recalls the idea of taking the business over as being the furthest from her mind given the shoes she'd have to fill.
Her background in high-tech PR came full circle when Secret and her husband, Carl, relocated to El Paso. It wasn't long after that she took over as Editor for sister publication, What's Up, launched their very first "Best Of The Best" in 2004 and ultimately, succeeded her father as Publisher at El Paso, Inc.
Today, Secret oversees both operations, and refers to the opportunity to engage and partner with the community as a "privilege." She also largely credits her mother, Ellie Fenton, Controller, and business partner, Debra Fraire, Advertising Director, for the wisdom they've imparted. In our current digital age, Secret points to local media, and not just print, as being the "core" yet often overlooked component for how society stays informed. "My vision is making sure that the community understands the value of that" and graciously thanks her print readers for being instrumental in that aim.
Marina Lee, Senior Account Executive at Townsquare Media El Paso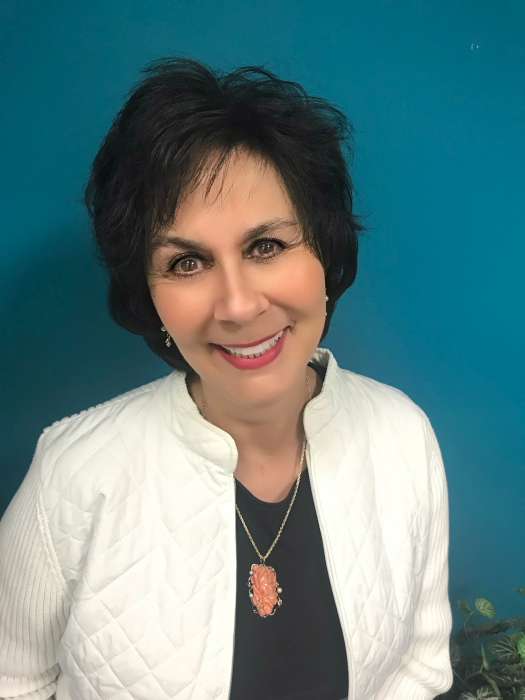 A dynamic advertising pro, Marina Lee, Senior Account Executive at Townsquare Media El Paso, brings years of solid ad expertise to the table, along with a rich, colorful past that undeniably adds value. Her father, Andy Cohen, and uncle, Sydney Cohen, were major league baseball players. Years later and through Marina's lobbying efforts, Cohen Stadium was named in their honor. A music lover and writer at heart, Marina's written for the likes of Country Music and Billboard magazines, the El Paso Times and even has movie credits to her name. She started with Townsquare Media in 2009, following a high-level advertising position and after operating her own company, The Lee Agency. Combining her love of advertising with her passion for writing and music, the move was a natural progression.
In April, Marina was named a Townsquare President's Club Winner for 2017, an impressive ranking among the "Top 20 Account Executives" from over 500 account executives in 67 U.S. markets. Crediting mentors, Brad Dubow and Georgina "George" Riddle, she says, "Those two are just terrific people," and pays homage to her father for instilling respect as a valuable, life-long lesson. "He would always say he treated the janitor at the ball park the same way he treated the guy who owned it." Today, Marina inspires by blending her passions to come out on top.
Monika, Brand Manager and On Air Personality at 93.1 KISS-FM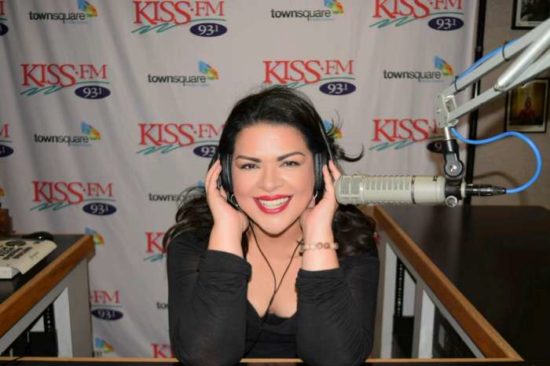 With over 16 years in the business, Monika, Brand Manager and On Air Personality at 93.1 KISS-FM, has a unique agenda for "connecting people." A Hollywood, CA native, Monika moved to the Sun City at age 13, got her start on public radio, and later worked for, formerly known, KTSM Television and Radio. Briefly relocating to Oregon where she worked for the WWF's "Rowdy" Roddy Piper, she decidedly made her return to El Paso. She was hired at Townsquare Media as a part-timer, until she began, literally, doubling their show ratings. Before long, Monika grew to become a beloved KISS-FM on air personality with a flair for music, events, promotions, building relationships with record labels and of course, our community, through her local charity work.
More importantly is Monika's passion for bringing people together for the common good and says, "You know the bottom line is that I have been truly blessed in my career and I can't thank all the people enough that have helped me throughout my life, but I will continue to do my best work and in turn, help out those that I can, while I can." On air Monday through Friday from 10 a.m. to 3 p.m., Monika's a radio mogul who lends her celebrity to selflessly promote the greater good of El Paso, commanding both the airwaves and our hearts.
Ellen F. Ordaz, Founder and Media Strategist at EFO Media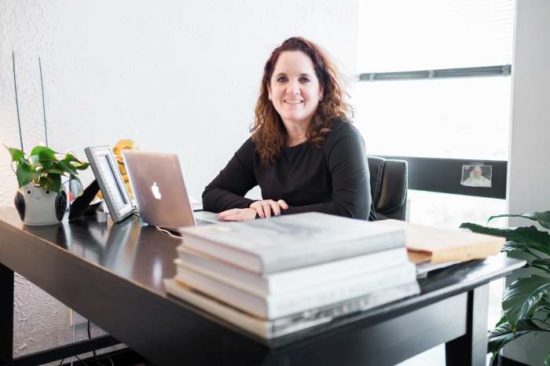 Getting her start as a part-time receptionist, Ellen F. Ordaz, Founder and Media Strategist at EFO Media, learned the business ground-up beginning at formerly known, KTSM Television and Radio. She worked directly under Richard Pearson, the station's former General Manger, who she says saw something in her. Ellen began in their TV division and soon after, moved to the radio side of the business, and says, "I was learning the inner workings of TV and radio stations. It was invaluable." After many years with KTSM, she began a new venture at Sanders Wingo Galvin and Morton Advertising Inc. as a junior buyer, and worked directly for Bob Wingo, now President and CEO of Sanders Wingo Advertising Inc., while learning the advertising and marketing side of the industry.
With 25 plus years in the industry, Ellen now heads her own highly successful media agency. As one of her most influential mentors, Ellen names her mother as having instilled a strong work ethic. She also credits Richard Pearson for his investment in her career, as well as Bob Wingo, whom she says has "changed the trajectory of [her] entire career." With integrity at the core of her services, Ellen continues to offer savvy media strategies to her clients that keep both her agency, and her clients, ahead of the curve.
Erica Torres Sheid, Account Executive at KFOX14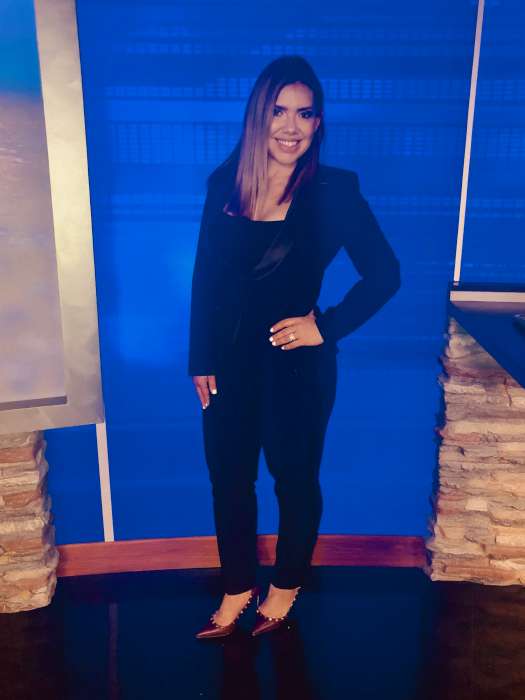 Twelve years ago, Erica Torres Sheid, Account Executive at KFOX14, got her very first start in media as an Account Executive at Entravision. From there, Erica grew into a successful role at Autotrader.com during the auto boom, where she was responsible for roughly 300 independent auto lots. Afterwards, she was recruited by Livingsocial.com, an online marketplace which ironically, led her into a top Senior Account Executive position with their competitor, Groupon.com. Following a prosperous venture with the online giant, Erica moved into her current role at KFOX14 in 2014, which is owned by Sinclair Broadcasting Group, the 17th largest company in the U.S.
Today, Erica enjoys a thriving TV sales career selling commercial spots to businesses in the aim of helping her clients grow their market share. In fact, she came in ninth nationally in 2017 for new business acquisition and was ranked the number one Account Executive in El Paso. Awarded the 2017 Circle of Excellence honor for her top spot locally, and recognized as a 2017 TOP 200 Marketing Consultant for the entire network, is no easy feat. "Diligence is something you need in this business," she says of her achievements and credits her mother as her biggest mentor. The recognition that's come from hard work and an unrelenting drive, not only defines Erica, it defines success at its best!