By Oscar Acosta
Photos By: Jesse Maynes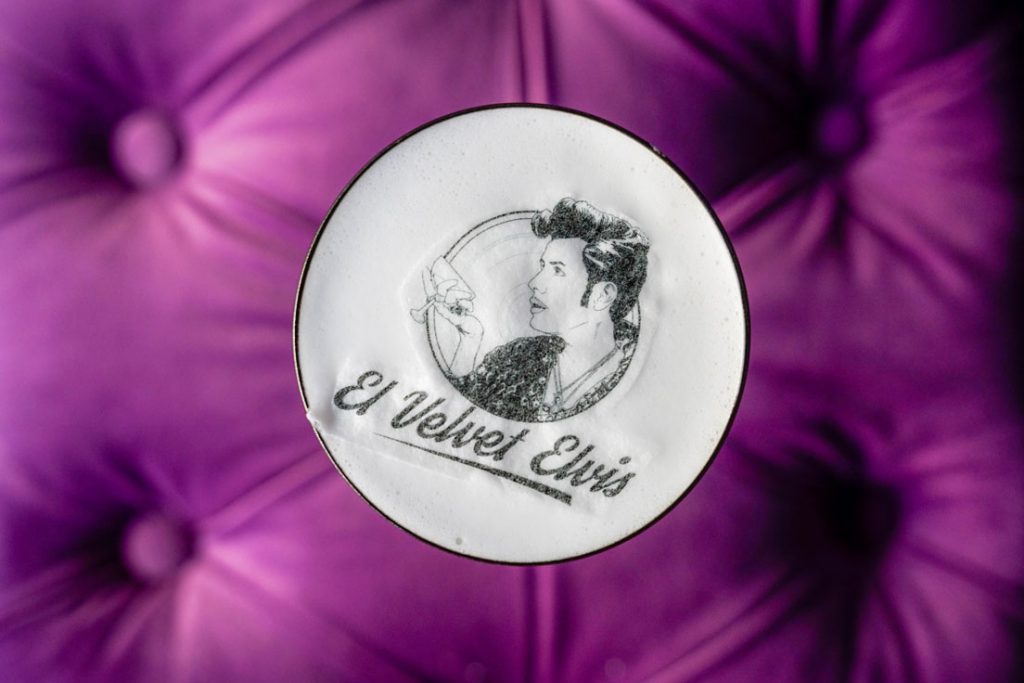 If you're in El Paso and into cocktails you should know these names: Cesar Gustavo Perez II and Michelle Salgado. Together, this couple has led El Paso's cocktail renaissance. With their latest offering, "El Velvet Elvis at The Pershing Inn," they bring their movement to El Paso's Five Points area. Part research lab, art hangout and mixologist conservatory, Cesar and Michelle lead a team where the "craft" in craft-cocktails is stressed. As part of their work requirements, Cesar and Michelle, along with Patrick-David Walker and Isaac Acosta, are required to participate in at least one or two mixologist competitions a month. They are that serious about their on-going craft that started four years ago.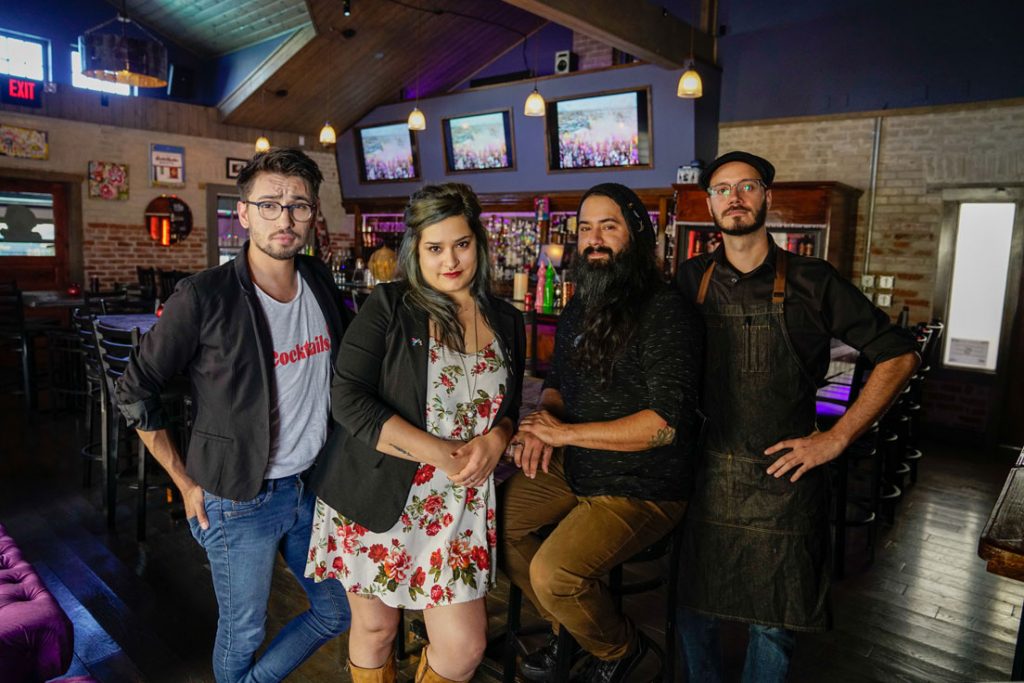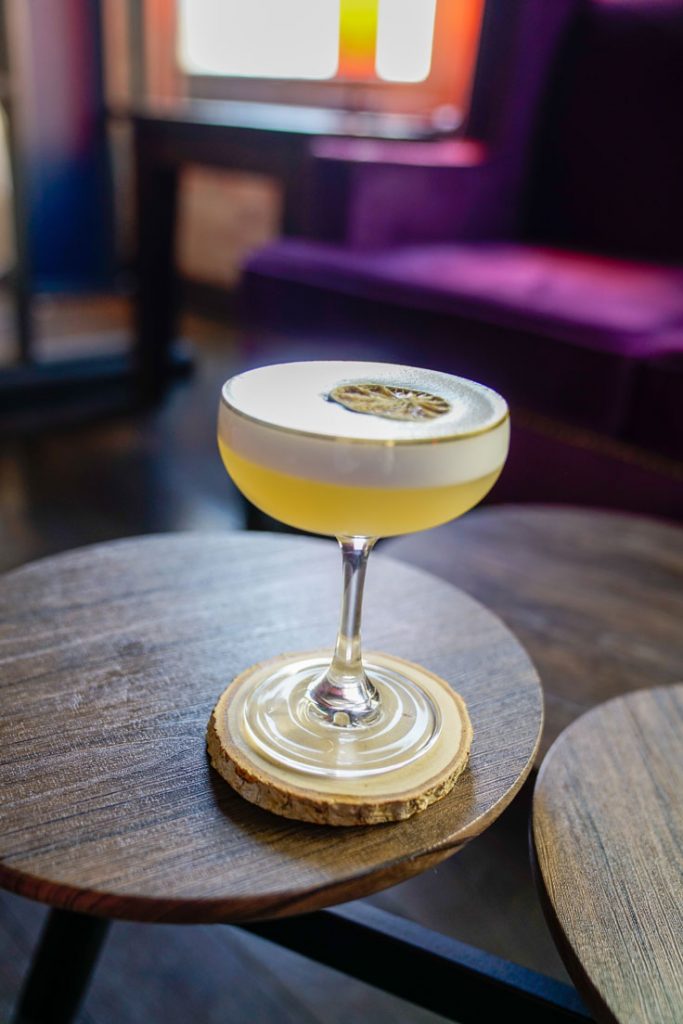 Prior to El Velvet Elvis, Cesar and Michelle established themselves atop our city's booze scene with Murray's. Stacked next to then bar cash-machines Tipsy Tiger and Whiskey Dicks, Murray's was a craft-oasis in the desert we call the Eastside—a tiny bar, where its namesake's representation decorated the walls. You could order beers whose last names were not Light, came from places called Boulder and cocktails produced by magical-like machinery that infused the flavor of mesquite with a wisp of smoke. Not known to many that didn't make the drive, but still beckoning those that worked the trade, Murray's made a name for itself as a place where creativity, skill and craft mattered.
A bar-within-a-bar, El Velvet Elvis is nestled within El Paso's iconic The Pershing Inn. If you don't know it, then you're not from El Paso. Or you don't drink. Weirdo. Owned by Tim Wilson, The Pershing has been a well-known watering hole since tu mama y tu tia were climbing out their bedroom window to sneak out for a few beers. Depending on your age, maybe even nana too. The place was established in 1949. Today, you will often find a raucous crowd composed mostly of … I kid you not … school teachers and downtown office workers. Serious drinkers.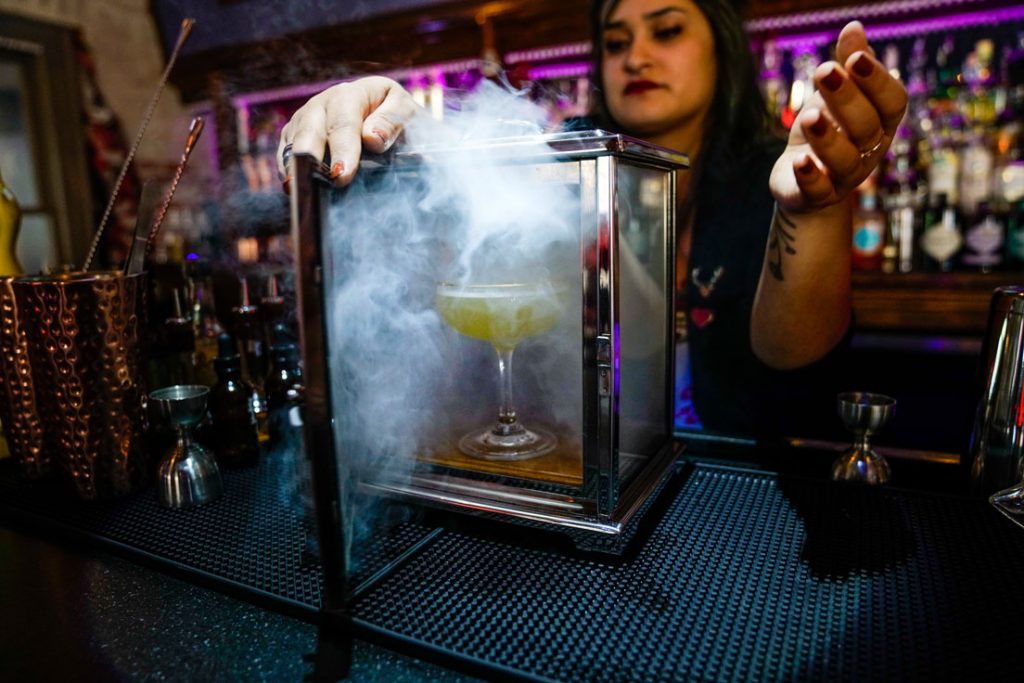 El Velvet Elvis is a serious place, for serious connoisseurs of spirits. Sporting a cocktail list that features "edible art," infused spirits, fortified and dehydrated fruit, El Velvet Elvis' drinks will knock you back. They are pleasing to the eye and taste, and definitely not for amateurs. Prices range from $8-$20 and come standard as doubles. Two drinks can definitely hit the spot. Beginners can enjoy whatever beers have been overstocked at The Pershing Inn for $3.
The "craft" culture is not unique to El Paso. In fact, Cesar and Michelle are building on the shoulders of giants like Joe Baum's The Rainbow Room in the 90s, Sasha Petraske's Milk & Honey in the 2000s, and David Kaplan and Ravi DeRossi's Death and Co. Because of the democratization of information via social media, El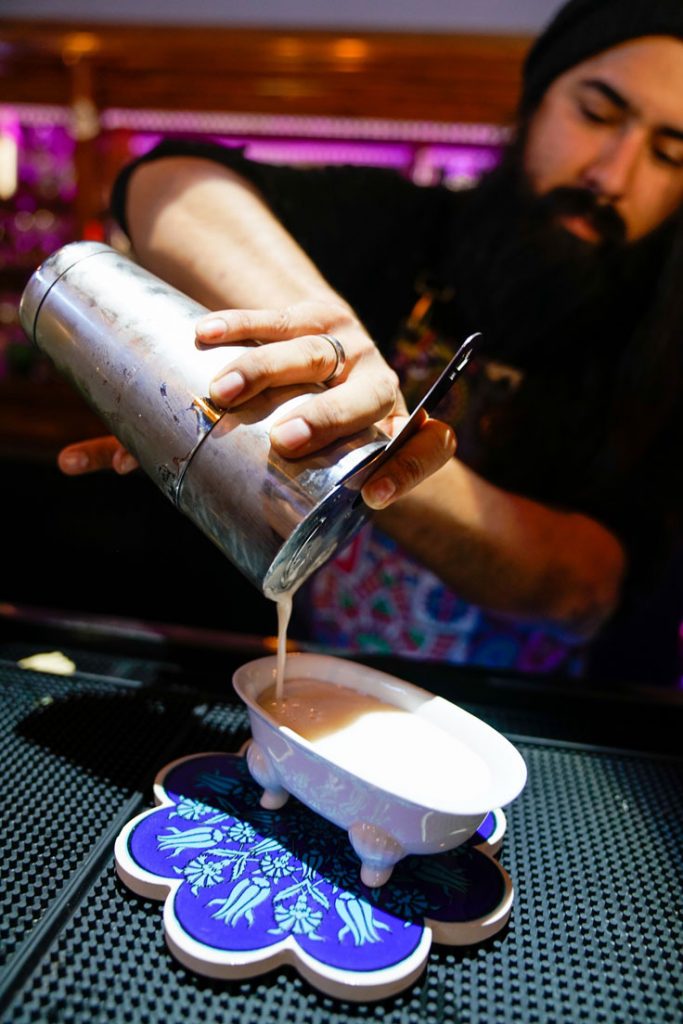 Paso gets to have a taste of what has been happening in big coastal cities. No other place in El Paso exemplifies that trend like El Velvet Elvis. 
According to Michelle, the experience of providing her own spin on somebody else's work creates greater freedom to push themselves. "I'm crafty, creating something specific," she says. The creative process is what sets apart what is essentially poisoning you, albeit quite deliciously, from other bars. El Velvet Elvis prides itself in its creative process. Drinks are served in miniature bathtubs, darkened Nick and Nora glasses so you can focus on the drink, and as mentioned above, also includes edible art featuring miniature representations of local artists' renditions.
However, it all comes down to the experience of hospitality. The goal is to offer something unique, created and balanced in-house. This will be new to somebody that is veering away from the quick-and-easy sugary concoctions designed to mask the flavor of the spirits that give them potency. So, don't you dare to call them "just bartenders." Their craft deserves respect and sets El Velvet Elvis a step above your typical watering hole.