By: Janene Rojas
Wedding gifts, you spend days thinking up the perfect thing, hunting for the bride's favorite color to wrap it in, and top it all with a big puffy bow. Wouldn't it be nice to receive an equally thoughtful gift upon arrival on the big day? One of the newest trends that will be huge in 2019—and surely for years to come—is gifting each wedding goer with a thoughtful basket of goodies as they arrive to the wedding or hotel. Weddings are no longer a one-way gifting experience. 
You may be thinking, aren't wedding expenses high enough already? Although this is true, gift baskets can be as lavish or low-cost as you want them to be. People are turning to gift baskets as an easy way to relay itinerary details and maps, or offer convenience items to there loved ones during destination wedding stays. Even with a wedding in your own home town, a good basket provides that sweet and spice, it's like the final pinch of "everything nice" that is sure to win everyone over and have guests feeling warm and fuzzy inside, and not just because of the champagne.
Pop or Fizz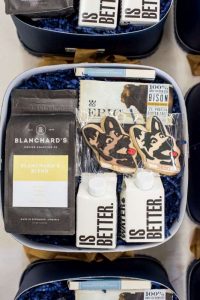 Pick your sip and add it to your basket so guests can hydrate on the big day. Popular options are old-fashioned pop bottles, champagne, or water. Consider your theme and location when choosing the drink.

Location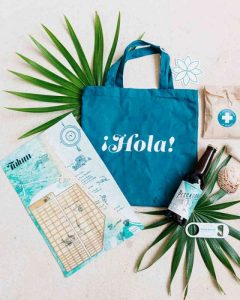 Speaking of location, it's super important when creating your basket. If you're hosting a destination wedding, you want to include items that will be helpful to guests who are unfamiliar with the area. For instance, if your wedding is held in a woodsy, colder climate, consider gifting cozy blankets, pest repellant, a warm candle or loose-leaf tea. If you're having a beach wedding: sunscreen, a big bottle of water or coconut water, maybe some sunglasses and island themed snacks are good options. If you stay local, include your favorite classic snacks from around the area, which in El Paso could be Mexican candies or locally made honey.
Munchies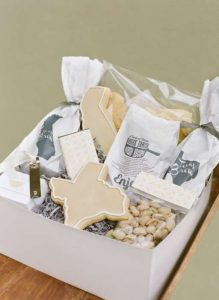 We touched on some snack ideas already, but a good way to make sure your basket is well rounded in that department is to have three snack options: sweet, salty, and nutritious. That way, there's a little something for everyone. For sweets, you can add chocolate or hard candies, while salty could be something like chips or pretzels. Granola bars or fresh fruits work nicely as nutritious options. Like I said, location is key, so if you're in Georgia, add peaches!
The Basket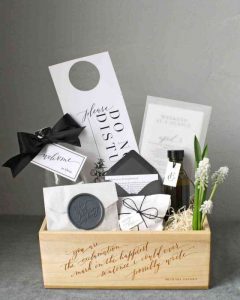 You want your basket to be reusable, so monograms or wedding colors may not be best. Good choices are: tote bags, which can be reused as grocery bags; large tins; or picnic baskets that can later be used as home décor.          
Maps and Itinerary
If you and your guests are in unfamiliar territory, your basket should include a little itinerary for the week, along with a map and lodging/transportation information. A list of nearby restaurants, bars, and coffee shops is also helpful for when family and friends have a little down time.
Recovery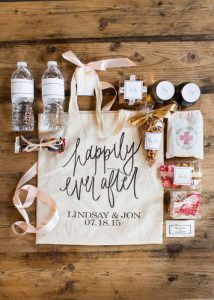 Brides and grooms planning on having wild fiestas might want to include hangover recovery kits. Items like painkillers, do not disturb door signs, and mouthwash are cute little additions to throw in there for those crazy cousins of ours.