By: Janene Rojas
Photos By: Jonathan Weingers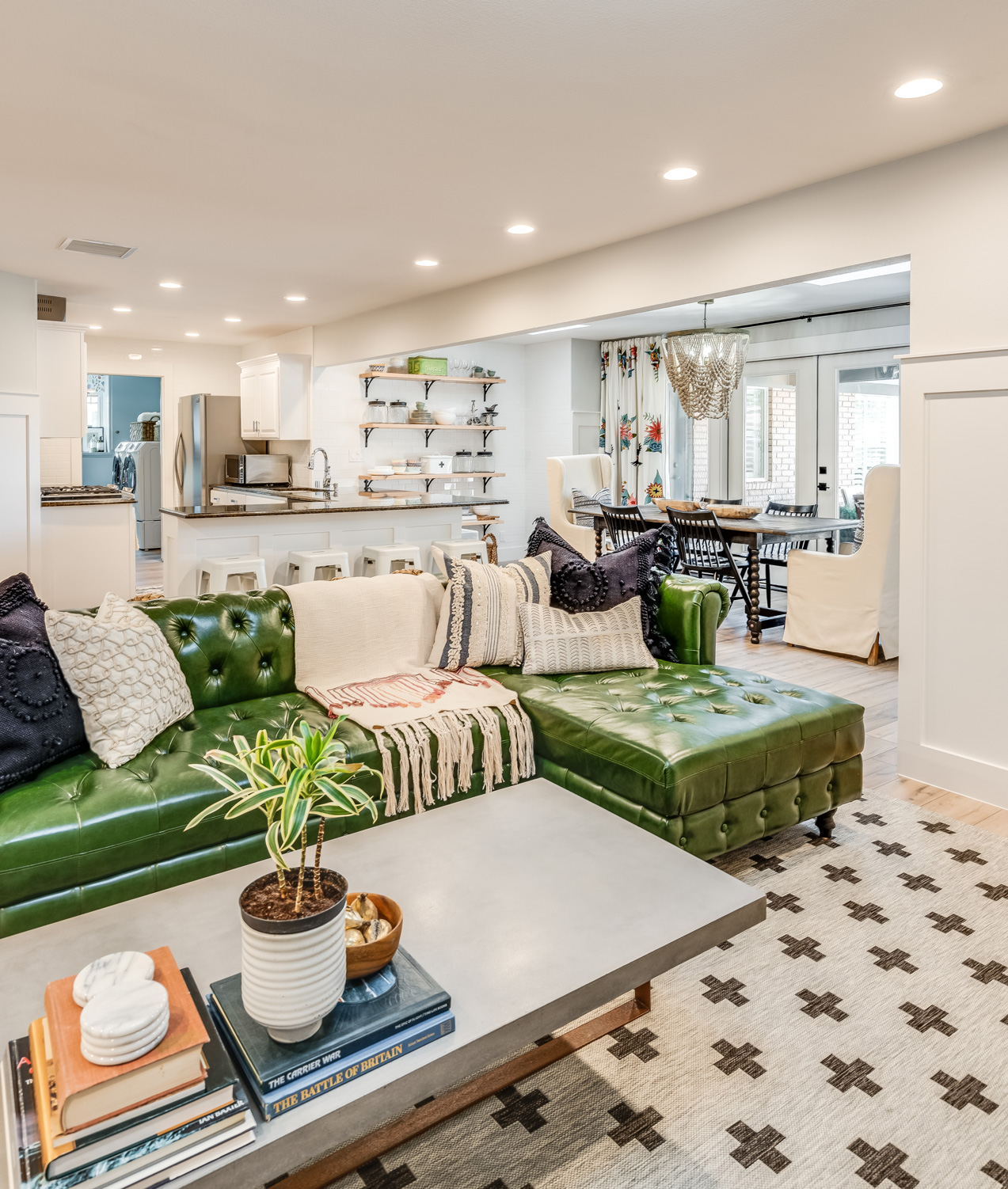 Interior designer Catherine Call transformed this 1970s ranch-style home into a modern and elevated space, which for her was a personal pursuit. Mary Lee and William Johns, Catherine's beloved parents, purchased the property in early 2019 from a family friend who taught their children piano lessons throughout their youth.
Catherine teamed with Dan and Errol Berry of Innovation Homes and got to work remodeling the four-bedroom home and finished it in five months. "We have a tight connection to that house. All of my siblings went to the elementary school down the road, so it was a labor of love to restore the home. I grew up going to that house once a week my whole life," says Catherine.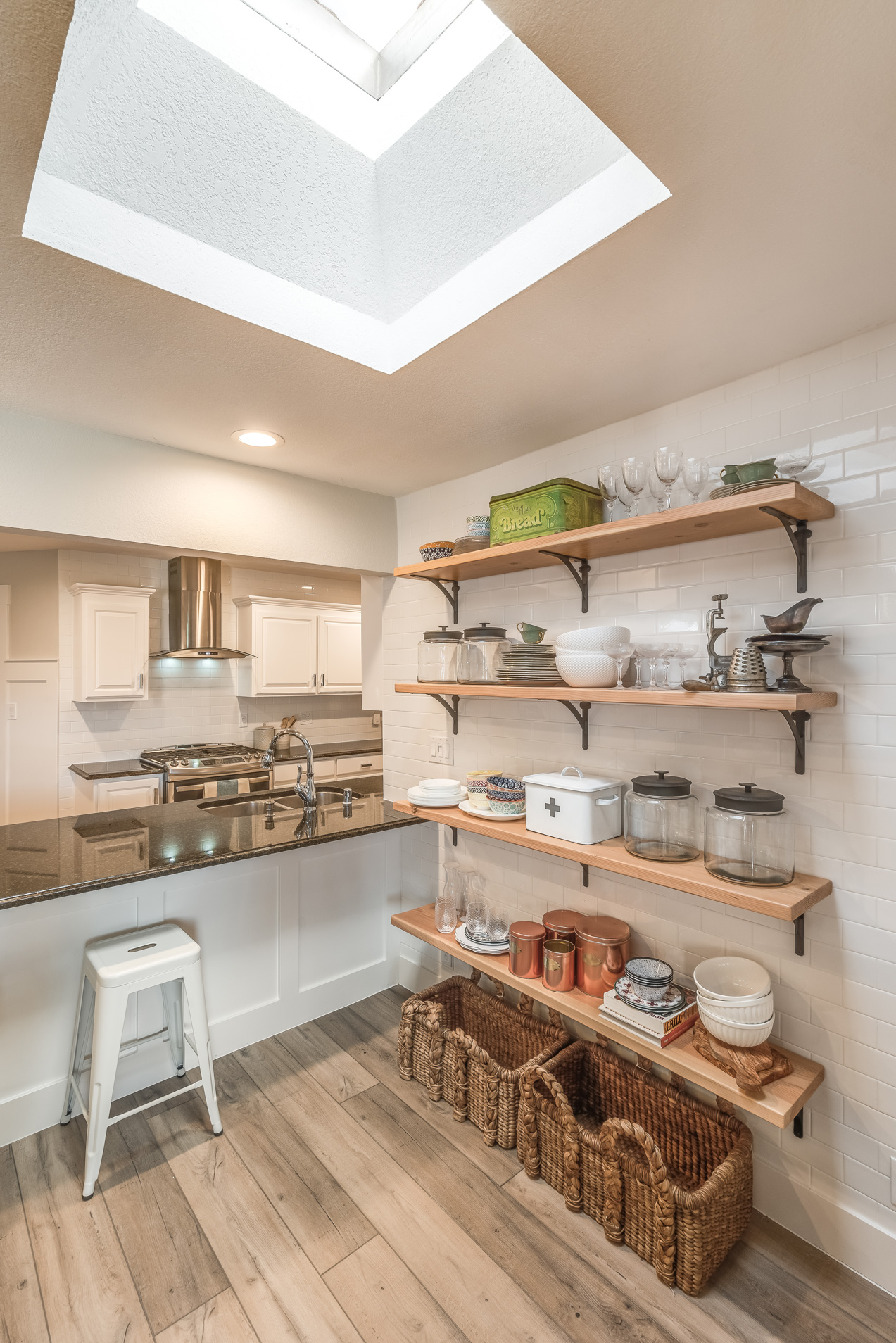 The finished look is unpretentious, cozy, open and pretty from all angles. I slip my shoes off and start brewing a cup of coffee just thinking of the plentiful amount of sitting space and comfy fur rugs. 
When it comes to the décor, Mrs. Johns says she had a say but ultimately trusted her daughter's eye. "She would say 'mom, do you like this?' and I would say 'I don't know, what do I like?" laughs Mrs. Johns.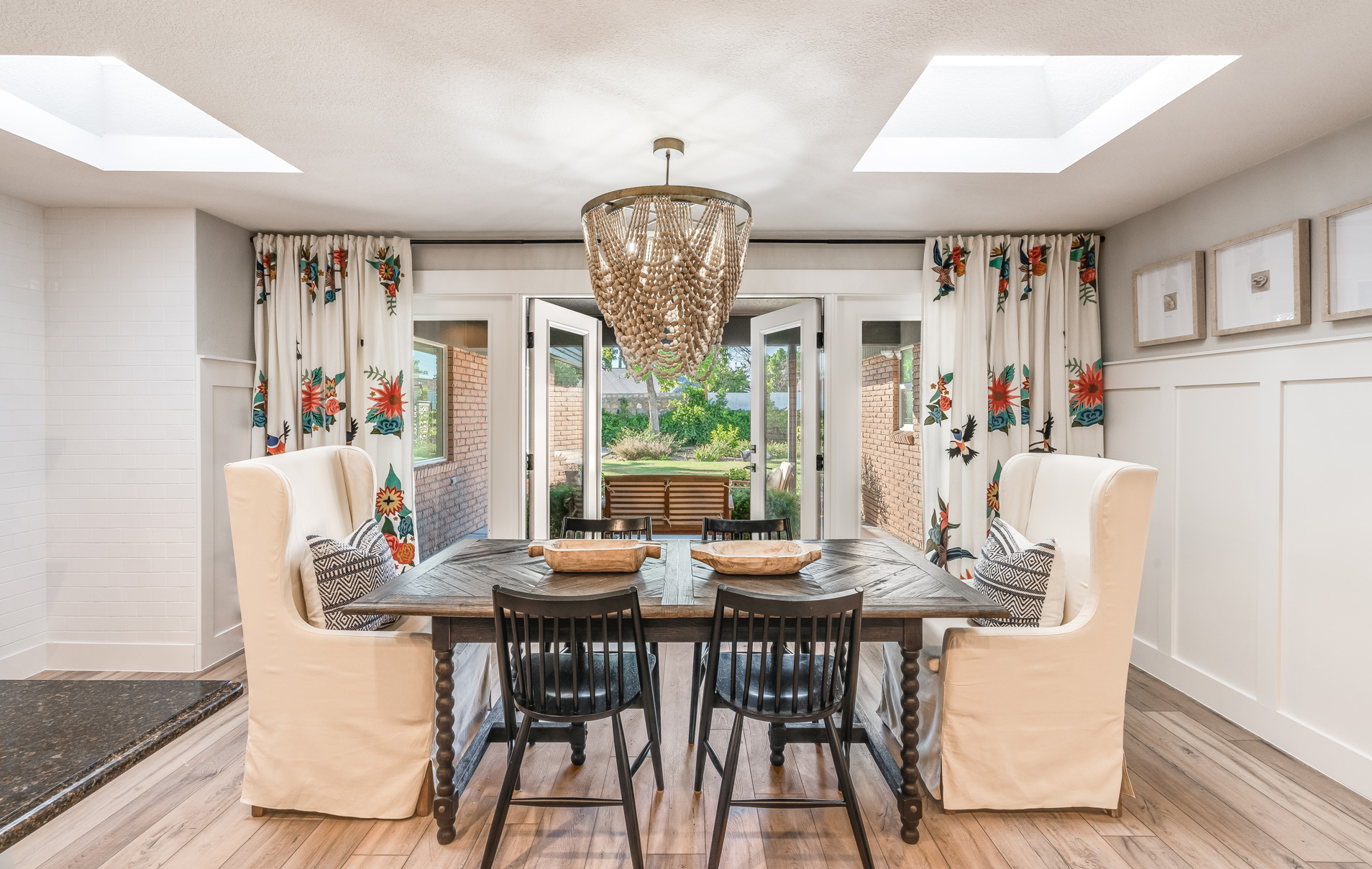 Straight into the heart of the home, my eyes immediately focus in on the unusual layering of wooden beads formed into a bohemian chandelier hanging relaxed over the dining room table. The table is dark wood with bulb legs and wooden chairs aside from the two, cream, long-skirted ones at each end of the table.
Upon catching a glimpse of the grass green leather couch in the attached living area, it becomes clear that Catherine's design preferences lack neither quirk nor style. "I wanted to do a fairly traditional design but with a lot of whimsy because I didn't want it to be too stuffy," says Catherine.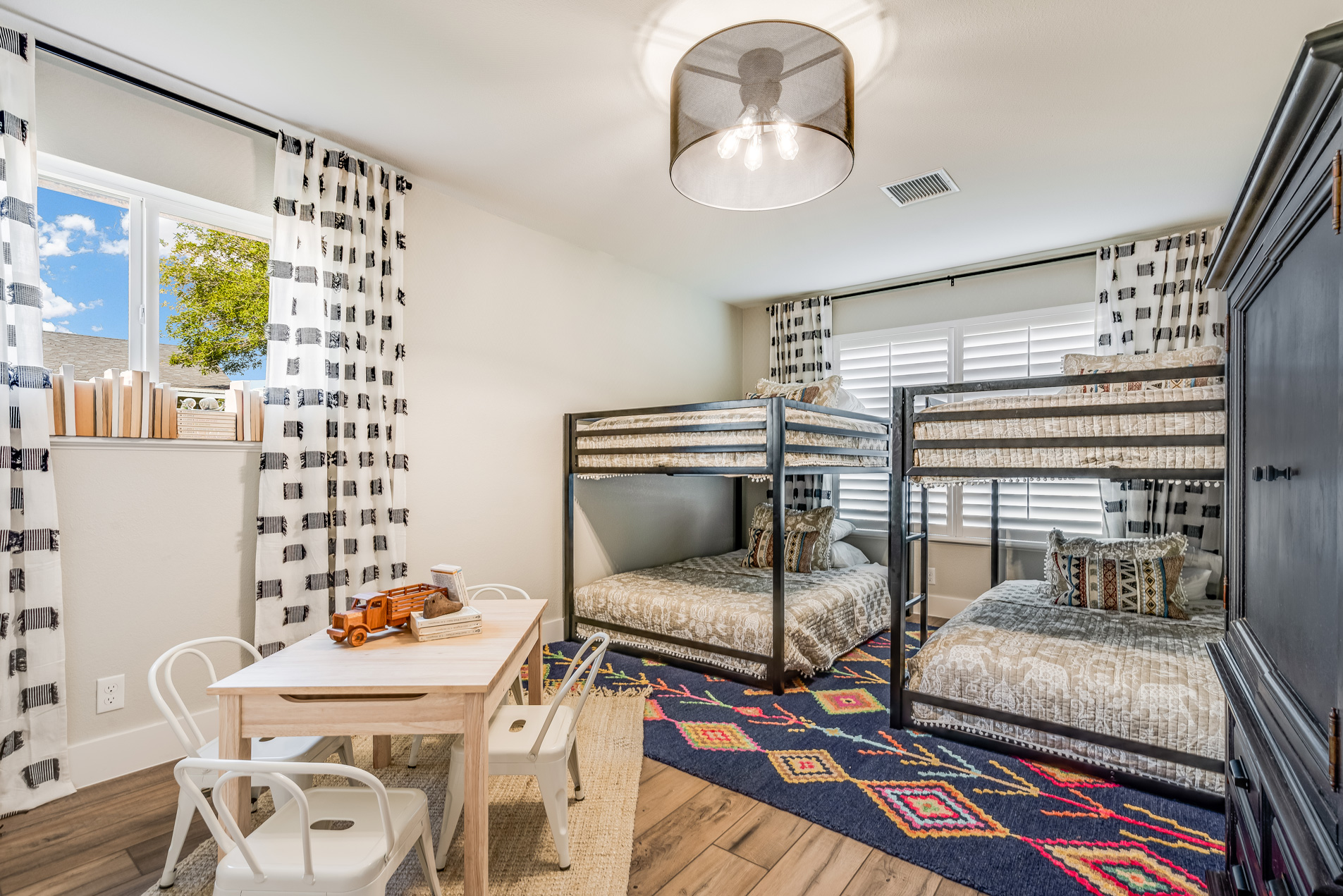 The kitchen feels quite spacious and welcoming with white bar stools nestled beneath the island for a more casual place to munch. Extended shelves carry large clear baking jars, while playful bowls sit stacked as either décor or a chic bed for a warm cooked meal. Below the lowest shelf are oversized woven baskets for extra storage space.
Catherine gifted her parent's irreplaceable reminders of their history in many rooms of the home. A gallery wall in the master bedroom nearest the reading nook with a tree trunk lamp table displays fifteen pieces of art given to Mr. Johns during his time in Ecuador as a Jesus Christ of Ladder Day Saints missionary. "Why go to bed bath and beyond and buy a piece of art that everyone has when you can create your own?" says Catherine.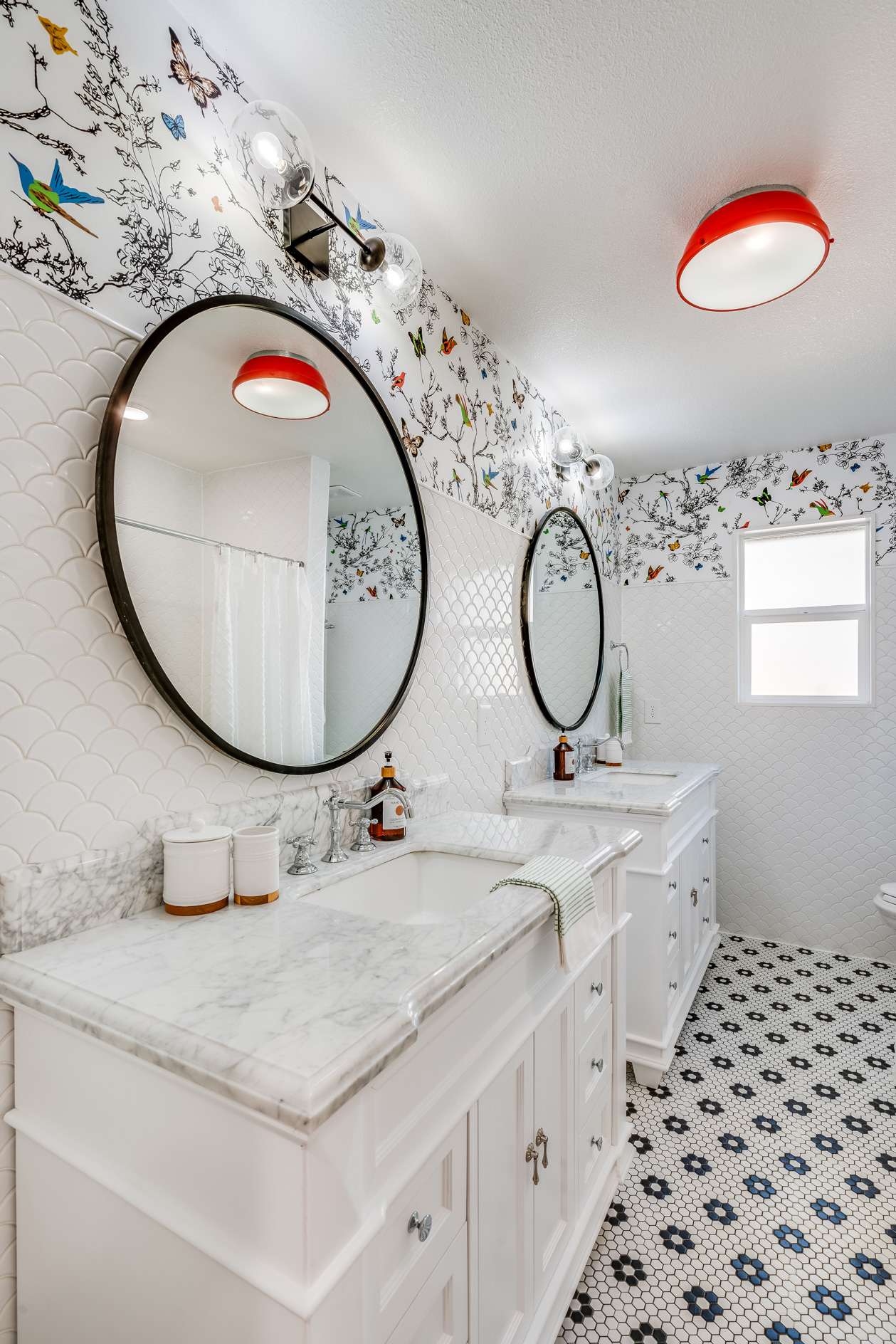 In the formal living area at the entrance of the home, above a salmon pink couch and a sea of plush pillows, hang pictures of the couple's favorite albums, including The Beatles and Carlos Santana. Call had the covers scanned and blown up for her music-loving parents.
The living room also holds Mrs. Johns piano; a nod to the many piano lessons taken in this home by her children. The six siblings grew up with a passion for singing and playing instruments, and Mrs. John enjoys playing the piano to this day.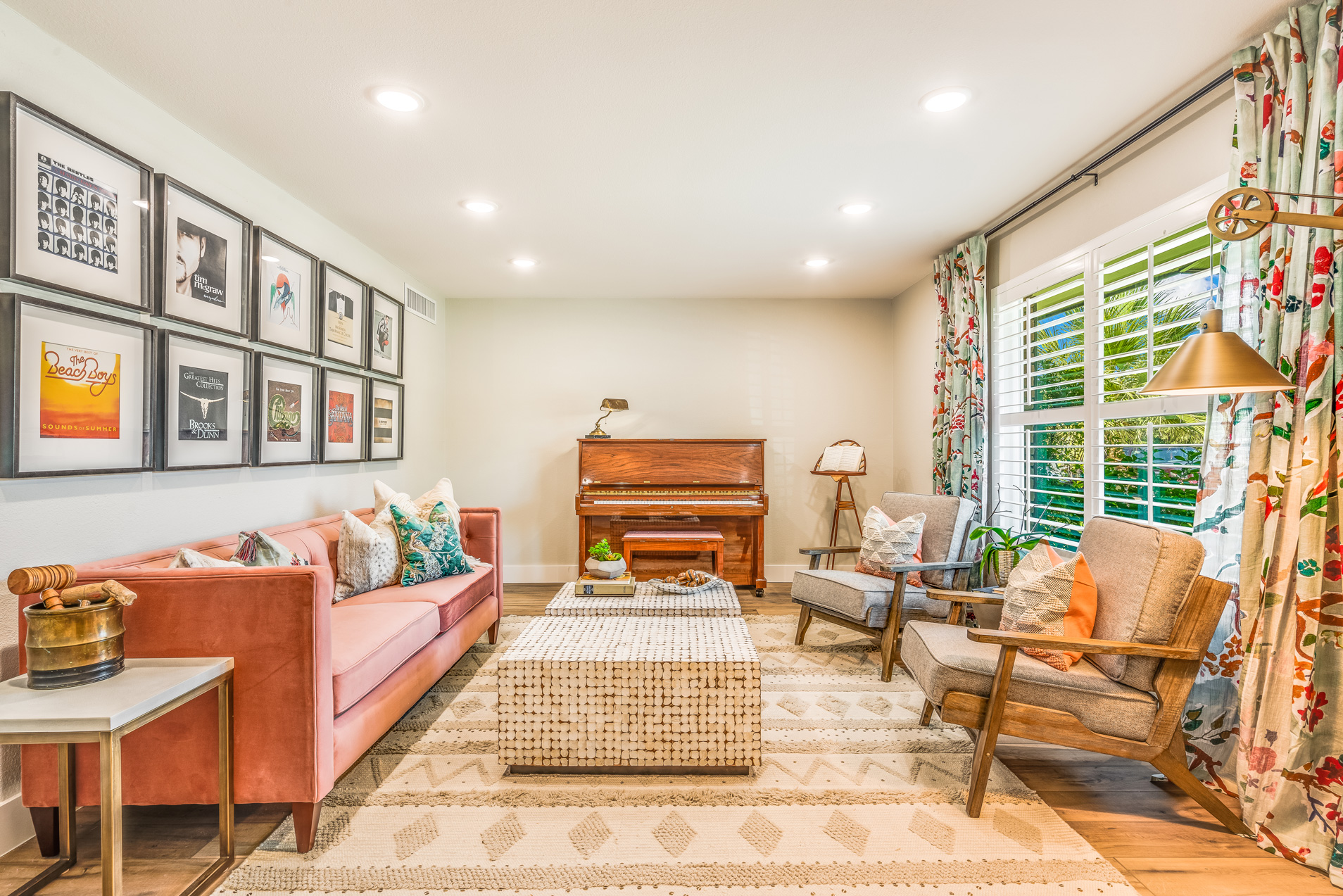 In the study, the shelving mirrors that of the kitchen because the items atop are useful yet artistic. The books and office supplies sit neatly on the lower shelves, but the top shelf is my favorite. Catherine gathered multiple vintage cameras to create a retro 3D art installation paying homage to her father's time as a photographer in Ecuador. The cameras look as though they are about to flash a photo at any moment, and this fresh, experimental installation is possibly the most innovative part of the home.   
For the comfort of their fourteen grandchildren, the Johns have a children's room with double bunk beds and a play table for them to enjoy. Even the laundry room is cozy due to its size and the addition of floral wallpaper. Coat hooks, a leather bench and spacious cabinets upgrade the space to more than just a laundry room, but a mudroom to throw off boots and jackets during wintertime.
Catherine's love for this home and desire to make it an elevated and livable space for her parents is apparent in the customization and additions of comfort. Her parents enjoy their new home and cherish the artistic memorabilia that adorn the walls and look forward to the memories to come.