By: Veronica Nevarez
Photos By: Tommie Morelos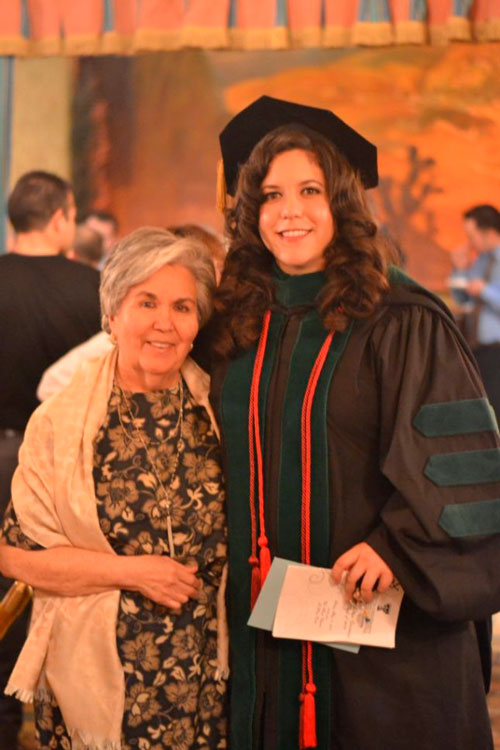 A proud El Paso native, Dr. Erica Renee Alvarez has returned to her home in rare form. A graduate of Covenant Christian Academy (CCA), she points to charity endeavors through her faith-based high school—including donating her time as a volunteer fire fighter and as an emergency room volunteer—as early catalysts for her interest in medicine. Upon graduation, Dr. Alvarez enrolled at the University of Texas at El Paso. Initially unsure of which path within the medical field she'd seek—she considered nursing among others—she credits her UTEP pre-medical advisor and mentor, Donna Ekal, Ph.D., for helping to solidify her interest in pursuing medical school. Ultimately, the decision led Dr. Alvarez, a medical retina and ocular oncology specialist, to become the first of her family to graduate from college, let alone medical school. Today, her specialty for treating cancers of the eye places her in the upper echelons of the medical field, as one of roughly 30 ocular oncologists in the entire nation.
The 2008 UTEP cum laude microbiology graduate immediately went on to pursue her M.D. as one of only forty students selected out of 4,000 total applicants to the Paul L. Foster School of Medicine at Texas Tech University Health Sciences Center (TTUHSC) El Paso, and graduated among the original "Founding Class of 2013." This led to an impressive list of highly-extensive trainings, including an internship in internal medicine at the University of Chicago's NorthShore Health System, an ophthalmology residency at Howard University Hospital and a medical retina and ocular oncology fellowship at The Ohio State University. The rigor of general ophthalmology academics aside, applicants for sub-specialties like medical retina and ocular oncology must also pass two exams: a comprehensive eye exam that looks for impeccable color and 3-D vision in their residents, and a test for superior eye-hand coordination. These ensure they possess the microscopic precision and dexterity needed in the operating room. Dr. Alvarez passed all of the above with "flying colors!"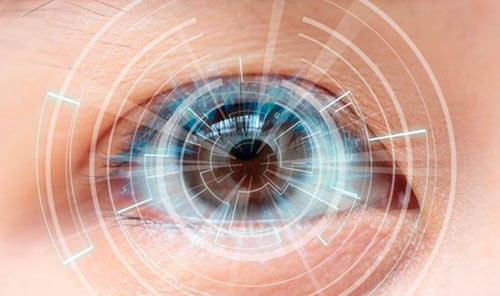 Today, aside from treating the entire Southwest region from El Paso to Scottsdale, she holds the title of Clinical Instructor of Ophthalmology for the Department of Surgery at the Paul L. Foster School of Medicine. In fact, her long-awaited return home came by way of a recruitment effort initiated by TTUHSC, whose faculty had nicknamed Dr. Alvarez "the unicorn." As a rarity in her field, Dr. Alvarez says she finds it hugely rewarding to provide some of the most specialized care available, right here in her own beloved home town and to a community that she clearly had never forgotten.
Diagnosing and treating eye cancer—the most common being uveal melanoma—is what Dr. Alvarez devotes her practice to and whereby she's introduced our region to some of the most cutting-edge therapies around.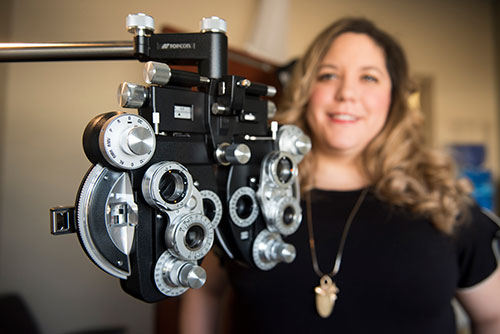 Being extraordinarily equipped at providing patients with the most innovative therapies—one in particular known as Eye Plaque Brachytherapy—Dr. Alvarez refers to it as one of the most important medical advances of our day. The effect of plaque brachytherapy is to "sanitize" or kill off cancer cells directly at the site of the tumor, and most importantly, it works to save a patient's eye, greatly improving their quality of life and even prolonging it. There's also the latest genetic research that uses cytogenetics, or the "molecular analysis" of cancerous tumors, which she also incorporates into her practice to assess genetic risk in patients. Dr. Alvarez explains that the implementation of genetic research to the treatment of ocular cancer in patients is now considered the "gold-standard" in therapy within the medical world.
With regard to her return to El Paso, Dr. Alvarez says, "I would say El Paso in general is a very unique city. In a lot of ways, it's like a diamond in the rough … unless you've had the great pleasure of being here you don't know what a fantastic city it is.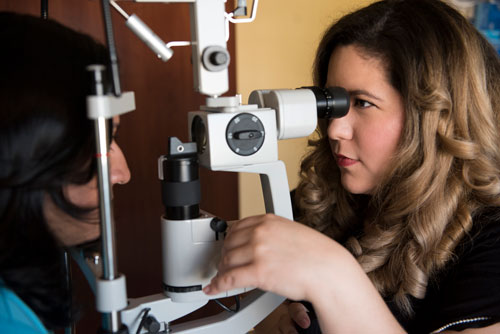 We have such a wonderful, unique patient population … [it's] very family-oriented." She adds, "Being away in training, I really wanted to come back to that community and be, of course, with my family, but most importantly, here with this patient population. [There is] a very large need to have services here in all aspects of medicine, not just ophthalmology … we still are very much a medically-underserved community." Moreover, Dr. Alvarez asserts that one of the biggest objectives for TTUHSC is to address this well-documented need not only through its medical school programs, but in recruiting top physicians to our city from other areas.
All in all, it's clear that through Dr. Alvarez's work, alongside progressive institutions like TTUHSC and the Paul L. Foster School of Medicine, El Paso is on its way to providing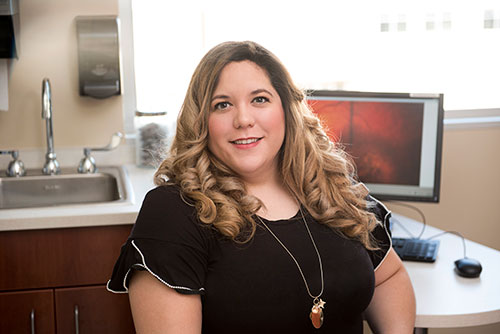 care built upon the most innovative advances within the world of medicine today. In her role as a Clinical Instructor of Ophthalmology at the Paul L. Foster School of Medicine, Dr. Alvarez eagerly looks to develop an ophthalmology residency program for the medical school and says, "We want to be able to build this department up, bring in more great talent to the city and address those patient-care needs that we have … To be part of that would be fantastic." The mythical unicorn is a symbol of healing and protection, and leads us to conclude that as El Paso's "unicorn," Dr. Erica Renee Alvarez is a most fortunate catch for our city and proves that seeing IS believing!