By: Janene Rojas
Photos By: Joey Chacon
For decades, the artistic community of El Paso has expressed itself through beautiful hand painted murals of community leaders, religious figures and symbols that represent the neighborhoods. Our border city buildings are decorated by old and new artwork to this day. Join us as we showcase a small glimpse of the timeless art our city has to offer.
West
Greetings from El Paso at the Substation
145 W. Sunset Road
Victor Ving and Lisa Beggs traveled cross country on their "Greetings From…," tour to paint welcome murals. Commissioned by David Herrera, owner of 3rd Shift mural sign company, El Paso was their 17th stop. Now "Greetings From El Paso," is one of the hottest photo spots in town. The mural features our locally famous star on the mountain, ASARCO, El Paso Streetcars and Southwest University Park.
Frida Kahlo at La Villita
6801 N. Mesa Street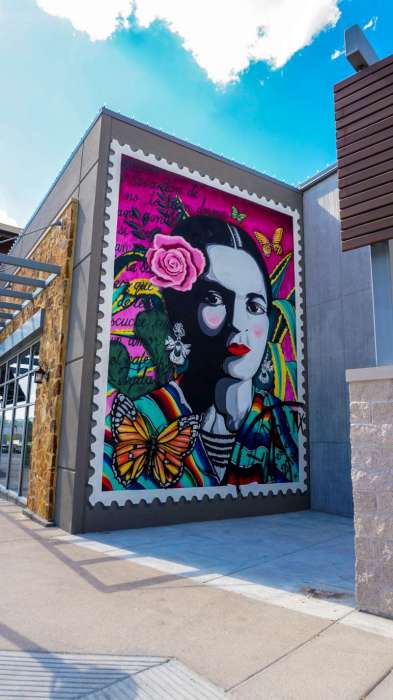 3rd Shift also commissioned Tucson based artists, Johanna Martinez and Rene Garcia, for the Frida Kahlo mural at La Villita high-end shopping center on Mesa. David Herrera and Johanna Martinez agreed on painting Frida Kahlo as a beautiful image that people could pose for photos with, which is why they added the low flying butterfly. On the mural is also an excerpt from Frida Kahlo to her husband Diego Rivera.
Downtown
Animo Sin Fronteras (Spirit Without Borders)
Mills & Stanton Street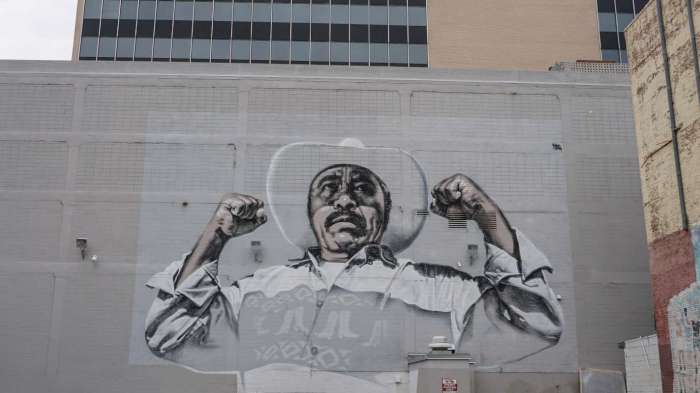 David Herrera and El Mac are the creators of the mural of a Mexican man flexing his muscles in the heart of downtown El Paso. It took them a week to create this image which is cohesive with the nearby Boxing Hall of Fame mural by Mr. "Pano" Mendoza.
The subject of Animo Sin Fronteras is Melchor Flores, whose son was abducted by police in Nuevo Leon, Mexico in 2009. Flores has been fighting for answers ever since, which is why his image is a representation of struggle and strength in the fight for justice on the border.
Latino Icon Mural
601 N Oregon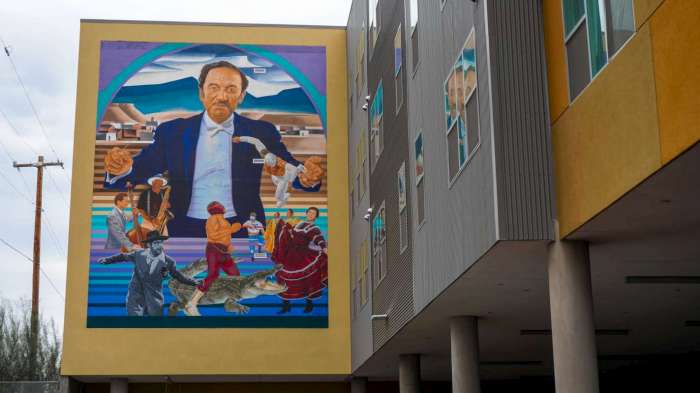 Jesus "Cimi" Alvarado along with Martin "Blaster" Zubia and Victor "Mask" Casas spent three months painting the mural of Latino icons on the wall of the Artspace Lofts. Featured in the mural is: Don Tosti, Art Lewis, Abraham Chavez, Los Lagartos, Rocky Star, Cinta De Oro, Tin-Tan, Rosa Guerrero and Sin Cara.
The Downtown Management District of El Paso expanded their grant programs for these kinds of projects that beautify the downtown area and offer on outlet of expression for borderland culture.
OVO
Overland and Chihuahua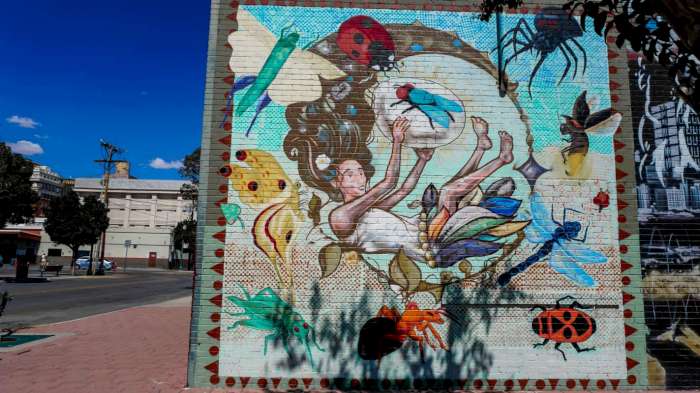 Horey and Roman Silva, Primo Lechuga and David Herrera created a masterpiece inspired by Cirque du Soleil's show "OVO." Meaning egg in Portuguese, "OVO," is a show about a mysterious egg in the ecosystem of insects, which is why the colorful insects now adorn the corner of Overland and Chihuahua.
Cirque du Soleil sponsored the mural as a thank you to El Paso, which has embraced Cirque du Soleil since 2010.
Central
La Virgen De Guadalupe
900 S. Ochoa Street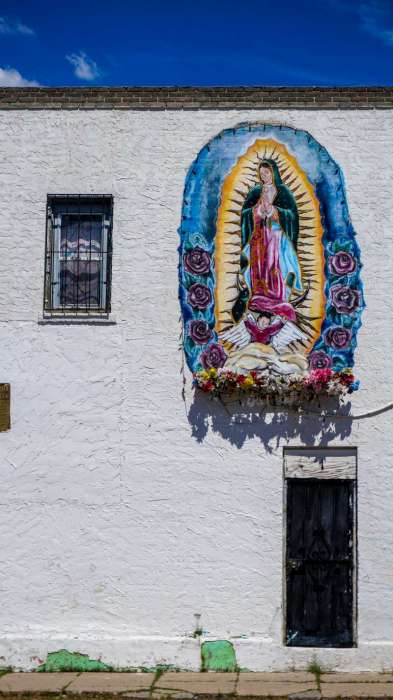 Originally created in 1981 by Felipe Adame and assisted by Jesus "Machido" Hernandez, La Virgen De Guadalupe is one of the most popular themes for murals in El Paso because of the strong religious history.  La Virgen De Guadalupe took six months to complete and was sponsored by the League of United Latin American Citizens (LULAC), Ruidoso Grocery and others. Adame restored the mural ten years later with help from neighborhood youth with a $5,000 grant from the Junior League's Los Murales project.
Segundo Barrio
 513 Father Rahm Avenue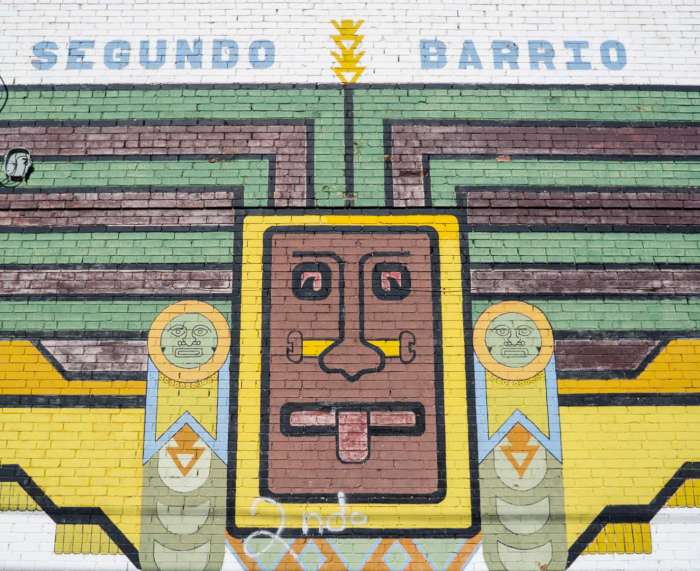 In 1975 artists Arturo Avalos, Gabriel Ortega, Pablo Schaffino and Pascual Ramirez created one of the most impactful murals in all of the Segundo Barrio. The mural's Aztec influence and geometric patterns became a symbol of pride for the area, which was facing the threat of urbanization.
Boys and Girls Club Mural
801 S. Florence Street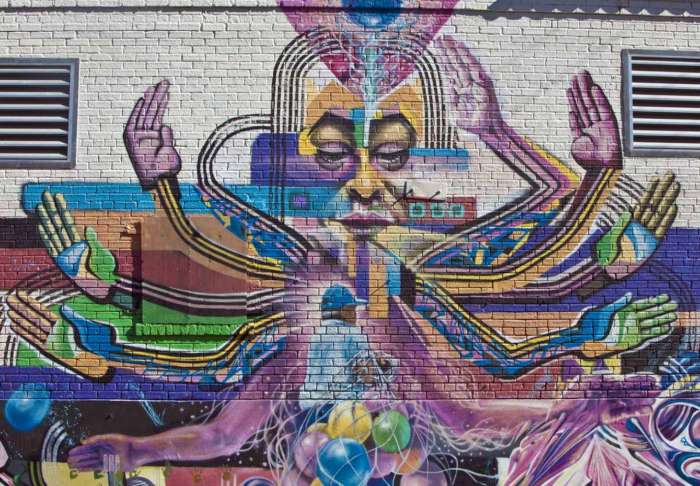 Painted by Werc Alvarez in front of the Boys and Girls Club in 2012, the bright colors and creative imagery of the Boys and Girls Club Mural is a symbol of the resurgence of youth in the community of the Segundo Barrio.
Francisco Martinez
515 S. Mesa Street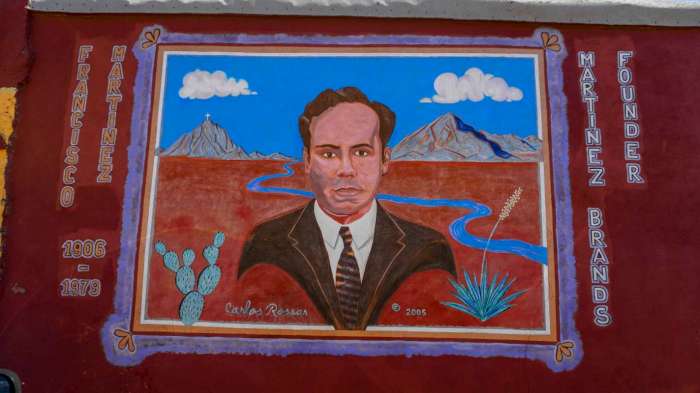 Carlos Rosas painted the Francisco Martinez mural in 2005 as a tribute to the Martinez Brand of Mexican Foods. Martinez Mexican Foods made traditional options for home sick locals who wanted authentic Mexican cuisine.
 Under the Spaghetti Bowl / Lincoln Park
4001 Durazno Street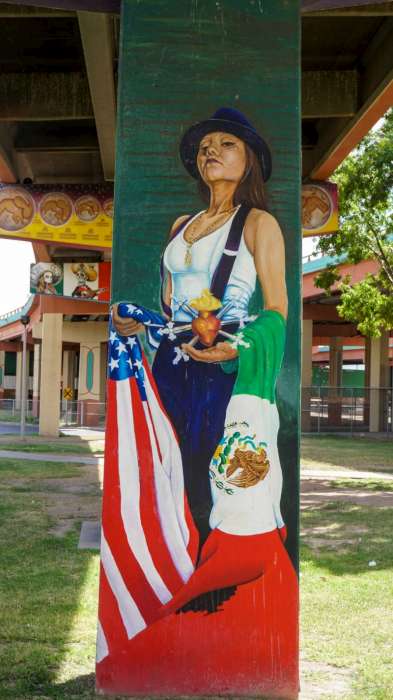 In 2010 Jesus Alvarado a.k.a. "Cimi," along with Victor Casa and Trenzas Chicana Arts Collective, unveiled "Pachuca Blood." This larger-than-life mural on a pillar beneath the Spaghetti Bowl represents the strength and courage of a Chicana female. She is proud of the border and the fact that she lives in two worlds—Mexico and the US. Martin Luther King, Cesar Chavez and the Chicano journalist Ruben Salazar can also be found on the pillars at Lincoln Park.