By Marko Morales
The desert Southwest is a unique beauty primarily made up of earth tones—mostly browns and beiges with countless shades of green. In this landscape, the eye almost has no choice but to be drawn to the bright colors that at times appear unexpectedly and almost always feel artistically placed. The drive between Colorado and El Paso is one that Christopher Weed is not only familiar with—much of  the inspiration for his most recent installation came from the eye-catching colors of the desert flowers he saw many times as he drove south past the Rockies and toward the Franklin Mountains.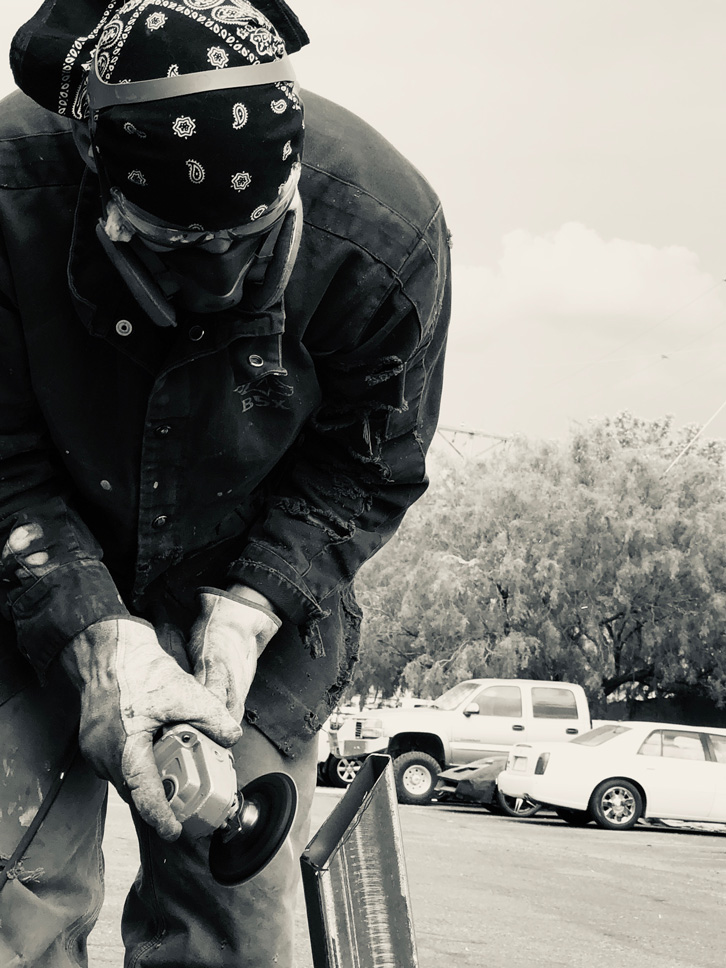 The artist, originally from Philadelphia, Pennsylvania and quarter-century-long resident of Denver, Colorado, met El Paso native Samantha Silva through the Museum of Cultural Affairs Department (MCAD) after both applied for an opportunity to participate in different programs. Samantha was accepted into the department's Allied Artist Program, after being selected out of a group of almost twenty others to work as an artist assistant. The process for Christopher began approximately two years back, when he applied to be part of a pool of  anywhere between 400 and 500 hopeful artists to be considered for El Paso's latest large-scale public art project. Christopher was among 100 artists that remained in the running. Eventually, three artists were selected to pitch their ideas to an artist selection committee, where Christopher's vision was ultimately chosen.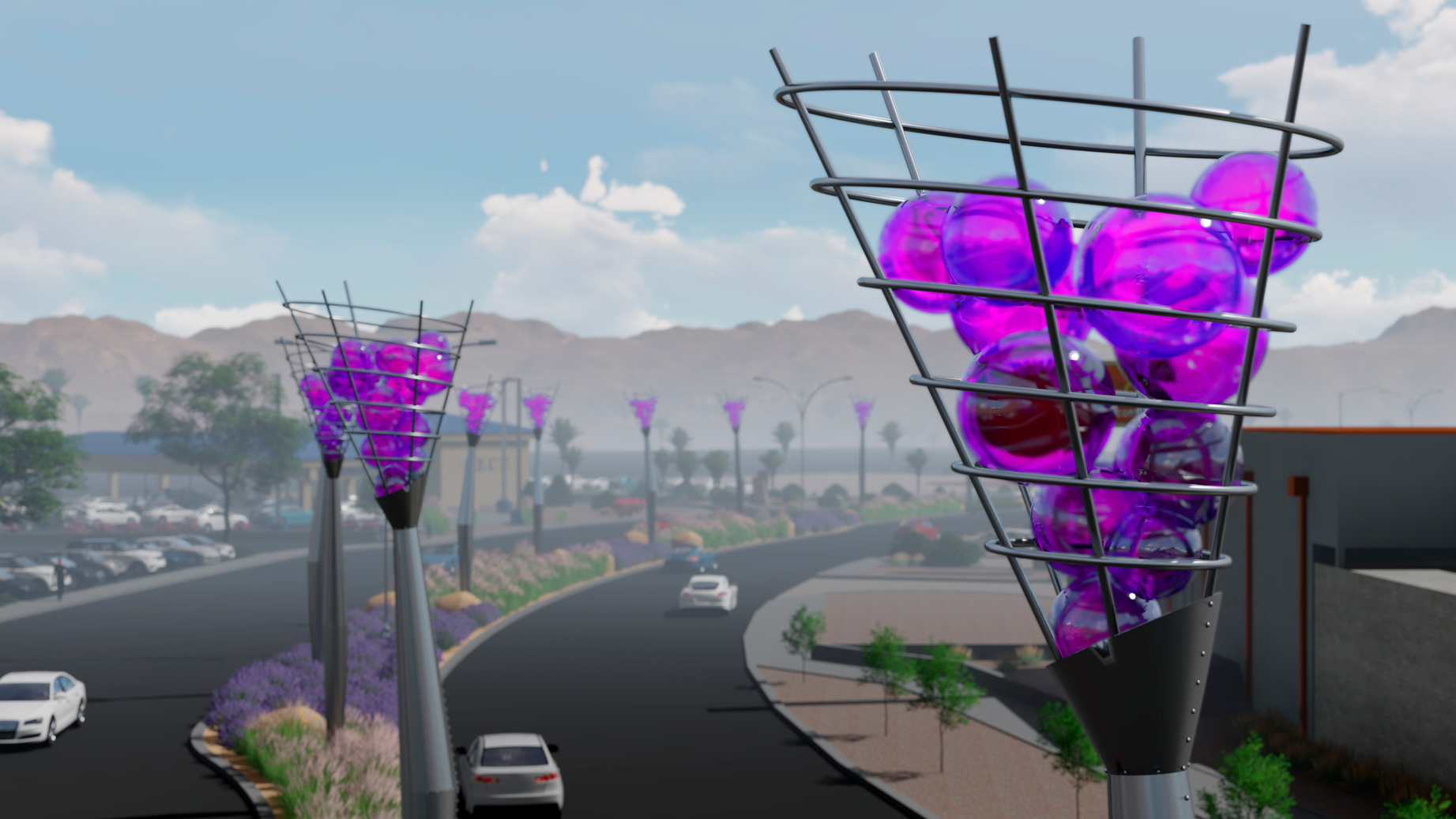 Christopher's concept appealed greatly to the committee. However, due to reasons outside the artist's control, the location of where his work would stand needed to be changed. This presented him with the challenge of taking his original idea and working it into a design that better fit its newly decided location. After about five different versions of his original idea approved by the committee, Christopher landed on a final concept. While his original idea had more individual pieces to it and focused on a different color, the new location allowed Weed to go bigger and a bit more complicated in terms of engineering.
In Christopher's own words, his most recent permanent sculpture installation made up of eleven pieces spaced out across 300 feet are, "abstract interpretations of the native flora," and will soon be found just north of Gateway Blvd. West, on Airway Blvd. heading toward The El Paso International Airport. The stem-like feature of the artist's creation is made up of two large sheets of metal rolled into an oblong shaped tube, then welded together so well that seams are just about impossible to make out. Each stem has a row of rivets, individually welded on and running the length of the rolled metal. These rivets also give the stem the look of an airplane wing. At the top sits a large metal basket with many transparent lavender spheres placed inside. Cleverly hidden by the basket is a LED light fixture used to illuminate the basket of spheres at night. Two additional external light fixtures are used to illuminate the rest of the sculpture. The lighting system is able to run hundreds of programs, making it possible to light up the sculpture in a variety of colors and patterns. When considering the concept behind the piece and where it would be located, it was important that the sculpture stood out as much at night as it would during the day.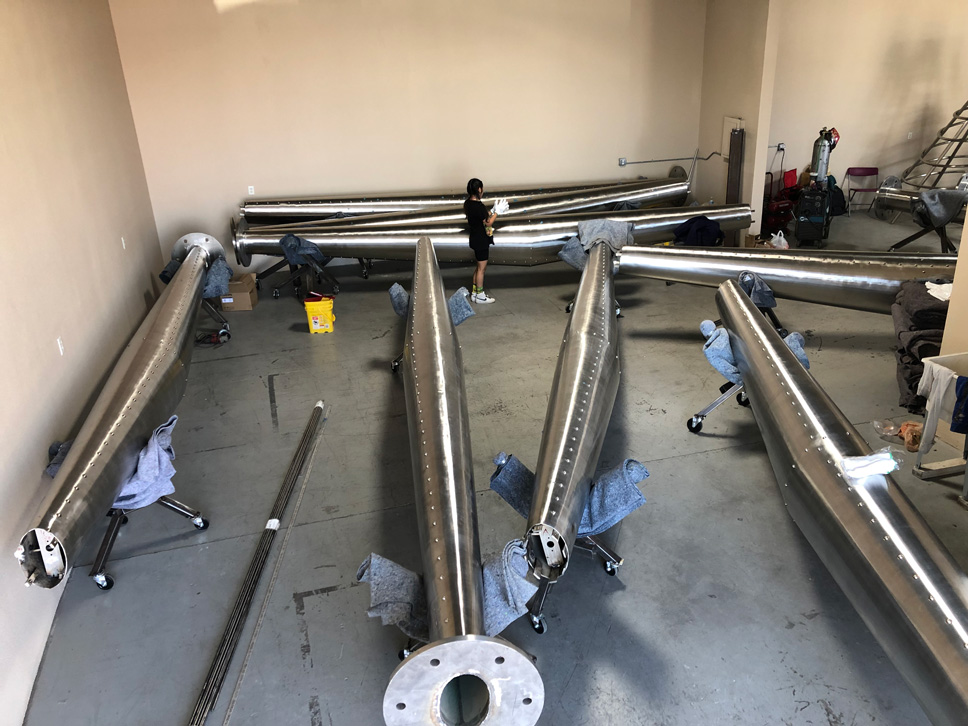 From fabrication to having each of the eleven pieces set in place took about six months. In Christopher's experience, this part of the process moved relatively quickly, considering the size of the project. Each stem and basket, filled with four sizes of spheres, weighs approximately 1000 pounds and reaches 31 feet into the sky. The idea was to make it all,  "as clean as possible, so that the eye would move up along the piece,"  says Christopher. It was important that the colors popped like the colors of the flowers blooming throughout the surrounding landscape, especially during the spring after a good rain. It is a sight he finds to be stunning and is one he drew a great deal of inspiration from.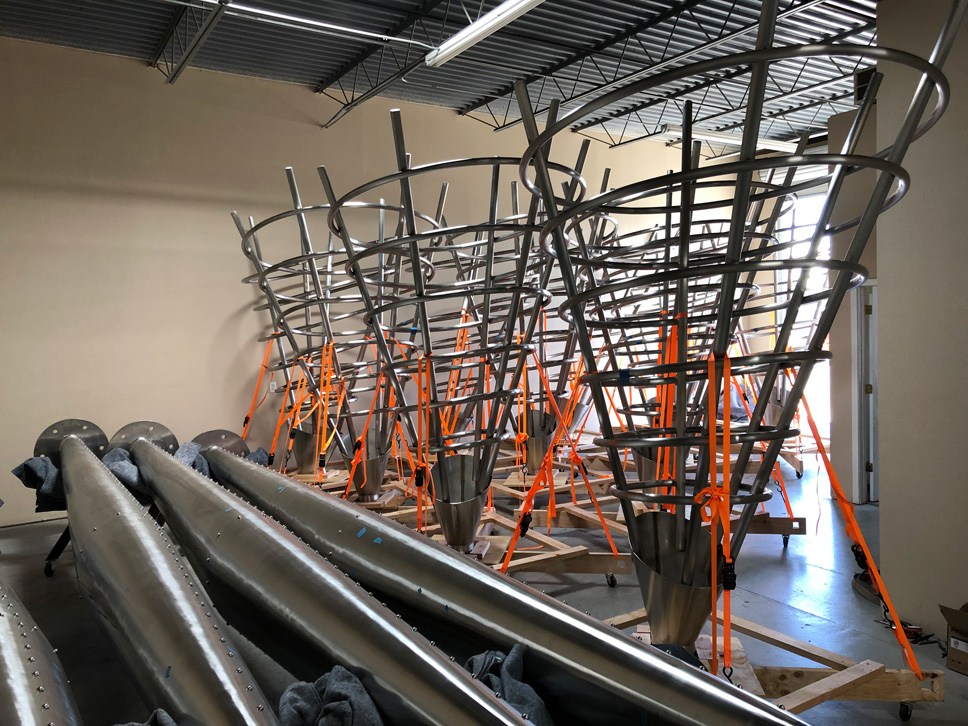 Christopher expresses much appreciation when speaking about Artist Assistant and UTEP graduate, Samantha Silva, who the artist says has been working by his side since the project began, and has been instrumental throughout the entire process. Both feel credit should be given to MCAD for their contribution to the arts and art community. It has been twenty-one years since Christopher worked on his very first public art commission. We now have his 35th public art sculpture in beautiful El Paso, and it will be there for some to critique and others to simply admire. As Christopher moves on to other projects already in the works, he is proud to leave a part of him in a city that always made him feel welcomed.