Located on 822 N. Piedras stands Galeria Cinco Puntos. Sandwiched between two El Paso institution's, Joe, Vinny & Bronson's Bohemian Café and Coconuts, it's a tiny little art space. Its floor plan consists of a corridor that leads to a rock-lined basement, and the two levels together do not add up to more than 250 sq. feet. Tiny by any standard, it is still very much worth a visit. The limitations of the wall and floor space are easily overcome by the collaborator's productivity.
For the last two years, the gallery has built itself a reputation for putting a different show every month. When the standard gallery puts on a show, they tend to display the art for 2-3 months, which is 3 or 4 shows a year. Galeria Cinco Puntos did 12 last year. Their frenetic pace is what makes this gallery worth many repeat visits. Its adherence to showing off work, which is not just new and contemporary, allows the 5 collaborators that curate the space to interject their voice in a way that they can capture how El Paso responds. And it responds often by lining up on the sidewalk all the way around the corner.  
Galeria Cinco Puntos is curated via the collaboration of Aryk Gardea, Jacqueline Aguirre, Carlos Humphreys, Edward Reyes, and Javier Hernandez. They came together in a true bohemian style. Often patrons of Joe, Vinny & Bronson's, they eventually found themselves coming together looming over their beers and discussing the possibility of reclaiming the unused space next door. Two of them were already curating the Bohemian Café's art, and after speaking to the building manager, they received permission to use the space as long as they improved it. Where some would have seen a shooting gallery, they saw an opportunity to grow the art presence in El Paso.
Where there is coffee, cigarettes and plenty of beer, the artists of the world tend to unite. Events like The Last Thursday of the Month art walk curated by Marcos Rey, Laura Turon, and Lety Koriankitis has certainly helped. So has the opening of The Cholo Gallery, the art shows at The Livingroom, the opening of Galleria Lincoln, Love Buzz, El Velvet Elvis, and Sheepdog Brewery have all infused Cinco Puntos with more reasons for the art-set to visit and spend their dollars supporting local businesses. Galeria Cinco Puntos provides an alternative to the deafening humdrum of mass-produced and pre-canned commercial entertainment. Yet, its importance is not just a boon to El Paso's business community, it's important because it provides an opportunity to enrich the cultural significance of El Paso.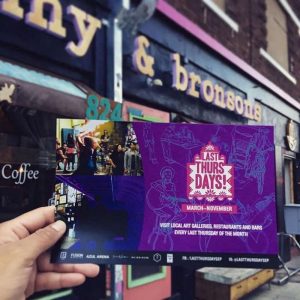 The soul of Galeria Cinco Puntos is its eclectic program put together by five collaborators. Together they take proposals, decide, and help set up the non-stop stream of local artists that have been featured. Galeria is not just a boon to El Paso's businesses, it enriches the heartbeat of El Paso. Very much for the people, by the people kind of place. And that is a good thing. This month they are featuring the work of Cleo Arevalo and Victor Casas. If you want to be considered next, then reach out to them with a proposal @galericacincopuntos.