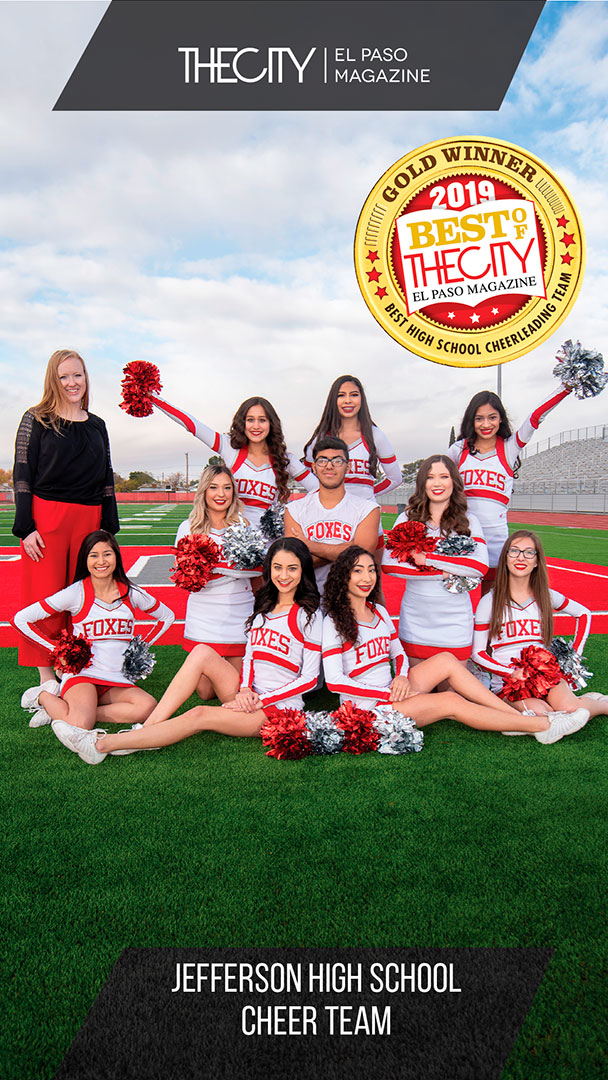 Joining the spirit of two campuses, the Jefferson/Silva Cheer Team works year-round to support the athletics at their historic school. The ladies and gentlemen represented, honor a tradition and heritage of pride. They dedicate themselves to leadership, ambassadorship and sportsmanship. A team composed of student athletes with some of the highest academic standards and traditions dating back 70 years. 
Senior members of the squad, each with three to four years of cheerleading experience, have developed their fellow athletes into future leaders for the school and community. With knowledge in stunt techniques, tumbling styles and crowd involvement, the Jefferson/Silva Cheer Team sets themselves apart. The team has their eyes on the UIL State Cheerleading Championship. They will travel to Fort Worth on behalf of Jefferson High School and Maxine L. Silva Health Magnet School.
The Jefferson/Silva Cheer Team performs in pep-rallies, special events and provides over 20 weeks of athletic support and encouragement. These ladies and gentlemen are an elite group spreading Silver Fox pride throughout our El Paso. They pump up the crowds at home games, get our teams fired up and support causes they believe in. The Jefferson/Silva Cheer Team, the Silver Foxes, thank you for your patronage this year.
Jefferson High School Cheer Team
4700 Alameda Ave.
El Paso, Texas 79905
(915) 236-7400
Head Coach – Jessica Erales
By: Jessica Erales
photographed by: Luis Mariano