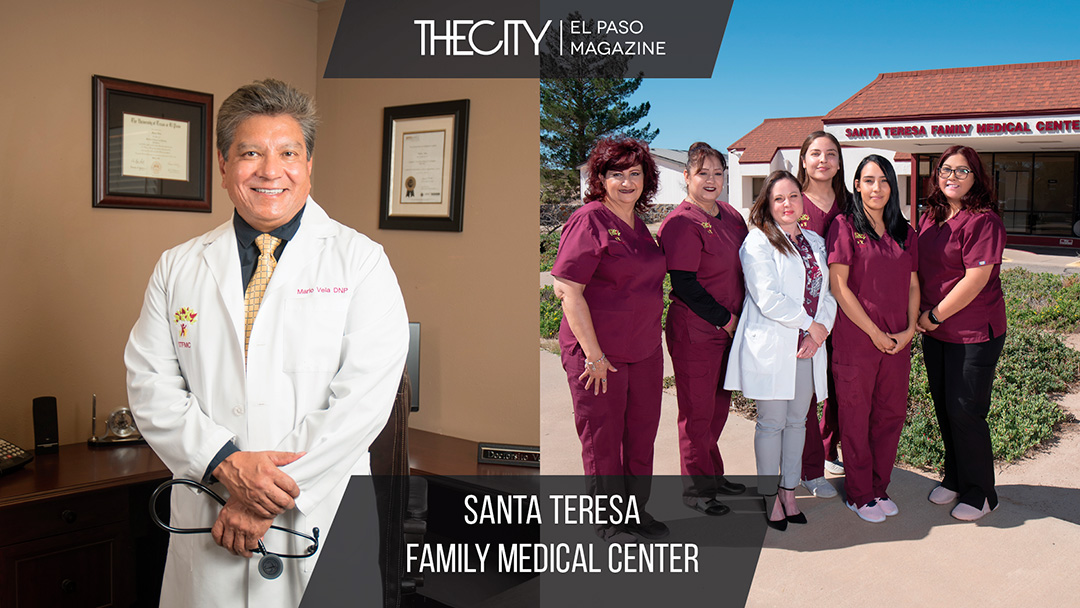 To truly understand Santa Teresa Family Medical Center, you have to know its founder, Dr. Mario Vela. Born and raised in northeast El Paso, Mario was brought up with modest means. Luckily, he discovered a special talent early on—he was one heck of a baseball player. His competence in the batter's box opened doors that would have otherwise remained stubbornly shut. The slugger was offered a scholarship to Dallas Baptist College and headed out shortly after graduating from Andress High School. He arrived at college with $10 in his pocket and was totally unfamiliar with his new surroundings. None of that stopped him from achieving his goals. Mario hustled, working to support himself, giving it his all on the baseball field and studying hard to make good grades. He got such good grades in fact, that his academic counselor suggested he consider the medical field.
Mario did just that, transferring to UT Health San Antonio to study nursing. After finishing his degree, the young nurse worked in a number of emergency rooms before eventually coming back to El Paso to direct an air ambulance. From there, he went on to become a family nurse practitioner, and eventually obtained his doctorate in nursing practice, an accolade only .8 percent of nurses hold. Mario's long journey in the medical field culminated in 2017 when he bought Santa Teresa Family Medical Center.
Dr. Vela and his team have quickly established the medical center as a stalwart for high quality care in southern New Mexico, a region that has historically been underserved. The facility offers a litany of services, from wellness exams to ultrasounds and in-house lab work. They treat patients of all ages—from babies to seniors—do corporate and school physicals and accept workers comp.
Dr. Vela explained that his early life experiences have been instructive in his time as the center's director, saying, "I learned the value of hard work when I was out there in Dallas. More specifically, through baseball I learned about teamwork. At the end of the day, my staff and I are a team here, and we need to work together to provide our patients with the best care possible."
Dr. Vela and his team's care for the community is even evident outside of the medical sector. For the past few years, they've been running a Thanksgiving turkey give away. Last year they gave away 500 birds along with other food, and this year they'll hand out 1,000. "It's all about giving back," says the doctor.

Santa Teresa Family Medical center
5055 McNutt Rd.
Santa Teresa, N.M. 88008
(575) 589-5005

By: HENRY CRAVER Photographed by: LUIS MARIANO