By: Krysta Ayers
Photos By: Sharilyn Wells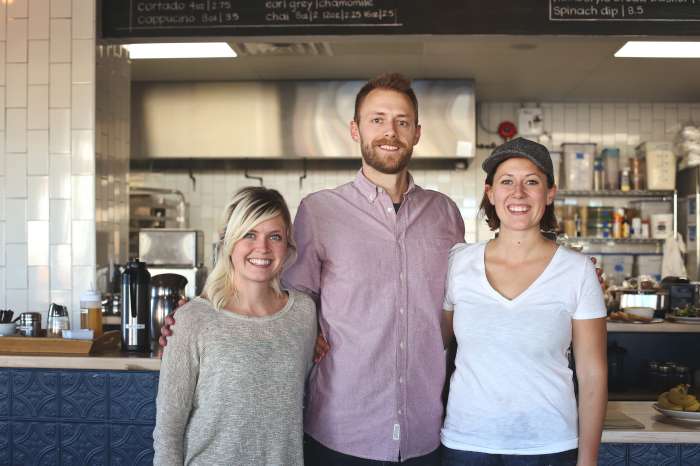 When you open the doors to Savage Goods, you are greeted by the smell of freshly baked goods, a clean, modern design and a community of people. Wooden chairs are decorated with plaques of unfamiliar names—the names of people from the community that contributed to Savage Goods opening a store-front. Two counters serve different purposes—one, for people to sit and order a beer or wine, the larger main one to take food orders before you sit down. Eye-catching teal blue tiles line the main counter where you order, a chalkboard up above gives you the menu and plenty of seating is spread around for you, your friends or family to sit and enjoy your time.
The owners are young and consist of Michelle Savage, her husband Tyler, and her sister-in-law, Mariah Savage. While Mariah makes all the baked goods in house—her days start at a daunting three in the morning—Michelle takes on the business side of things and her husband does everything in between, making sure the café is running and that motivation is high.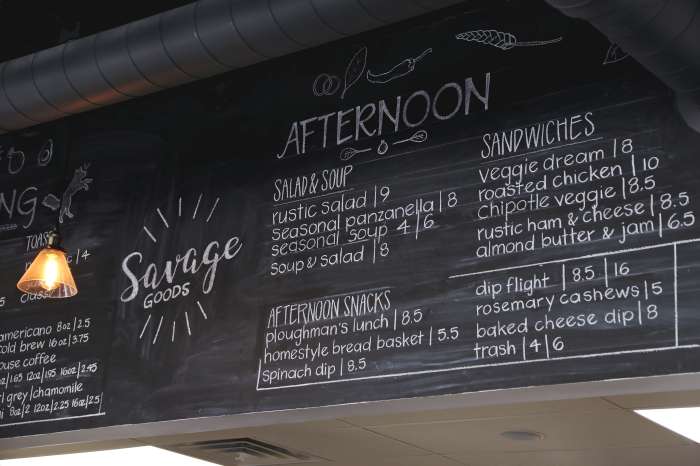 "We wanted to bring something good … that resonated with people," says Michelle. The community aspect of the place is important to note. When Michelle talks about the café, she also talks about a "third place." Most people go to work and go straight home, but people need a "third place" in order to have conversations, meet with their neighbors and serve as a gathering place, she explains. Creating Savage Goods to be that "third place" in the neighborhood was a goal.
When Savage Goods first started out in 2013, they had a small tent at the Downtown Artists and Farmers Market. It was originally a hobby, something extra for the three owners who already had two to three part-time jobs each. People soon spread the word of these baked goods, leading to special orders and quickly selling out each weekend. The vegan and gluten-free goods were something that the El Paso market was missing. That's when the owners asked the community to help them accomplish something bigger—open up a café.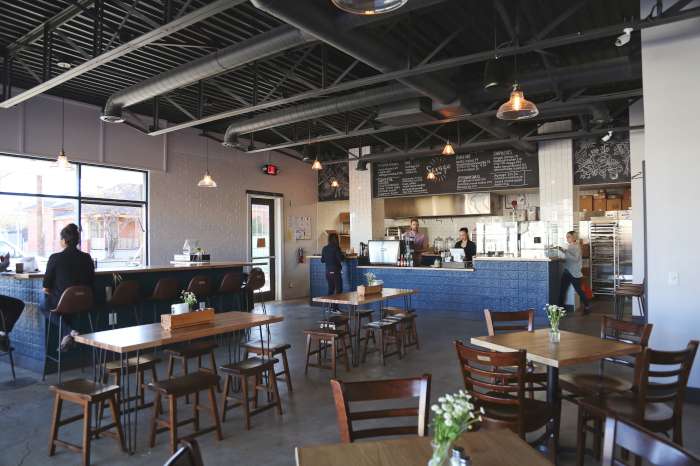 If you haven't seen the Kickstarter video that Savage Goods put out in 2017, it's still floating around the internet. The original goal to fund the building of the café was $20,000. The three owners had already picked the location, the old Jimmy's Grocery store on the corner of Nevada and Oregon Street. What they actually received was $31, 000, something that Michelle expressed was reassuring to them as they started in an established neighborhood. The location was crucial and as Michelle put it, "[It] really fits our values."
True to supporting local, they also sourced locally with Wooden Design Company for the sleek inside booths and Kodiak Construction and Development for the build out of the space. "The contractors were really great in listening to and delivering what we wanted," shared Michelle.
Savage Goods has expanded a lot since its famer's market days—and not only in regard to space. You can walk in for breakfast, lunch, really good coffee, beer or wine. If you're looking for a quick bite, grabbing one of their baked good (especially a donut) is a great choice. Again, these items are vegan and gluten-free, without compromising the taste. Breakfast burritos are also available if you want something heavier to fuel your day and lunch sandwiches are healthy and filling. After work or after class, take a seat and enjoy a beer on tap or a glass of wine to relax a little bit.
"We came [to El Paso] for one day and fell in love with it," says Michelle of deciding to move here with her husband. And now, people are spending a day eating at Savage Goods and returning that community love.