I didn't try falafel until later into my life so let me be the first to tell you that was mistake. I've learned my lesson because now I understand its greatness. It's crunchy, herby, fresh, packed with flavor, and…vegan. Think of a hush puppy, but way cooler. For some reason it just seemed so much more complex than it really is, and that's always intimidating. I'm here to tell you that it's easy to make and that hard to pronounce foods deserve a chance too! I picked up on a liking for falafel at one of my restaurant jobs in my early twenties and I haven't looked back since. Falafel is basically blended up chickpeas with herbs, rolled up into balls and deep friend. It hails from the middle east and can be eaten in a variety of different ways. One of my favorite ways is as a meat substitute. This is coming from a meat eater, I can honestly tell you it's stomach filling and curbs that "fear of missing out" feeling when you don't order "the usual." Especially when served with a fresh tangy tzatziki that's filled with fresh cucumber, lemon, garlic, and dill.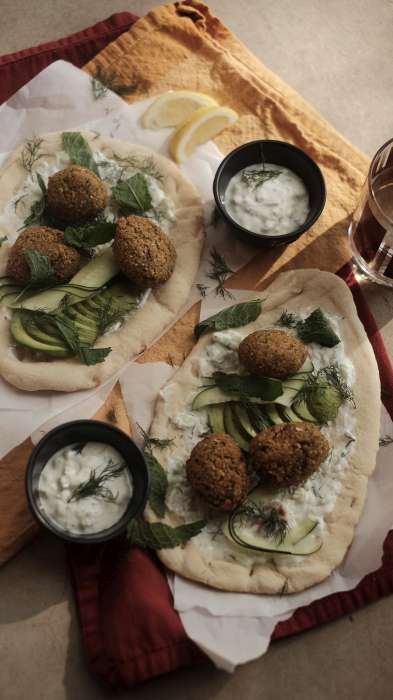 Spicy Falafel
1 can chickpeas, drained and dried
½ small red onion, rough chop
3 garlic cloves, rough chopped
½ jalapeno, seeded and rough chopped
2 tablespoons parsley, fresh
2 tablespoons cilantro, fresh
1 teaspoon cumin
2 pita breads or naan bread
1 teaspoon salt/heavy pinch black pepper
1 teaspoon baking powder
2 ½ tablespoons flour
2 cups canola oil
Tzatziki
1 cup Greek yogurt
½ lemon, zested and juiced
1 tablespoon dill, chopped
4 mint leaves, chopped
½ cucumber, peeled and minced
1 garlic clove, minced
salt to taste
white pepper to taste
Directions
Using a food processor, blend chickpeas, garlic, jalapeno, onion, and herbs into a thick paste. Remove from processor and into a medium mixing bowl. Add flour, baking soda, and salt/pepper, stir to combine.
Using plastic wrap, cover the mixture and let sit in fridge for minimum 2 hours. A cold mixture is important to shaping the falafel into balls, so they will hold during the frying process.
While mixture cools, prepare tzatziki by combining Greek yogurt, lemon zest and juice, dill, mint, cucumber, garlic, and salt and white pepper into a small mixing bowl. Stir to ensure even distribution. Cover and let sit for 1 hour to let flavors mesh together.
Heat two cups canola oil to 350 degrees in a small sauce pan. While oil heats, remove falafel from fridge and form into 1-inch balls, place on parchment paper until ready to fry.
Drop into oil with a spoon, and fry for 2-3 minutes or until golden brown. Remove and let drain on paper towel.
On a warm pita bread, spread tzatziki then place falafel. Garnish with fresh cucumber, avocado, dill and mint.