The City Magazine's Chaz Wilson recently had the opportunity to judge The Hendrick's Gin Bartender Challenge, hosted by Republic National Distributing Company, where 10 competing bartenders poured, mixed, shook, and stirred to create the best concoction using the most unusual Hendrick's Gin, beloved for its cucumber and rose essences. The winner of the Hendrick's Gin Bartender Challenge, presented by Republic National Distributing Company, is Matt Scarbrough of Blackbird (pictured below). His prize-winning cocktail, called Catch the Bouquet, captured the judges attention and attracted their tastebuds by using unique ingredients – egg white, rose water, simple syrup, hibiscus extract, wild berry hibiscus tea, and cardamom lemon juice – to compliment the rose and cucumber essences of Hendrick's Gin. The extraordinary presentation included an elaborate garnish of rose petals, star anise, and grounded hibiscus.  The cocktail garnered Matt the prize of an extra-large bottle of Hendrick's Gin and a $200 gift card.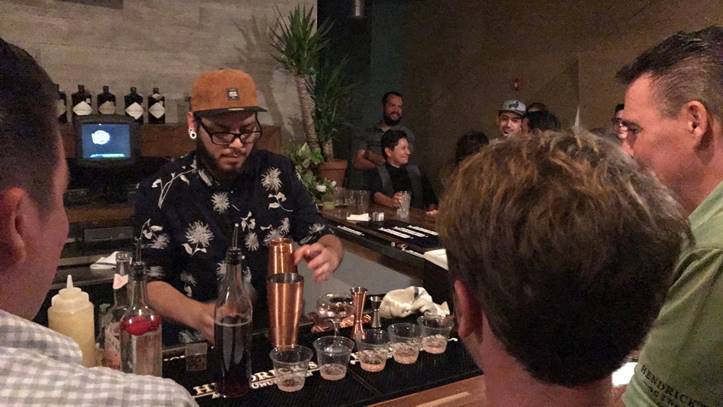 The challenge was fierce with only a one-point difference between first and second place. Wendy Smith of Gray Dog took second place, and third runner-up was Cesar Perez of Murray's. Additional contestants included Gil Herrera of Prickly Elder, Rodney of Hope and Anchor, Alex Burnside of Gray Dog, Joe Owen of Cabo Joe's, Michelle Fierro Quintero of Black Orchid, Jackie Barragan of 1/8 Pizza Pub, and Walt Byers of Trade Craft.
Judges included: Kelly Anne Beile of KFOX News Now, Sean Isassi of Republic National Distributing Company, Chaz Wilson of City Magazine, and Bill Burke of William Grant & Sons. Judging was based on a 10-point system for four categories: taste, originality, presentation, and use of Hendrick's Gin.
Visit any of the participating bars to judge for yourself the best Hendrick's Gin cocktail. For those home mixologists who want to enjoy a DIY Hendrick's Gin cocktail, try one of these simple delights.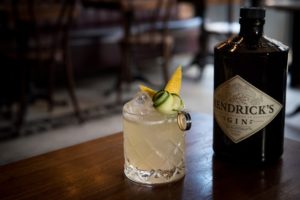 The Bee's Knees
3 parts Hendrick's Gin
1 part lemon juice
1 part honey
Shake and fine strain. Garnish with a think, rolled-up cucumber slice and a lemon twist.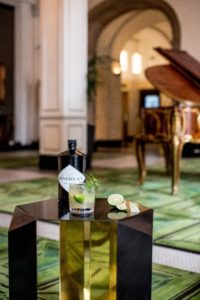 Cucumber Basil Smash
1.5 parts Hendrick's Gin
.75 part fresh lemon juice
.75 part simple syrup
One small bunch of basil (3-5 leaves)
3-5 cucumber wheels
In a mixing glass, muddle basil, cucumber, and simple syrup. Add Hendrick's Gin, lemon juice, and ice. Shake well and fine strain into an iced double rocks glass. Garnish with a bunch of basil and a cucumber wheel.