By: Pilar Muñoz
Photos courtesy of The Jazz Exchange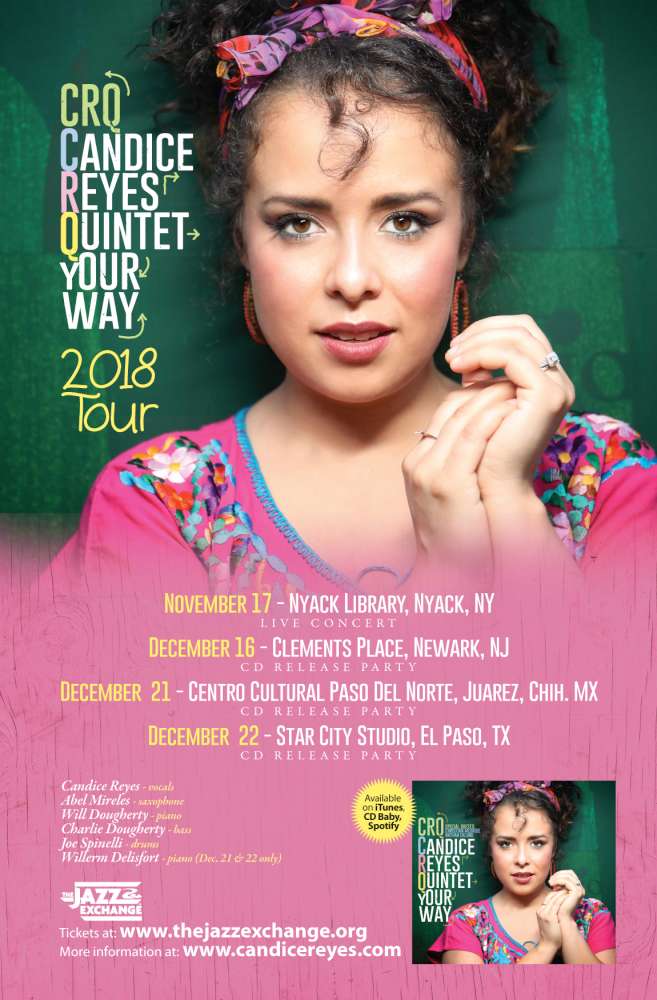 Although born and raised in El Paso, Jazz singer Candice Reyes really made a name for herself in New Jersey. However, now, four years after her debut album "Crossing Over", she's decided to return home for the release of her second studio album, "Your Way." She will be visiting Juarez and El Paso on December 21 and 22 as part of her CRQ "Your Way" 2018 Tour that kicked off in November.
The album—which hit CD Baby and iTunes on December 16—features a collection of talented musicians with an array of backgrounds. It includes six-time Grammy award winner and renowned jazz bassist Christian McBride and trumpet player Nathan Eklund. Abel Mireles, a native of Ciudad Juarez, produced the album and also contributed his signature saxophone riffs. Abel also recently performed with country singer Martina McBride for the Lighting of the Tree at Rockefeller Center and at the Times Square New Year's ball drop with John Legend.
The songs on the album were "chosen to portray the way we often deal with change and how music can become the light in our times of darkness," Reyes explained. She continued: "On emotions and challenges encountered in one's journey through life". She also stressed that the quintet's diversity was paramount, effectively turning their numbers into collaborative conversations.
"Your Way," the LP's lead single, provides an intimate look at Reyes' career journey. By the age of thirteen, she had already established herself as an emerging talent, performing was not long at local festivals and shows. In 2003, she won the "El Paso Idol" contest and in 2004 she received a scholarship from the El Paso Friends of Jazz.  She and her longtime friend Abel, who was also an El Paso Friends of Jazz scholarship recipient, went on to study Commercial Music at the University of Texas at El Paso.
A wide vocal range and sultry delivery has afforded Reyes the ability to forge her own way through life. Armed with experience and raw talent, she's been able to emphatically communicate different themes, from the solitude of being an artist to the importance of leaving one's comfort zone. Of course, the music reflects the experiences all the group's members, not just those of Reyes. And, comprising such a diverse cast, the songs vary widely in subject matter and sound.
The Candice Reyes Quintet will be hosting a CD release party in Ciudad Juarez on December 21 at 7:00 PM inside the Paso del Norte Cultural Center. Then, on December 22, they will throw a release party at Star City Studio Productions with two showings at 6:00 PM and 8:00 PM. Tickets will be sold on-site.
For more information, you can visit www.thejazzexchange.org.
You can support Candice Reyes at www.candicereyes.com and Abel Mireles at www.abelmireles.com.