By: Erin Coulehan
Photography by: Daniel Frederick
Kassi Foster
Franklin Mountain Management, LLC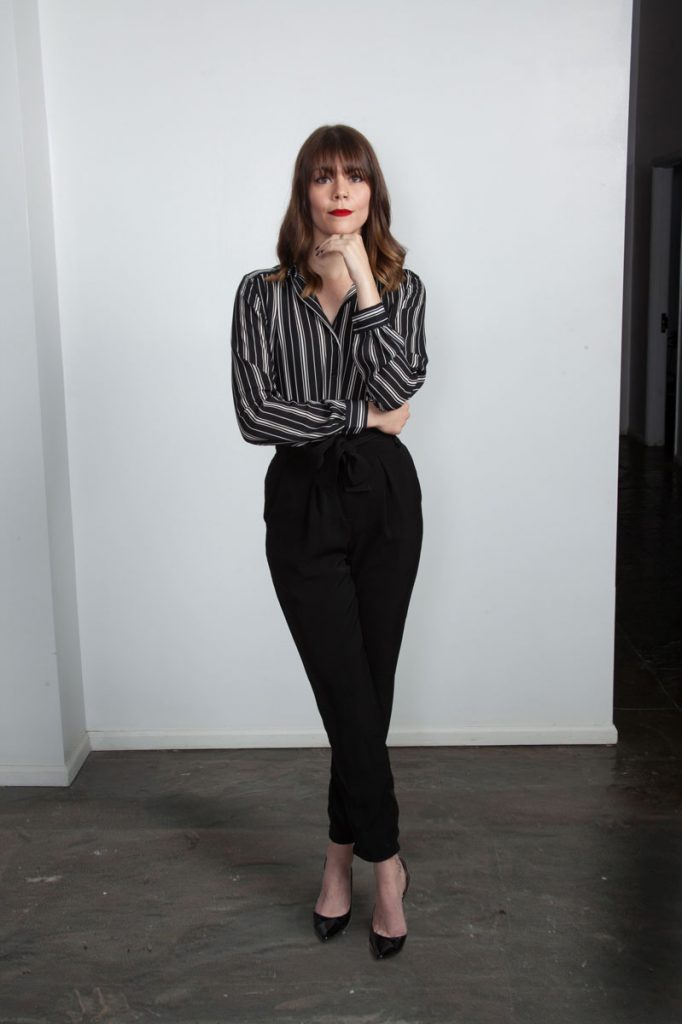 Paul Foster has established himself in the community—and "Forbes"—for his success in the oil industry after cutting his teeth cleaning tanks, welding pipes, and digging ditches while working in the oil fields as a teenager. Today, another Foster is making a mark on the community and infusing it with her own style.
Kassi Foster grew up wanting to be a veterinarian and has used her love for animals to leverage growth in the city. Kassi moved back to El Paso from Austin in 2016 with plans to grow the community for its four and two-legged members across all species.
"My goals now are to help my dad and the other like-minded El Pasoans make our city the best that we can," says Kassi.  "I want to put El Paso on the map as a destination city that people from all over will want to visit and enjoy."
Kassi works in Business Services for Franklin Mountain Management and is currently part of the team executing downtown renovations to the historic Plaza Hotel—originally the first Hilton Hotel in the region—and the Kress Building. She participates in key strategy meetings that will help bridge the gap between iconic downtown architecture and the Foster vision of innovation. Once completed, Kassi will have effectively transformed a large percentage of the area's dormant buildings into invigorated spaces for El Pasoans and visitors to enjoy.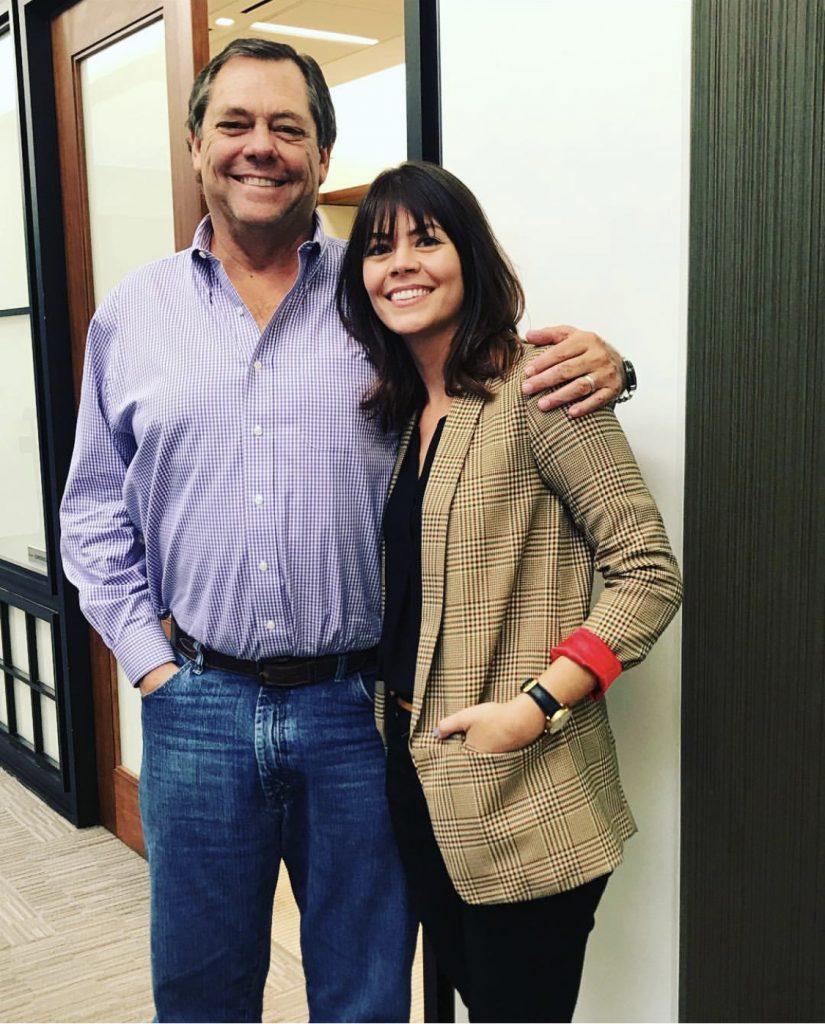 Changing the structural and cultural footprint of downtown has not been easy, but Kassi has handled the challenges with aplomb while also combating negative stereotypes associated with working for the family business.
"People tend to assume that because I work for my dad I don't actually 'work,'" she says. "In fact, it is quite the opposite. One of the worst things in life is disappointing your parents, so I do not want to let my dad down, therefore I think I work harder and smarter."
Mr. Foster and Kassi first discussed working together during a father-daughter trip to Peru during the Fall of 2017, and by the start of 2018 she was officially on the team. In addition to bringing a great deal of energy and drive, she has been able to leverage her degrees in Sociology from Arizona State University and Merchandise Marketing at the Fashion Institute of Design and Merchandising in Los Angeles.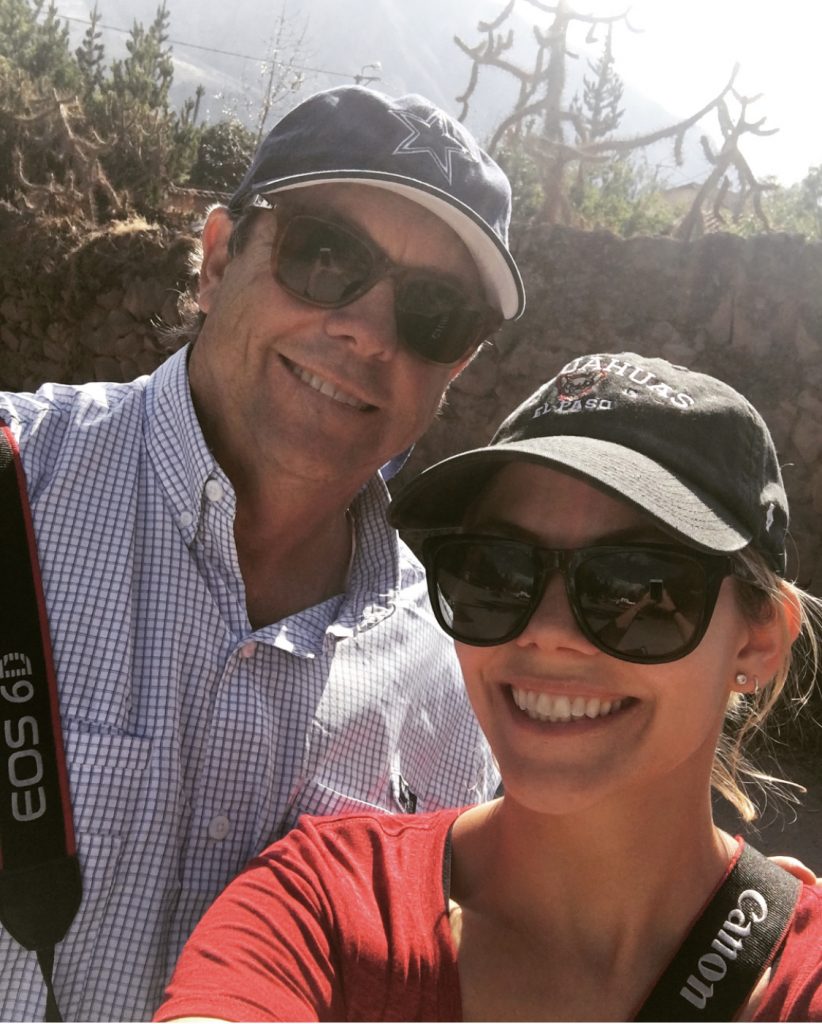 Kassi has successfully owned and operated her own businesses in Austin and is now working to further implement the lessons she's learned from Mr. Foster as both father and professional mentor.
"He was such a strong pillar for me to lean on during those years. His advice was and always will be something I do not take for granted. He has accomplished so much, and I could only be so lucky to achieve a portion of his success."
For now, Kassi plans to continue to make strides in the community and has plans to extend her ideas to the city's animal community soon by opening an animal rescue, making her mark on the city's landscape and following in her father's footsteps.
Paige Fox
Fox Auto Team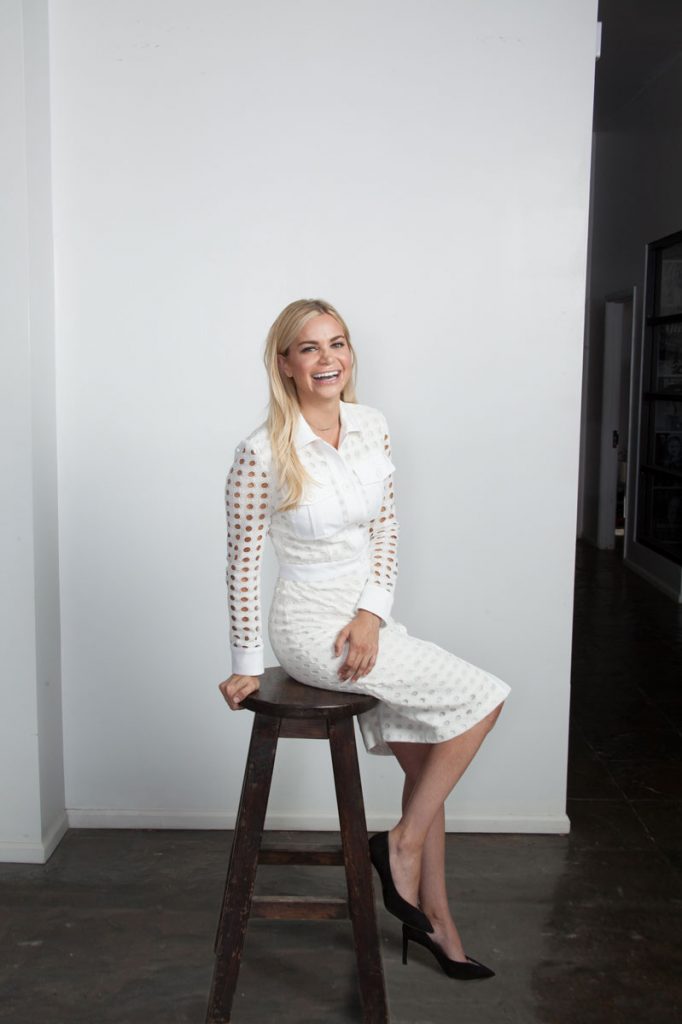 For Steve and Paige Fox, family extends beyond the den of their home. Fox Auto Team has multiple locations in El Paso and a 250+ person team that feels more like a family, bound together by their commitment to quality. Mr. Fox started the business to provide quality cars and automotive services to the community, and to use his platform as an opportunity to inspire his two daughters, Ashley and Paige, to continue his work on their own terms.

"I always wanted them to find their own paths in life, but it was important for them to understand that it's about more than making money," says Mr. Fox. When Paige joined the family business, Mr. Fox was delighted—but she was met with the challenges that come with being the boss's daughter as well as a young woman in a predominantly male-dominated industry. Cars tend to be a boys' club.
"I didn't really ever see many women around the stores, and when I got older, I thought 'well why not?'" From there, Paige leveraged the skills she developed while doing small jobs at the stores, like cleaning toilets—"it needed to be done!" she said, and was determined to make a name for herself as a businesswoman. Paige worked to dispel negative bias against her and has achieved the respect of Mr. Fox (as both an employer and father), her teammates and nay-sayers who initially doubted her business acumen.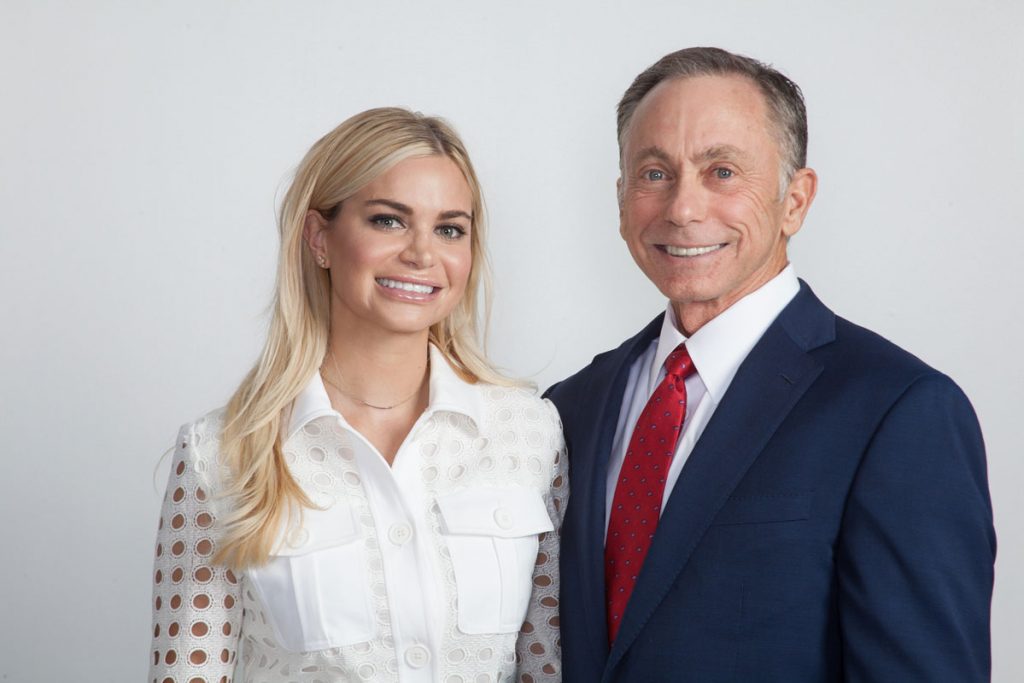 Paige grew up learning lessons of hard work, empathy and perseverance from her parents. Those virtues helped her tackle her first project: the daunting challenge of enhancing the Team's Acura location that needed a revamp.
"Paige took it on, and I was so impressed by her leadership and willingness to take her team and make things better," says Mr. Fox, who also credits Fox Auto Team's continued success with Paige's foresight and ability to help the team transition into the digital sphere to engage with customers using digital tools and social media.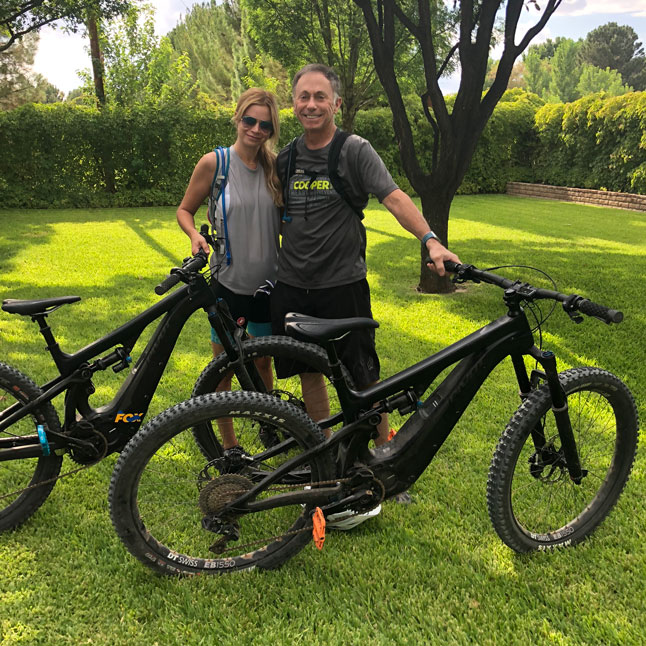 The father-daughter duo agree that they learn from each other every day through managing different projects, trusting each other's capability and expertise, and providing mentorship.
"It's about so much more than selling cars. My goal is to continue to grow our team, our stores, and our impact in the community," said Paige.
Brett Goldberg
Supreme Laundry and Cleaners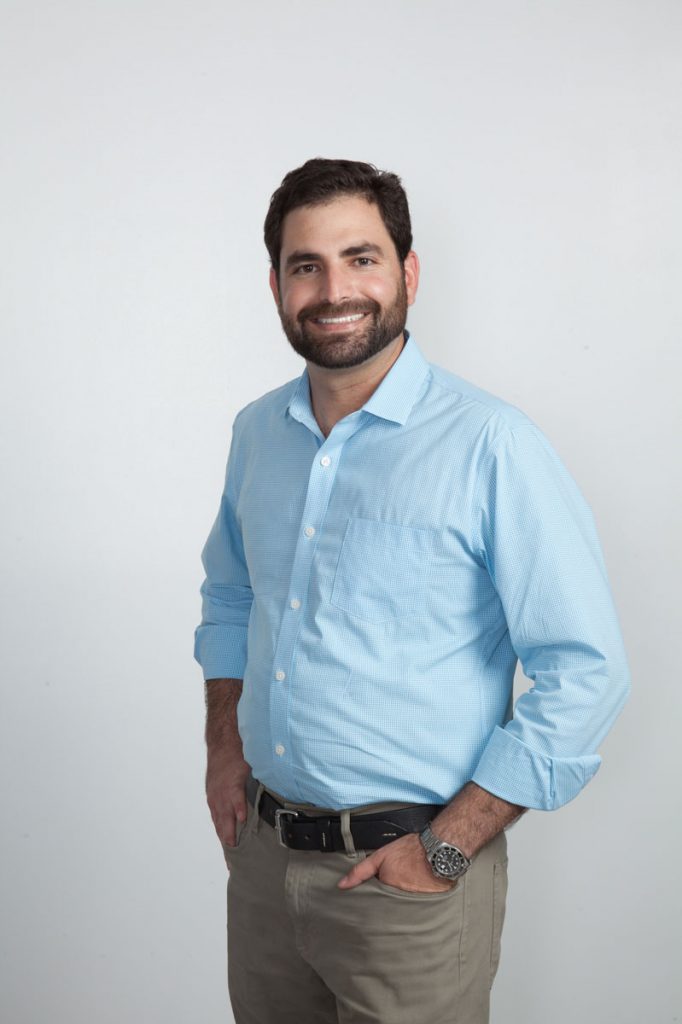 Supreme Laundry and Cleaners has been elevating the standards of crisp linens and fresh dry cleaning in El Paso since 1948. Abe Goldberg and Nathan Diamond started the locally-owned and family-operated business during the Truman administration, and Goldberg passed the torch down to his son Howard. Howard and his wife, Mona, were able to build upon the family legacy and commitment to customer service. Today, the third-generation Brett Goldberg is learning the ins and outs of not only the family business, but the responsibility of raising the fourth generation.
Brett was living in Colorado when Howard and Mrs. Goldberg offered him a position in the family business. "I couldn't refuse," recalled Brett. "So, I decided to move back home and started working in the family business."
Today, Brett works as Director of Business Development and notes a few of the values his father has woven into the fabric of the company.
"My dad likes to say that 'We don't have job titles at Supreme Laundry, we are all part of the team at Supreme Laundry and Cleaners,'" which is exemplified by the team's commitment to service. Many are familiar with Supreme Laundry's television ads that showcases a day in the life of the business. Howard visits clients to deliver their items, followed by sequences of team members—not actors—washing and folding while Howard explains the company's commitment to quality. The commitment is exemplified not only in the exponential growth that has occurred since Howard and Mona took the reins, but in the time that has been invested in ensuring the company is operating at a high level of achievement.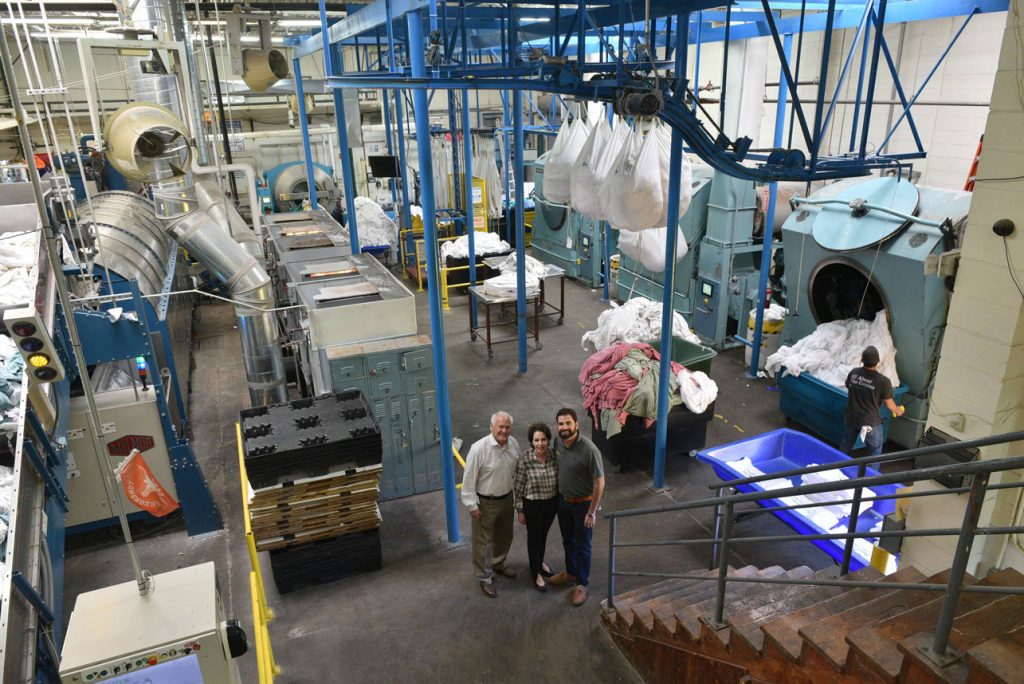 Supreme Laundry and Cleaners is the only laundry company that is accredited by the Healthcare Laundry Accreditation Council (HLAC) and is also certified as hygienically clean and Clean Green by the TRSA, an association for linen, uniform, and facility services industries, that has set the standard for hygienically clean textiles.
The company's vision for excellence stemmed from the patriarch, Abe, who passed away in 2017. To honor Abe, the family continues to carry on his legacy of compassion and quality in the community, a feature Brett particularly enjoys about his job.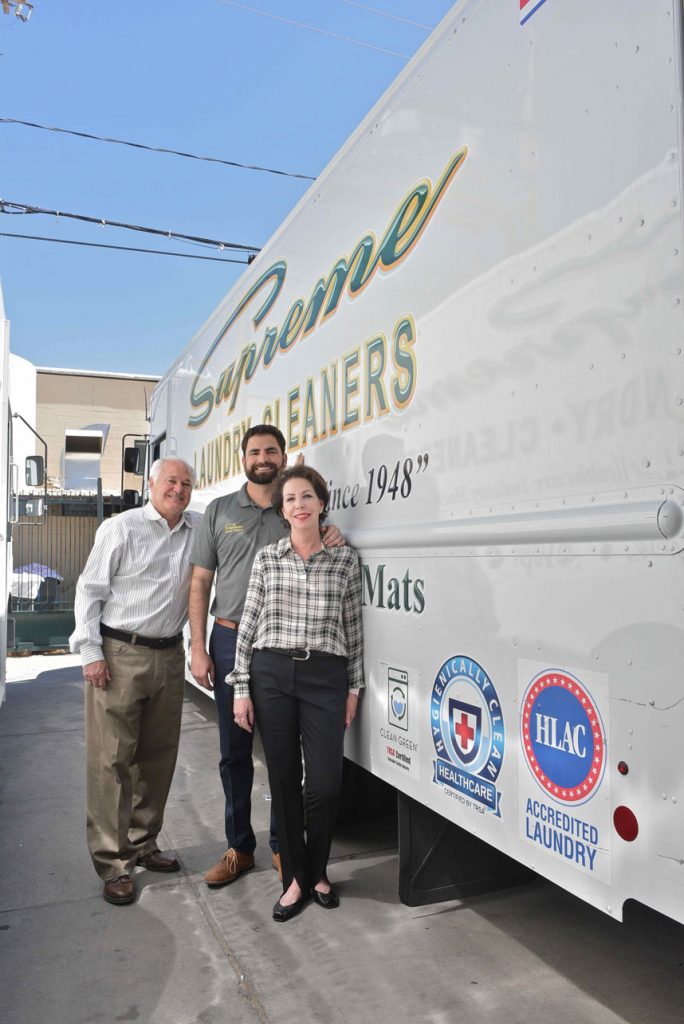 "There are a lot of different projects that we have completed over the last six years that I am
proud of, from rerouting our commercial customers and implementing new route accounting
Software," he says. "But what I am most proud of is being part of the Supreme Team and getting to work with many co-workers who have worked with both my mom and dad and even some who worked with my grandfather."
For Howard, it's been incredibly rewarding to follow in his father's footsteps, while also mentoring Brett.
"It has been fantastic to be able to work with Brett in the company we've been involved with for over thirty years," said Howard. "We love watching him grow personally as well as move our vision forward for Supreme Laundry. We are most proud of Brett's passion for his family and for our family business and his enthusiasm for Supreme, our employees and our future."