By: Zak Hansen
Photos Courtesy of the Sun Bowl Association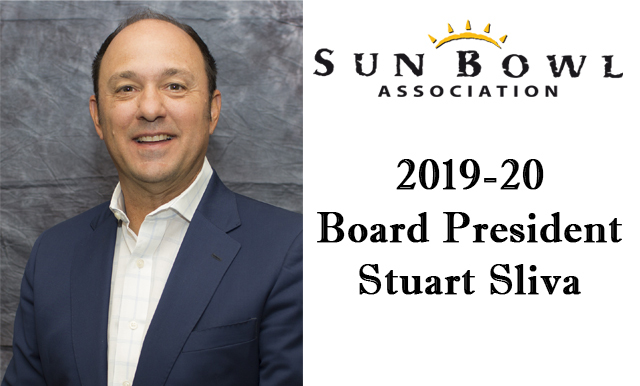 At the Oct. 18, 1934, meeting of the El Paso Kiwanis Club, Dr. Brice W. Schuller proposed the club host a New Year's Day football game pitting El Paso High School's All-Star team against another of similar caliber.
The club passed the motion and on Jan. 1, 1935. Schuller, Dr. C.M. Hendricks and other Kiwanis members kicked off this new, prep all-star game, dubbed the "Sun Bowl" at Hendricks' suggestion. With the best players from El Paso's three high schools beating the powerful Ranger (Texas) High, the thrilling midwinter match raised funds for local service clubs, children in need and some much-needed improvements to El Paso High's football stadium.
The Sun Bowl was born, and soon after, the Sun Bowl Association was founded with a threefold purpose: to present a football attraction of national importance, to promote El Paso and the Southwest, and to generate tourist income for the area.
For 84 years and running, the nonprofit 501(c)(3) Sun Bowl Association has done just that—and more—through an ever-expanding, year-round schedule of events with the help of its dedicated staff, board and more than 600 volunteers.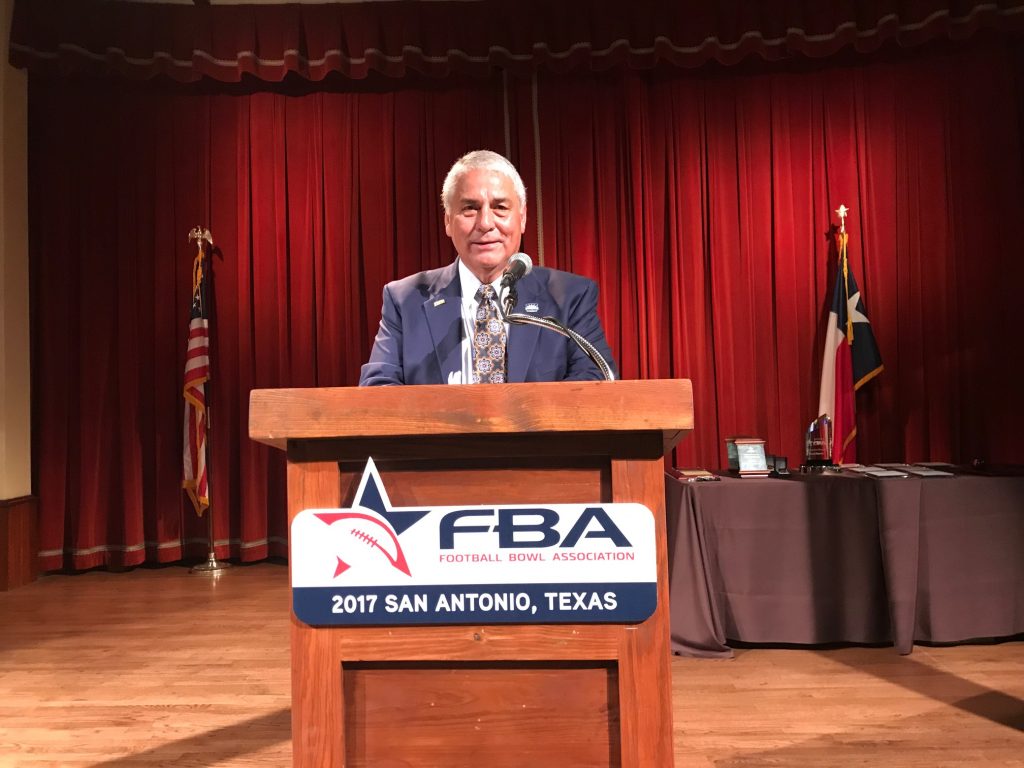 Leading this charge are Executive Director Bernie Olivas and new President Stuart Sliva, who began his tenure in May.
Both Olivas and Sliva cut their teeth as longtime Sun Bowl volunteers. Olivas started volunteering in 1983, until joining the board in 2000 and, in 2001, took over as executive director. Sliva came to the organization through his involvement with Rotary Club of El Paso; he volunteered for nine years before becoming a member of the board in 2008.
"Once I was assigned to the Rotary Sun Bowl Luncheon committee, I was part of their Sun Bowl Advisory Board during that time, attending Sun Bowl Board meetings, observing and listening," Sliva said. "Then in 2008, Mr. Joe Valenzuela, who was president that year, asked if I would join the Sun Bowl board, I agreed. Now 11 years later, I have the unique opportunity to lead such a well-respected, tenured association in El Paso."
Calling himself "very grateful, very thankful" for the opportunity to serve as the association's president, Sliva said, "To me, it's all about El Paso, our city, our community and serving others—that is why I have continued to be involved over so many years. The Sun Bowl Association has so many different events and touches so many El Pasoans in so many ways. It's a lot more than a New Year's Day football game, a lot more."
"My priority is to preserve the legacy of the Sun Bowl Association and to continue the longstanding El Paso traditions many generations of families can enjoy," he continued. "If you look back at the history, the past presidents of our association, it is an honor to be able to join that list of distinguished El Paso leaders in our community."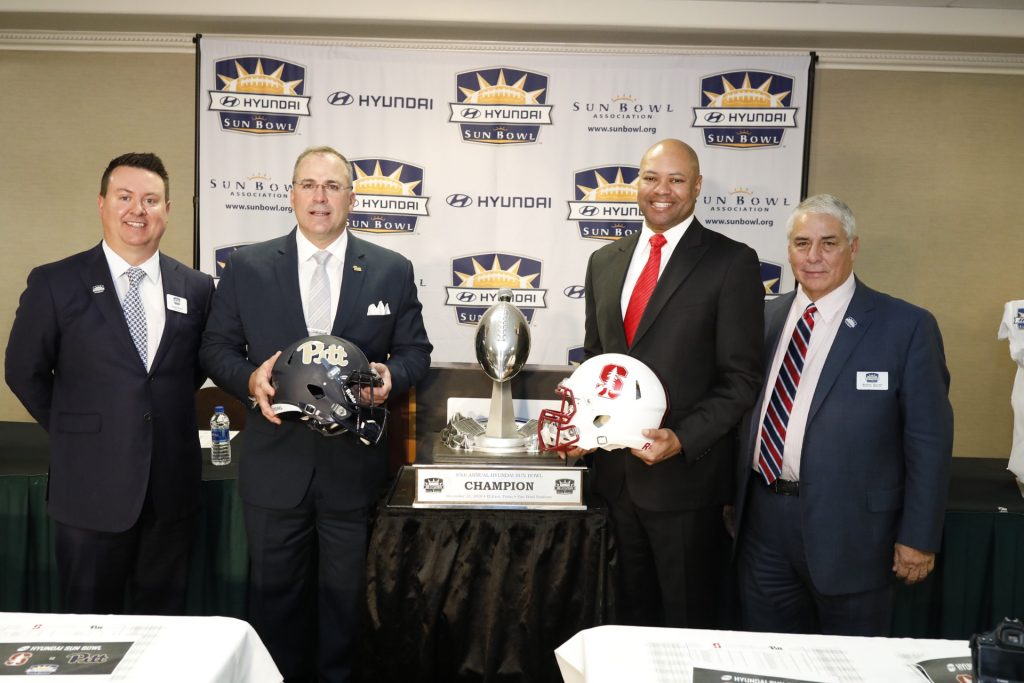 Sliva's work with the Sun Bowl comes on top of his more than 25-year career in the automotive industry, currently representing the Ford brand with a Fortune 200 company, Group 1 Automotive, and a busy home life with his wife Jennifer Lowenfield Sliva and their four children, Mason, Morgan, Cole and Sophie.
Olivas, who's worked with 19 different presidents in his time with the association—"all of them exceptional"—said the past few months working with Stuart "have been just great. He's got the biggest heart in the world. The beauty of this for me is that every person who has held that position has the Sun Bowl's interests at heart. When the presidents are elected, that's what we look for, and he's got it."
So, what's ahead for 2019?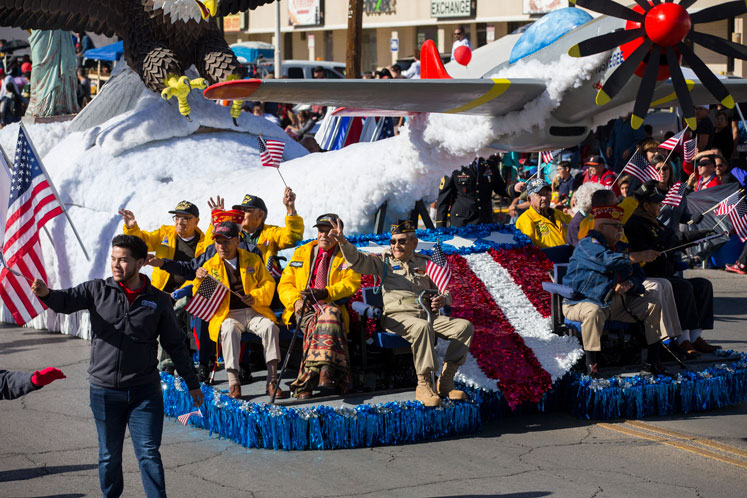 "We have already tackled, no pun intended, some huge agenda items in 2019 that are key to the continued success of the Sun Bowl Association," said Sliva.
"Securing our partnerships with the PAC-12 and the ACC was a huge, important priority," said Sliva. "Our executive director, Mr. Bernie Olivas, our football committee chair, Mr. Folmer, our basketball chair/football committee, Mr. Barry Korben and Mr. Scott Mann, past president and legal affairs, worked 24-7 to complete and secure our agreements to ensure they will both continue to play in the Sun Bowl for the next five years. That's a big piece to start the year for us."
From its humble high school beginnings, the Sun Bowl has grown to one of El Paso's signature events and encompasses a whole lot more than a ball game.
In 1936, the Sun Bowl moved up to the collegiate level with the invitation of New Mexico State and Hardin-Simmons Universities, a tie game. It's been a college game ever since, drawing some of the best teams and most fervent fans from around the U.S.
Also in 1936, a weeklong slate of events was added to the fun, and four other El Paso service clubs—Rotary, Lions, Optimist and Active 20-30—joined the Kiwanis in helping curate and carry out the entire "Sun Carnival" calendar of events.
The Sun Bowl left its original home of UTEP's Kidd Field in 1963, when El Paso County opted to construct a brand-new, 30,000-seat stadium called, fittingly, the Sun Bowl. The Sun Bowl became a matter of national interest in 1969 when CBS began broadcasting the game, as it does today, reaching tens of millions of sports fans around the country.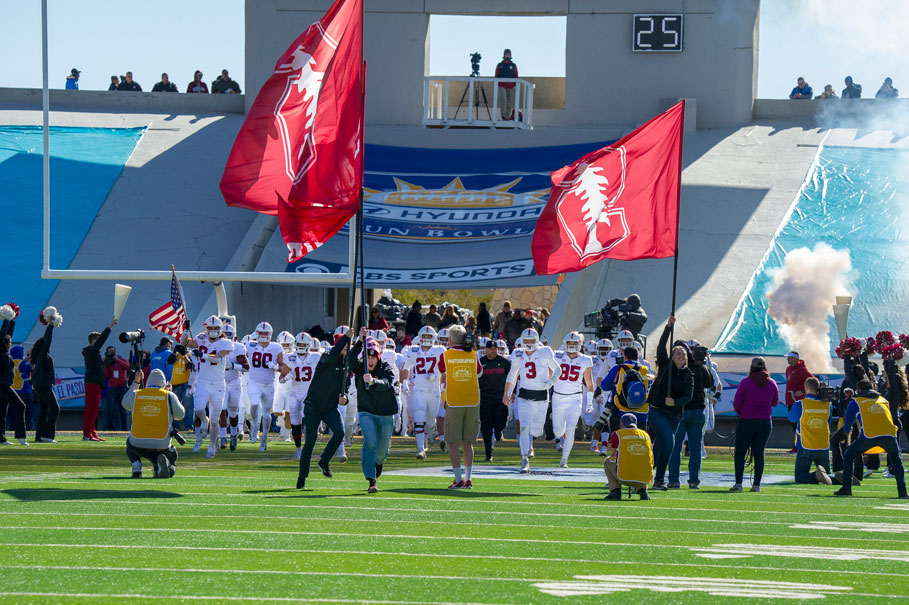 "One of the association's goals has been bringing El Paso positive national exposure, which we do on CBS for four hours every year, for more than 40 years, where they talk about nothing but how great El Paso is," said Olivas.
The Sun Bowl generates more than positive press for El Paso, though; it's also a huge economic boon, with major money trickling in all through game week. Estimates from Dr. David Schauer, of the Economics Department at the University of Texas at El Paso, placing the bowl game's economic impact to the area from $12 million to $15 million—not including the value of media exposure from the game.
While the Annual Hyundai Sun Bowl football game is the Sun Bowl Association's crown jewel, it's far from the only thing they do; the organization is behind 16 events each year and counting.
There's the Thanksgiving Day FirstLight Federal Credit Union Sun Bowl Parade, which draws crowds upwards of 250,000 spectators along its route, easily making it one of the best-attended events in El Paso.
The Western Refining College All-America Golf Classic is one of the premier college golf tournaments in the U.S., which has drawn the likes of Tiger Woods, Phil Mickelson and recent PGA winner Michael Wolff to El Paso on their route to links stardom. A letter from Woods himself, singing high praises of El Paso and its people, hangs in the association office.
"I always tell people, 'come out and get your autographs and pictures now, because they're going to be big.'" Olivas said of the world-class college competitors the tournament draws.
There's also the WestStar Bank Don Haskins Sun Bowl Basketball Invitational; the Peter Piper Pizza Sun Bowl Punt, Pass and Kick, in which girls and boys in five separate age divisions compete against each other; and the Academy Sports + Outdoors Sun Bowl International Soccer Tournament, which drew approximately 130 teams from around the Southwest in its 2018 outing.
If his 36 years with the Sun Bowl Association didn't make it clear, Olivas does—the Sun Bowl is a vital part of El Paso's history, culture and growth.
"How lucky are we, to have two Power Five conferences in El Paso—the PAC 12 and ACC—in the middle of the desert," Olivas said. "Once they've been here one time, these people and these schools want to come back here. We all talk, and the other conference people tell me all the time that people want to come back, and that all comes back to our volunteers."