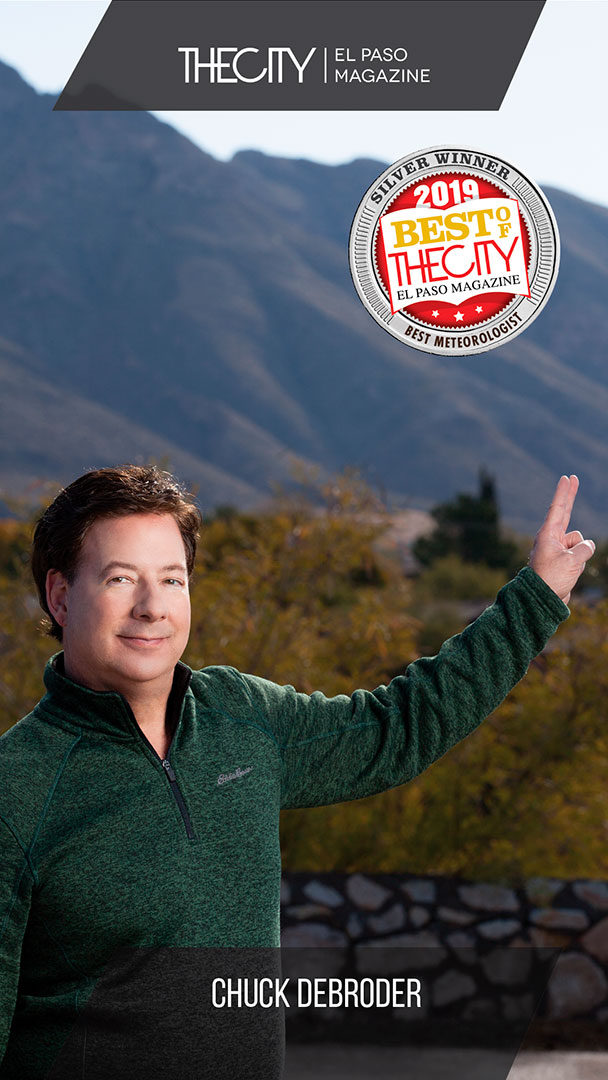 For more than 23 years, Chuck DeBroder brought El Pasoans their daily weather as their trusted, down-to-earth TV meteorologist; now, he's left the confines of broadcast and is bringing a new generation of El Pasoans their forecasts as the first "Social Media Meteorologist."
Today, Chuck's twice-a-day forecasts, along with updates, look live weathercasts at local businesses, art, health, weather history and more—on his Facebook, Twitter, Instagram, YouTube Channel, Google Business, LinkedIn and website—get El Pasoans the weather info they need, where they actually see it: on their phones and social media feeds, not TV, where viewership has plummeted.
Chuck's also been a certified hypnotherapist for more than 15 years, helping people tap into their subconscious to reinforce positive habits and break destructive ones. "I love helping people help themselves with the power of their minds and changing their state of mind, eliminate phobias and erase anxiety," he said.
Chuck's wife/partner, Rosario, recently created and helped Chuck become his own digital marketing/advertising/production force, and he has appeared as an actor in three movies, as himself in 12 commercials (all in the past year) and he has a book in the works! Looking forward, Chuck is doing what he always does—making his own rules.
Chuck DeBroder,
Social Media Meteorologist
Facebook @weatherchuck
Twitter @chuckdebroder
Instagram @wxchuck
By: Zak Hansen
Photographed by: Daniel Frederick