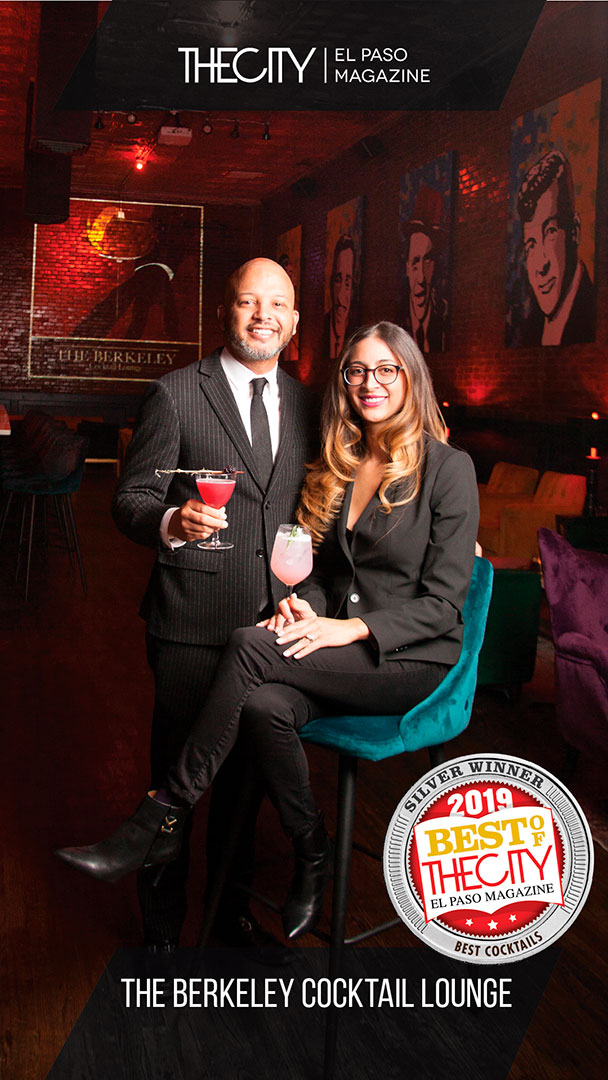 Downtown El Paso just got their very own upscale cocktail lounge with the recent opening of The Berkeley. Thanks to visionaries/owners, Lawrence and Danielle Davenport, locals can now experience a throwback to old-school drinking in a classy, yet comfortable atmosphere. Every detail, from the living room-styled furniture pieces that practically insist that drinkers sit and stay, to the six statement paintings of iconic jazz artists hanging on the wall, this new elegant hotspot will transport you into an era where people truly dressed up for a night out.
Originally from California, the Davenports were eager to call El Paso "home" after being exposed to the strong community and the opportunity for growth. "We wanted to offer El Pasoans a sexy and sophisticated environment that is inviting to all" expressed Lawrence and Danielle, "we are so grateful that the community has been so welcoming." Every night of the week, The Berkeley Cocktail Lounge opens its doors for guests to enjoy live music, classic films playing in the background, and specialty cocktails like the Apartment 6 or Berkeley on Fire. Additionally, they offer Classics, Old Fashioneds, Negronis, and everything in between. Since opening, The Berkeley continues to "wow" its guests with their special events and notable entertainment, which is why it's no surprise that they placed Top 3 for "Best Cocktails" in this year's Best of The City.
The Berkeley Cocktail Lounge
317 E. Mills Ave.
El Paso, Texas 79901
(915) 234-2863
By: Andrea Avalos
Photographed by: Daniel Frederick