By: Andy Martinez
Photos By: Bernie Maese, Jr.
Styled by: Ladonna Apodaca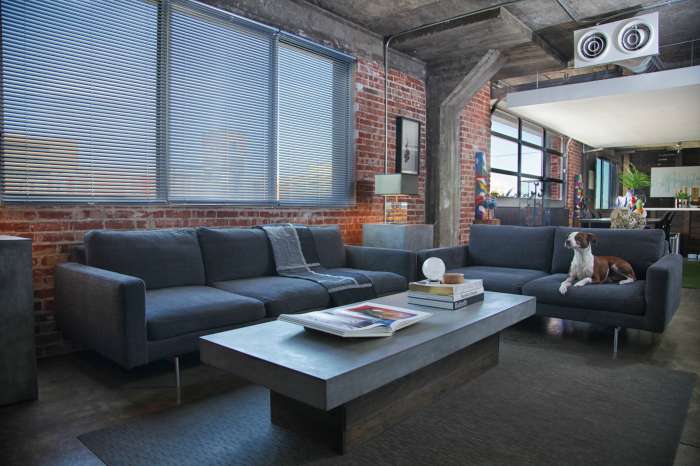 What is essentially a compact rectangular-shaped loft has become much more than that—it has transformed into not only a refuge, but a testament to the creativity and ingenuity of Steven Roberts and Andrew Taylor. "We've never seen anyone do something like this to the space," said Steven, quoting the building owners' comments about their overhauling of the design of their home. The entire home appears instantly through the loft's door. The kitchen's island built by the homeowners is only a sample of the highly personalized touches that decorate the home completely throughout. "Kate" the lioness, a recycled metal sculpture created by UK artist Peter Grieve (a favorite of the homeowners), greets guests that walk through the door, "That was the first important piece that we bought together," said Steven.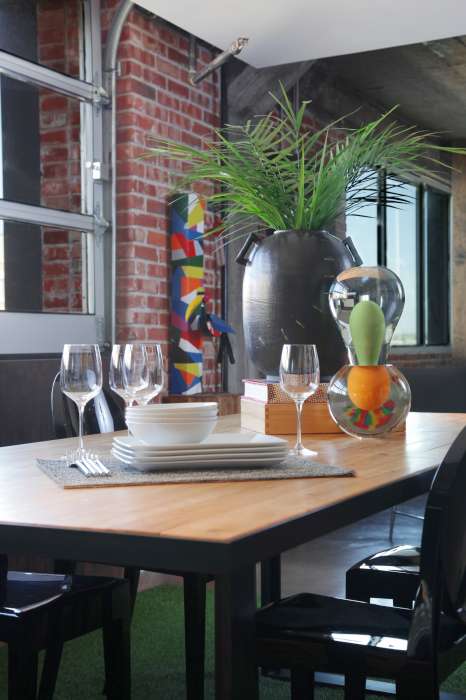 The open concept of the place not only adds to the charm of the space, but is necessary in order to avoid a constrained feel that would occur if each room was separated as is common with larger homes. The space, akin to something that can be found on someone's inspiration board, serves as a model for those looking to live small without giving up their sense of style. "Living small is great, it teaches you something about yourself. People feel like they need big houses and I think people should live in what really fits them," said Steven. Despite being technically small, the home does not lack a sense of space, as it is outfitted with an impressive garage door-style window that raises to allow fresh air in as well as a unique view of downtown El Paso.
Throughout the home, the eclectic style of the homeowners is evident. The foliage is distributed smartly, contrasting with the concrete elements of the living area and the exposed brick wall, all of which is accented with the pops of color from the art that the homeowners have collected. In order to compensate for the limited amount of storage space, the homeowners' creativity led them to go with the rugged look of locker-style storage for the bedroom and closet areas. "There's a sort of industrial feel to living in a loft," said Steven. Of the art and décor in their home, Andrew added, "I'm not going to buy something just to fill a space, I'm going to buy something that I love and that makes me happy and I want to see every day of my life."
Of the process of putting together their home and how they continue to build within it, the homeowners spoke about not wanting to have a designer or decorator involved. To the homeowners, the importance of being able to recognize and attach a memory to each piece in the home is valuable, as well as putting together a functional space that fits each of their needs. "I want to be surrounded by a home that makes me feel good and really personal to me," said Steven. "When I walk around the house and people ask me about things, I know exactly where I got that, why I own it."
Filled to the brim with the experiences and personality, the loft has taken on an entirely new disposition, one that wholly represents exactly what a home is supposed to be, an accurate representation of the homeowners. Regarding his feelings about the home, Andrew says, "There's nothing better than walking through the door to a place that you helped create and want to be in."