By: Krysta Ayers
Skateboarding is a culture and an art in itself. It comes with its own style of clothes, shoes, music, movement and language. Smells Like Fish Co. is no different. When I meet up with the owners, Gil Martinez and Myles Overstreet, we are at their house/studio and creative space. It is filled with art, a lot of it local, and the company's products, T-shirts, stickers and skateboard decks. There is even a room devoted to print, containing books, more art and vinyl records. This is the space of the creators of Smells Like Fish Co., the local skateboarding company rooted in community, environmental awareness and passion for art. The two owners are young, mid-twenties, and are very serious—and exude passion— about the work that they do.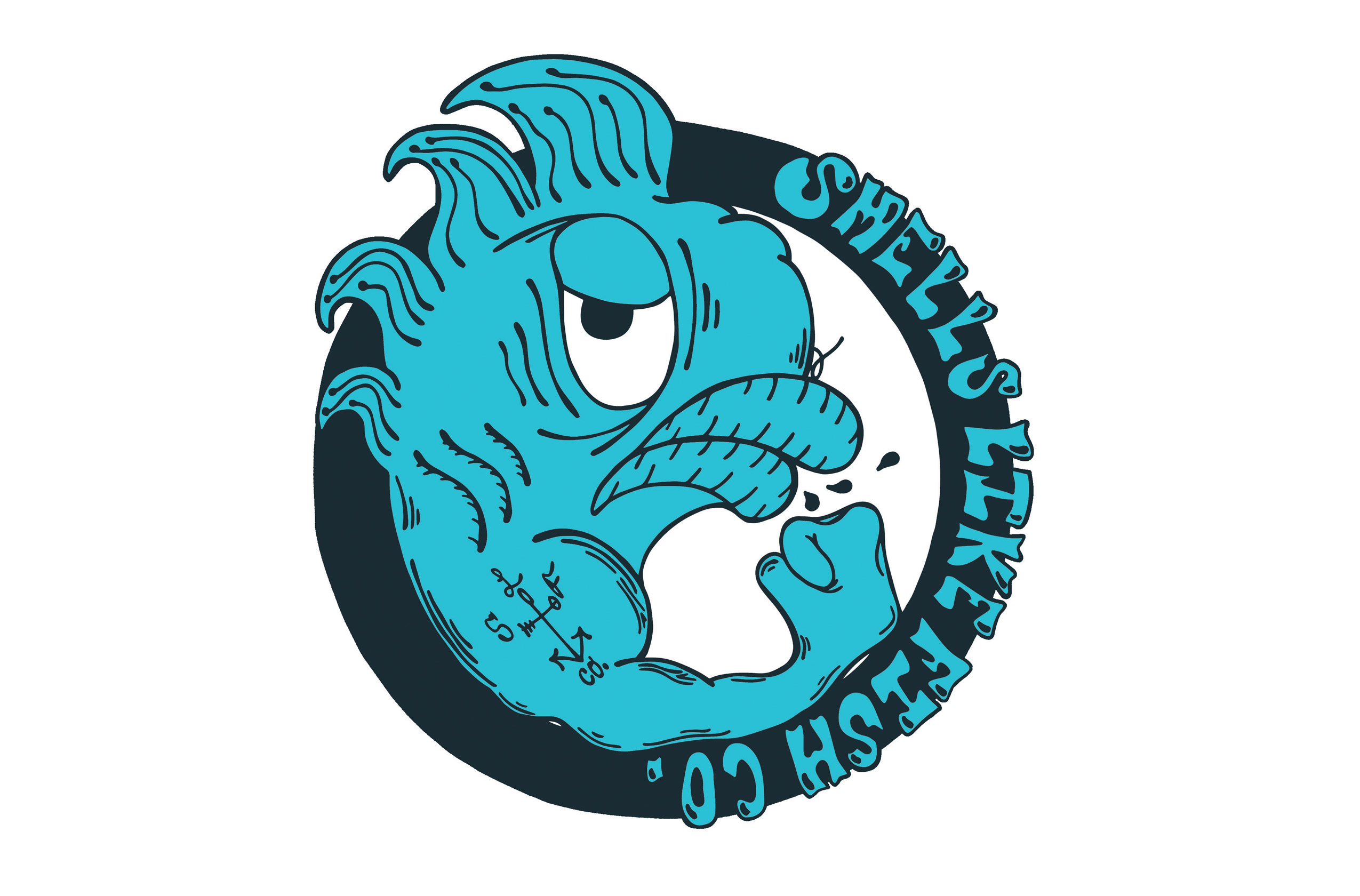 Having started in 2008, fresh out of high school, the two started with graffiti and graphic design, wanting to turn their vision into something tangible for their community. "Myles used to tag 'Smells Like Fish' everywhere and so we just stuck with the name," shares Gil. Gil's father also has an anchor tattooed on his arm, which contributed to the inspiration of the nautical theme that the brand has.
Both agree that design matters. Gil spent four years in Los Angeles, the second location for the brand, where he studied graphic design at the Art Institute of Los Angeles. Gil shows me his portfolio; a lot of the designs are similar to the look he brings to the brand. It is heavily influenced by the psychedelic music his father introduced him to and the graffiti art that him and Myles started off with. Some of their skateboard designs include pop culture (Jane Birkin, David Bowie) and most comprise the hand-drawn nautical art that both Gil and Myles create. Their brand includes calling skaters "captain" and sayings like "gone fishing." "We liked so many brands, we just started our own. [We wanted] to bring our own language and color to it," Gil says proudly.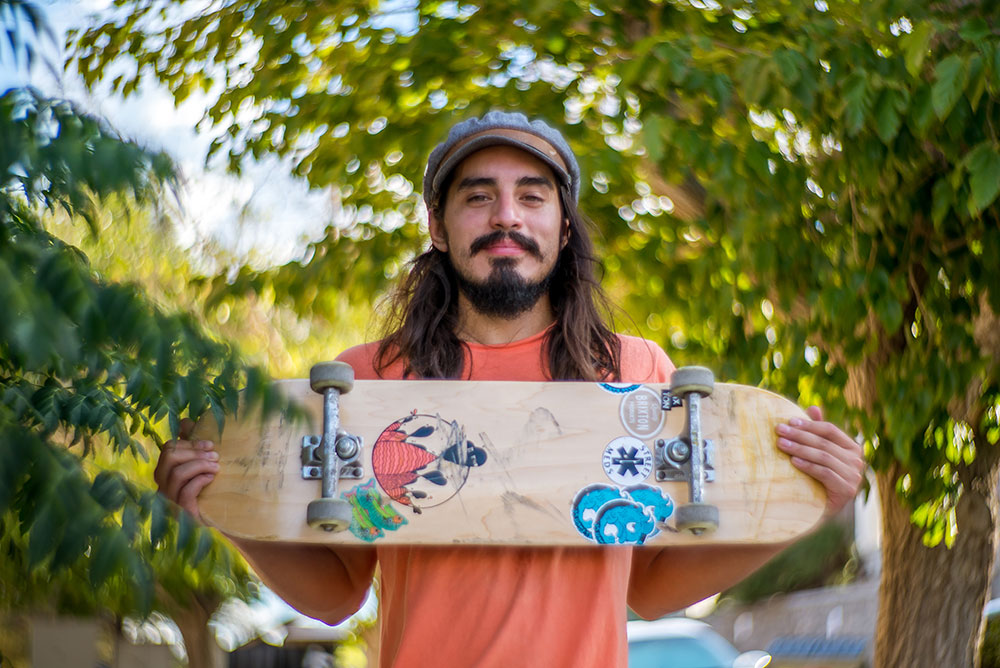 When they were first starting out, the two owners recall there being multiple local skate shops to hang out in and skate with friends. Since those have been closed, they are grateful for Barrio Skate Shop for creating a space that skaters and creatives can go to. El Paso is not swimming in skate parks. Gil says, "The streets are skate parks." They take note of the architecture and share that they skate a lot around downtown.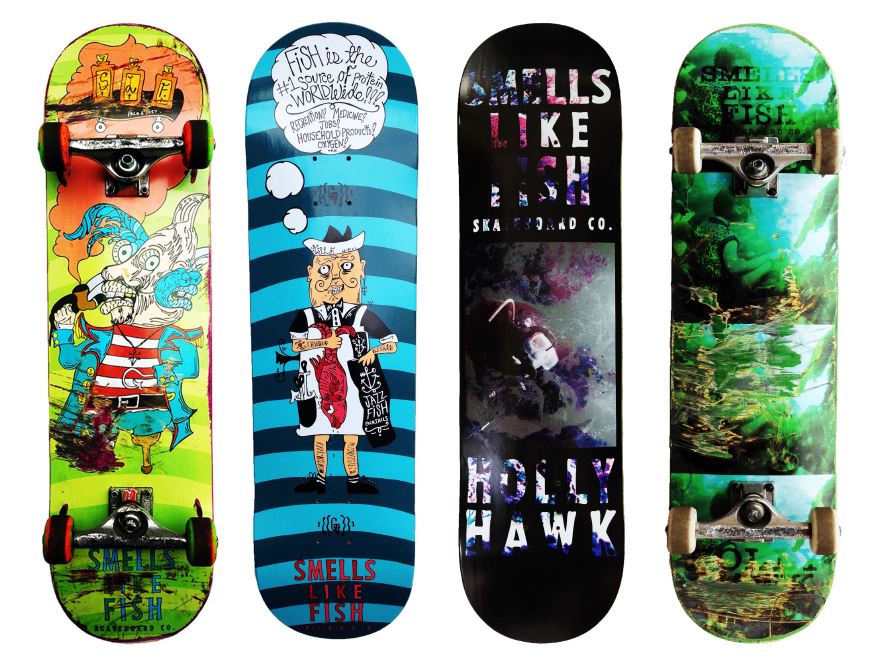 Their goal and message doesn't end with the art community. The brand is also bringing awareness to environmental issues. While studying at the Art Institute in Los Angeles, Gil took an environmental science class with professor Holly Hawk, who deeply inspired him and taught him the importance of keeping our oceans clean. A skateboard was created in her honor that featured a picture of her underwater embracing the deck. "This is our thanks to her. I wanted to [do something different]. I wanted to bring awareness and get people thinking about where we live, our care for fish and water," Gil says.
Gil and Myles are role models to younger skaters in the community, whether they intended to be or not. What Tony Alva and Stacey Peralta did as the Z-boys in California during the 1970s, Gil and Myles are doing with Smells Like Fish Co. for El Paso right now. "With the brand I want everyone to be [and feel] included," Gil says. This inclusiveness has brought a community of skaters to skating events they've hosted and has gotten the word out about their brand. On their Instagram account, you can see their salmon colored shirt with their newest design being sported by a ton of their supporters.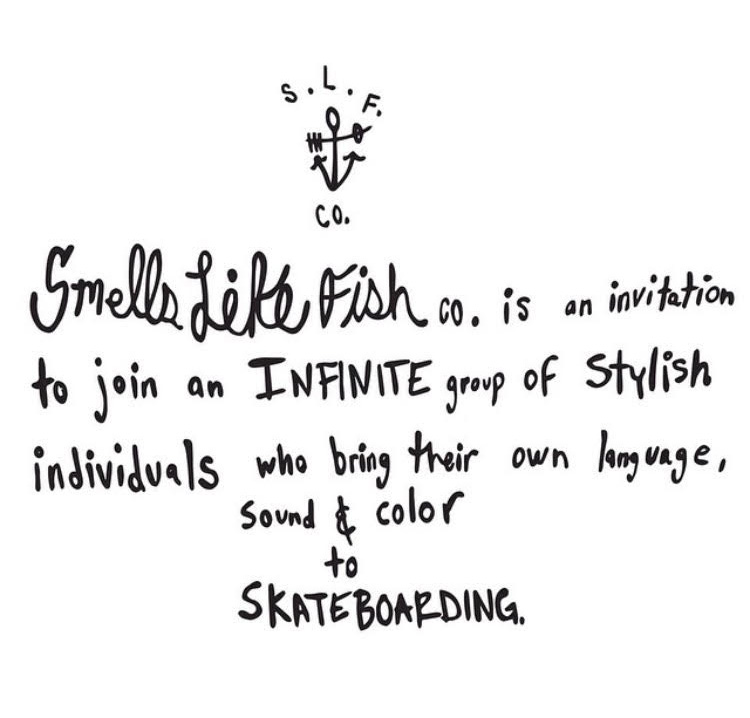 In five years, the guys hope to grow the community, have a warehouse, have video premiers and tons of product and designs to choose from. For now, they are slowly building their empire of inspired designs to all the "captains" out there. Throughout the interview, the smiles on their faces and the way they introduce me to their product screams that they are proud of their work, deservingly so. They will surely keep the art and skating community afloat with their wavy, environmentally psychedelic designs.