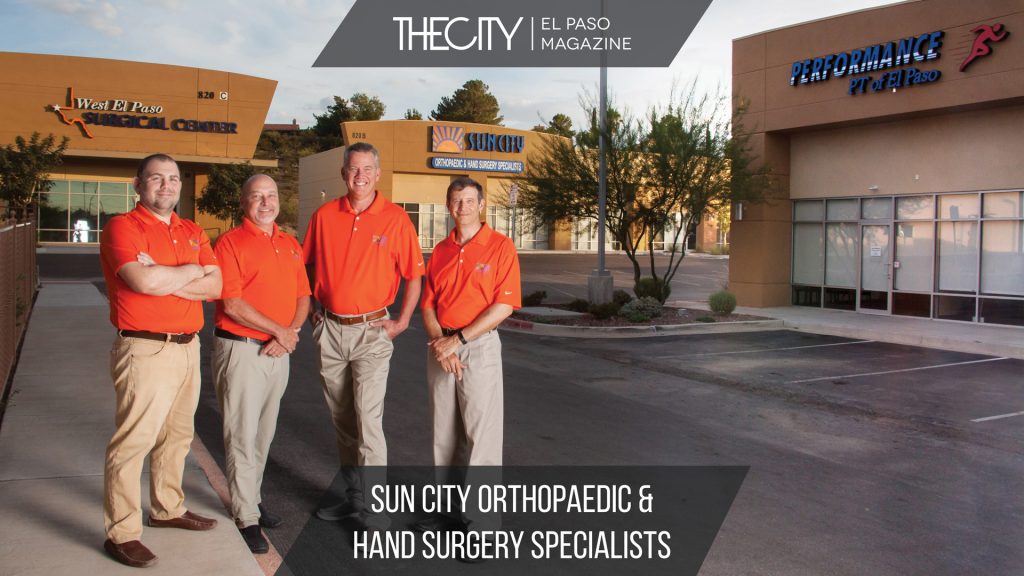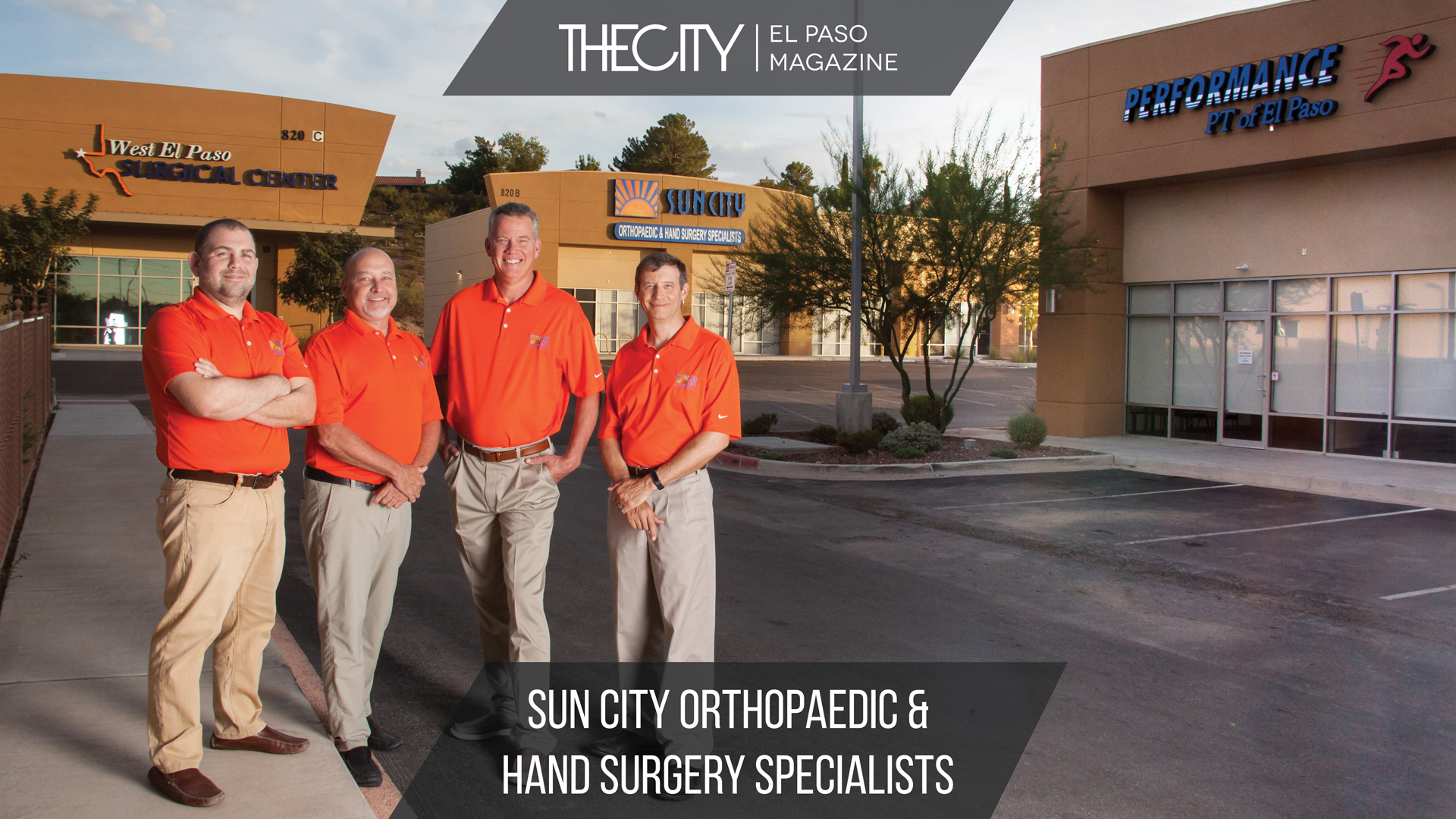 The group of four highly-skilled doctors and owners of Sun City Orthopaedic & Hand Surgery Specialists have been providing their patients with quality care at two convenient locations since 2012. The George Dieter office serves El Paso's east side, while the Murchison's central office has relocated to 820 Redd Road (Bldg. B). The new office is in the same campus with Performance Physical Therapy of El Paso (Bldg. A) and Physicians' West El Paso Surgical Center (Bldg. C)—all three are brand new and ready to serve El Paso's west side.

 Performance PT is a fully-equipped, state-of-the-art facility with everything needed to get patients back to their normal activity level. The team includes a hand therapist, certified in Advanced Rehabilitation of the Hand and Upper Extremity from Philadelphia's Drexel University, that can fabricate customized splints and treat complex hand/upper extremity injuries. Also available is the only TCOLE certified (Texas Commission on Law Enforcement) instructor in the Southwest. She focuses on return-to-work programs, including functional capacity evaluations and work hardening/work conditioning. Utilizing reality-based training, tactical strength and conditioning, and tools of the trade allows her to proudly serve and treat El Paso's fire fighters, Border Patrol, State Troopers, Sheriffs, Marshalls and detention officers ensuring that they can safely return to full duty. No matter your job, Performance PT's goal is getting you back, safely, to maximum performance. 

Sun City Ortho's new building has a comfortable, well-lit lobby and thirteen exam rooms that accommodate four orthopaedic surgeons, four part-time sub-specialists, a nurse practitioner and a physician assistant. This team allows for specialized care and guidance through every step of the patient's surgical experience. With an on-site radiology department and a specialist in every facet of orthopaedic care, Sun City Ortho can treat any orthopaedic problem under one roof—and now with physical therapy and the surgery center in the same complex, a patient can be taken from injury to full recovery in the same familiar place!

Physicians' West El Paso Surgical Center is a collaborative between Sun City Ortho's surgeons and seven other local surgeons. A nursing station separates eight pre-op bays from eight post-anesthesia bays, used for recovery after surgery. There are three operating rooms and one for procedures such as epidurals and injections. The major benefit of utilizing an ambulatory surgery center is less exposure to infection in comparison to hospitals.

Your medical, physical therapy and surgical needs, all locally owned and in one place are now open—at a considerably lower cost compared to a hospital. A grand opening is planned for mid-September.

SUN CITY ORTHOPAEDIC & HAND SURGERY SPECIALISTS
(915) 581-0712
suncityorthoandhand.com

820 Redd Rd.
El Paso, Texas 79912

1400 George Dieter, Ste. 100
El Paso, Texas 79936

By: MARKO MORALES
Photographed by: DANIEL FREDERICK