By Lauren Macias-Cervantes, Photos by Jenn Márquez and UTEP Communications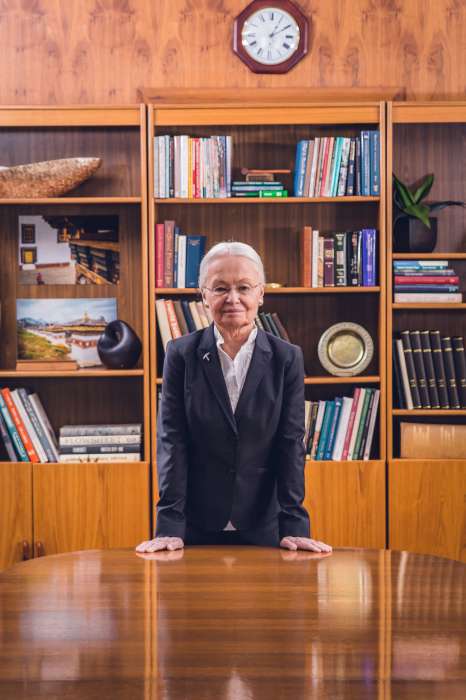 Dr. Natalicio on what she likes about El Paso:
"I love the desert, the sunshine, the weather, being able to live in two countries at once, and, most of all, I love the people here, starting with our UTEP students whose capacity to overcome any odds continues to be a source of joy to me."
There are millions of books on how to achieve success in education. The industry is ever changing and challenging at best, but the answer is simple for The University of Texas at El Paso President Dr. Diana Natalicio: provide access and excellence. Accomplishing the combination is far from easy, in fact, the recognized global leader has often heard having both is not possible.
The visionary first came to UTEP in 1971 as a visiting assistant professor in the departments of linguistics and modern languages. She served as vice president for academic affairs, dean of liberal arts, chair of the modern languages department and professor of linguistics before being named president of the university in 1988.
This year marks 30 years as president. She is the longest-serving president of a public doctoral/research university currently in office. She is also the all-time longest-serving female president of a public doctoral/research university or four-year public university.
"I feel very happy and totally privileged to have had an opportunity over the past 30 years to work with a highly talented and committed UTEP faculty and staff members committed to making a difference in the lives of people in the Paso del Norte region through high-quality education, PreK-16," said Natalicio. "The key has been my confidence in my colleagues whose willingness to challenge higher education policies and practices have transformed UTEP into a model national public research university delivering both access and excellence."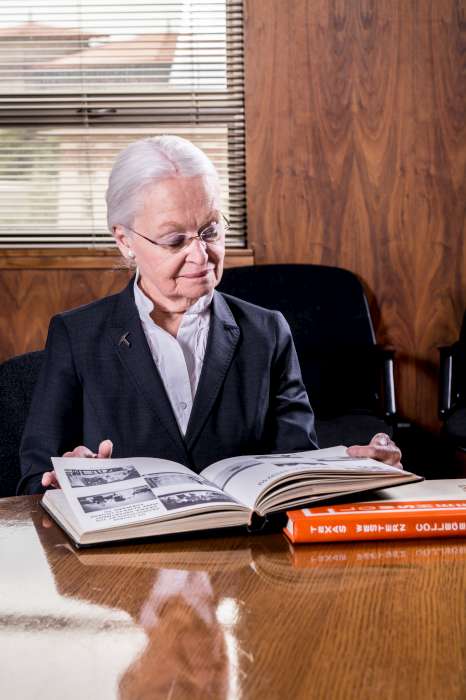 Dr. Natalicio on inspiration:
"People come to work at UTEP because they know we have created a climate that will foster their success. They also come here because they believe in UTEP's access and excellence mission. I have been inspired by many leaders throughout my career, especially those who are totally authentic in their leadership."
During Dr. Natalicio's tenure as president, UTEP's enrollment has grown from 15,000 to more than 25,000 students and UTEP's annual budget has increased from $65 million to nearly $450 million.  That success hasn't come without obstacles.
"The most difficult challenge has been the effort to increase awareness of the enormous talent of this region's population and of the potential that, through education, it offered for enhanced prosperity and quality of life for all of us," shared Dr. Natalicio.
It is that belief in UTEP's student body and the commitment to providing access and excellence that has resulted in an environment fertile with opportunities and inspires faculty and staff. The influence came early for UTEP Vice President for Student Affairs, Gary Edens, Ed.D.
"I met Dr. Natalicio as a student while I was serving in the student government association," recalls Edens. "She was supportive while I was a student, and her enthusiasm has always been infectious. Throughout my career here in various roles, I have benefitted from amazing mentors and amazing faculty members. That has constantly been one of this institution's strong points. She understands how important it is for the students to have that strength at their disposal, and she has made that our responsibility. I work harder every day because of her," he said.
Patricia Witherspoon, Ph.D., echoes Edens' sentiments. She worked for Dr. Natalicio for 17 years before retiring in August of 2017 as dean for the College of Liberal Arts.
"The most memorable, and sustained, characteristic of President Natalicio's leadership has been her devotion to educating students in the Paso del Norte region … thereby giving them national and international opportunities for their careers and their lives," said Witherspoon. "Staying true to that one principle will distinguish her presidency for decades to come. The second most important leadership factor she embodies is the inclusion of faculty and staff, at all levels, in all colleges, in UTEP's educational effort. It takes the collaboration of many campus leaders to educate generations of students. It can't be done by three or four people at the top of the administrative hierarchy. President Natalicio understands that and UTEP's success is a reflection of that understanding," she said.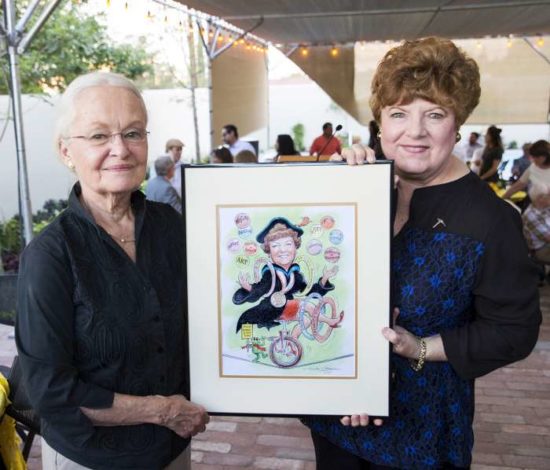 Dr. Natalicio's advice for women in business:
"I think the best advice I can offer is work to know yourself well, be confident and proud of who you are, and live your life as authentically as possible.
A large part of UTEP's transformation, led by Dr. Natalicio, is attributed to research. Annual research expenditures have grown from $6 million to more than $90 million per year, and doctoral programs from one to 22 during this same period. UTEP College of Science Dean Robert Kirken, Ph.D., leads The University's Border Biomedical Research Center on campus and says Dr. Natalicio is a continuous source of support and inspiration for students and the region and has made a huge difference in the way UTEP is able to serve the community.
"She recognizes that talent is not restricted by geography or economic status and has devoted much of her career to facilitating opportunities for students to engage and excel in their chosen fields of study," he explained. "Her impact has been significant and far-reaching, and the outcomes of her efforts are likely to be realized for many years to come. Dr. Natalicio's belief that a major research university can and should serve a 21st century student demographic was transformative and serves as a model for other institutions in Texas and the nation as our population continues to diversify," Kirken said.
There is no question UTEP is a regional economic driver and Dr. Natalicio has plans outside of the campus' current footprint. The university recently partnered with the County of El Paso on an aerospace venture at the Fabens Airport.  The Technology Research Innovation Acceleration Park (tRIAC) has already attracted top industry business leaders and is affording engineering students invaluable research opportunities.
"Dr. Natalicio is a phenomenal academic leader who challenged and rejected the 21st century common American academic norm of building excellence without access," said Ahsan Choudhuri, Ph.D., director of the NASA MIRO Center for Space Exploration and Technology Research and tRIAC project lead. "She is a frontier visionist who believed that talents exist in every zip code and every child in America should have equal access to higher education. Dr. Natalicio is a bundle of unstoppable energy, and her vision and tireless effort transformed a sleepy little university into a major academic and research powerhouse," said Choudhuri.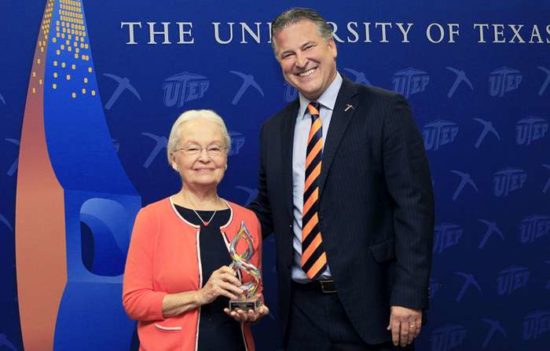 In 2017, Dr. Natalicio was named one of Fortune magazine's Top 50 World Leaders.  In 2016, she was honored with the Hispanic Heritage Award in Science, Technology, Engineering, and Math, and she was included on the 2016 TIME 100 list of most influential people in the world.  In 2015, The Carnegie Corporation of New York honored Dr. Natalicio with its prestigious Academic Leadership Award.  In 2011, the President of Mexico presented her the Orden Mexicana del Aguila Azteca, the highest recognition bestowed on foreign nationals.
The honors have brought UTEP global recognition but haven't distracted Natalicio. Though speaking requests are abundant and community functions draw lines of people for questions and photos, she remains focused and humble. She is curious by nature and never hesitates to ask students questions and find out about their work and their future plans.
"No matter how many national or international boards she serves on, no matter how many recognitions she and the university receive, she never loses focus and her total commitment to the students UTEP serves never wavers," said Estrella Escobar, assistant to the president. "At the core of every decision she makes is how to make life better for our students. Her vision of access and excellence is genuine, and at the end of the day, the voice in the room that always brings the conversation back to our students is hers," said Escobar.
A graduate of St. Louis University, Dr. Natalicio earned a master's degree in Portuguese and a doctorate in linguistics from The University of Texas at Austin.  She was inducted into the Texas Women's Hall of Fame, honored with the Distinguished Alumnus Award at The University of Texas at Austin, and awarded honorary doctoral degrees by St. Louis University, Northeastern University, Victoria University (Melbourne, Australia), Georgetown University, Smith College and the Universidad Autónoma de Nuevo Leon (Mexico).
When asked what else she would be if not university president, the answer goes back to her childhood.
"While growing up in St. Louis, I dreamed of being a baseball pitcher for the Cardinals," said Natalicio. "I'm sure that what I do now is ultimately far more satisfying than playing baseball professionally… especially because in retrospect, I don't think I had much of a curve ball."