By: Taylor Hines
Photos by: Sharilyn Wells
Brunch. You either cherish it as a commonplace gathering of friends and family to spend those fleeting hours of the morning that amalgamate into the lunch and early afternoon or you are on the side of the coin that views it as a term people yield to justify day binge drinking and finding yourself thigh deep in mimosas. Well, we went with the former definition. Food is a subject that transcends political, sexual, geographical and sociological walls. Breaking bread is one of the purest forms of human love that one can express; especially if the bread you break was forged by your hands, taken from the earth concerning the raw materials and brought together with labor, heat, and love. On an early Sunday morning, we got together with coworkers who we are fortunate enough to call friends and labored in a kitchen together. We shared laughs, advice, opinions and a few drinks. Looking through these photos and recipes, my only wish is that you take with you what it means to have connection with others, in the words of the late great Anthony Bourdain, "You learn a lot when you share a meal with someone." Rest easy chef.
Honey Lime Fruit Salad
By: Jesse Maynes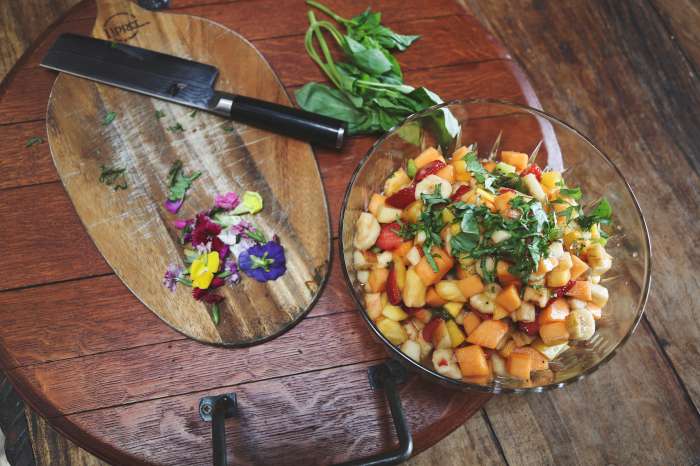 2 mangoes
½ cantaloupe
½ pineapple
2 kiwis
2 bananas
2 honey crisp apples
10 Strawberries
1 lime, large
4 tablespoons local honey
2 basil leaves, large
edible flowers for garnish (optional)
In a medium mixing bowl, juice and zest lime then whisk together with honey. Cover and set aside
Peel and chop fruit any way you'd like
Add cut fruit to lime honey mixture and stir. Make sure every piece of fruit is coated
Cover and let sit for minimum 4 hours refrigerated, natural juices will release and mix with honey lime mixture creating fruit salad liquid
Top with fresh cut basil and edible flowers just before serving
Sweet Potato Hummus with Herb-Rubbed Pita
By: Andy Martinez
SWEET POTATO HUMMUS
3lbs sweet potato, peeled and diced
4 garlic cloves crushed
4 tablespoons of tahini
2 tablespoons of smoked sea salt
1 pinch of pepper
1 large lime
1/4 cup of water
4 tablespoons of extra virgin olive oil
Mint (for garnish)
Place the sweet potato and garlic on a baking tray and drizzle with olive oil to evenly coat the vegetables, sprinkle with salt and pepper. Roast the potatoes and garlic in the oven at 400 degrees Fahrenheit for 45 minutes or until soft and slightly browned on the outside. Allow to cool at room temperature for 20 minutes. Blend in food processor while gradually adding water until smooth throughout. Add the juice of the lime, salt, and tahini until well incorporated. If the puree isn't smooth, add individual tablespoons of water until the desired consistency is achieved. Refrigerate the mixture in a covered bowl until 20 minutes before serving. Garnish with olive oil, large salt crystals and chopped mint leaves.
Do ahead: Hummus can be made two days ahead.
HERB-RUBBED PITA
1/4 cup of fresh parsley
1/4 cup of fresh mint leaves
1 tablespoon of dry thyme
1 tablespoon of dry oregano
2 tablespoons of lime juice
1/4 cup tablespoons of extra virgin olive oil
5 pocket pita breads
Finely chop the parsley and mint. Place in a ramekin and add the dry thyme, oregano and lime juice. Slowly pour in the olive oil while mixing until completely incorporated. Evenly rub the mixture onto both sides of each pita bread and grill until lightly crisp. Chop each bread into fourths for dipping.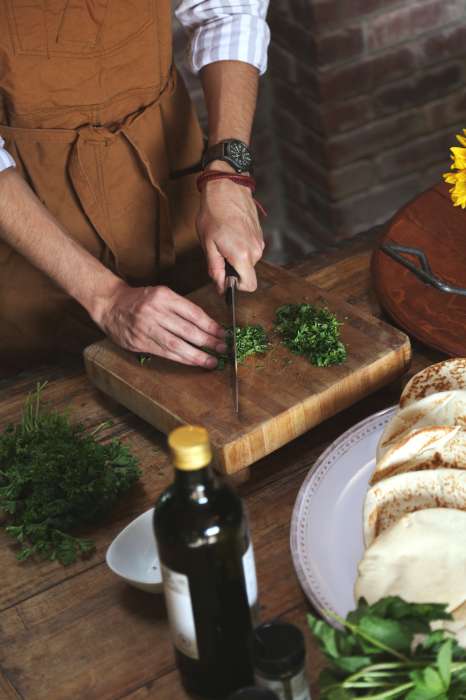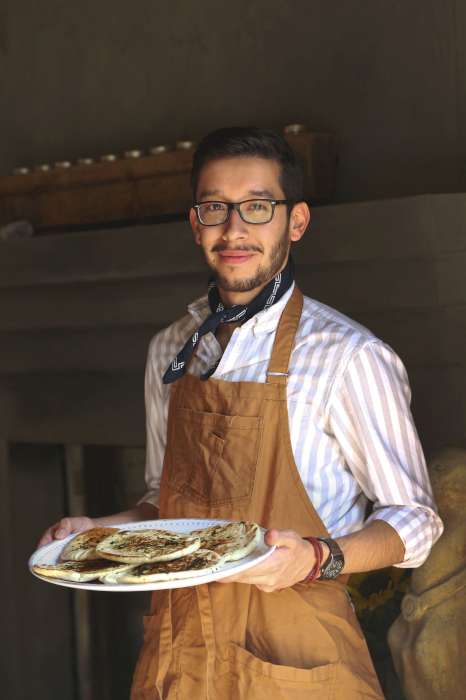 .
Rosemary Grapefruit Old Fashioned
By: Taylor Hines
Photo By: Jesse Maynes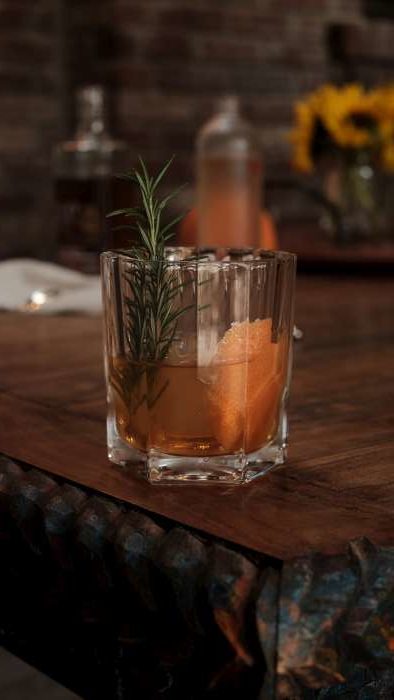 Ingredients:
Rosemary Simple Syrup (recipe below)
4-5 Rosemary Sprigs
Water
Sugar
Whiskey or Bourbon of your choice
Grapefruit
Bitters
Large Ice Cube
Rosemary Simple Syrup
1.To make rosemary syrup combine equal parts water and sugar in a medium saucepan on low heat. Stir mixture until sugar is dissolved and then add in a few sprigs (4-5) of fresh rosemary.
2.Keep heating until it begins to simmer and then remove from heat. Leave the sprigs in the sugar/water mixture for 10 minutes and then remove.
3.Let cool before use (can store for extended periods of time)
Rosemary Grapefruit Old Fashioned
Take a rock glass or any other short glass and fill with .25 oz of rosemary simple syrup and 2 dashes of bitters
Pour 2 oz of bourbon (Bulleit works well) into glass
Take a sliver of grapefruit skin by peeling with a paring knife. Twist it into the glass so it releases the oils and drop it in
Add a large ice cube (Round or cubed)
Stir until well combined.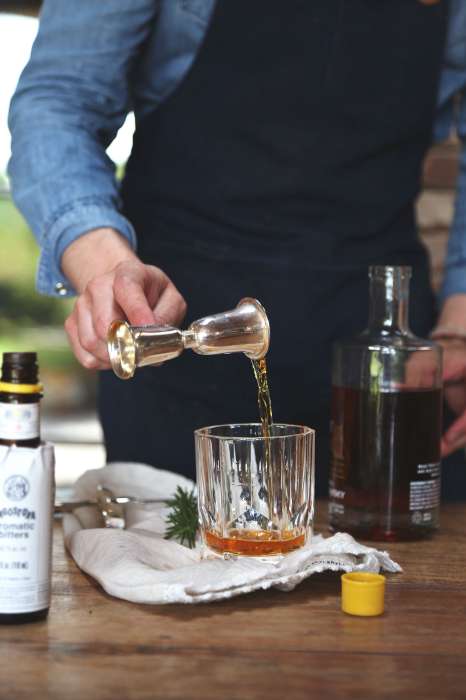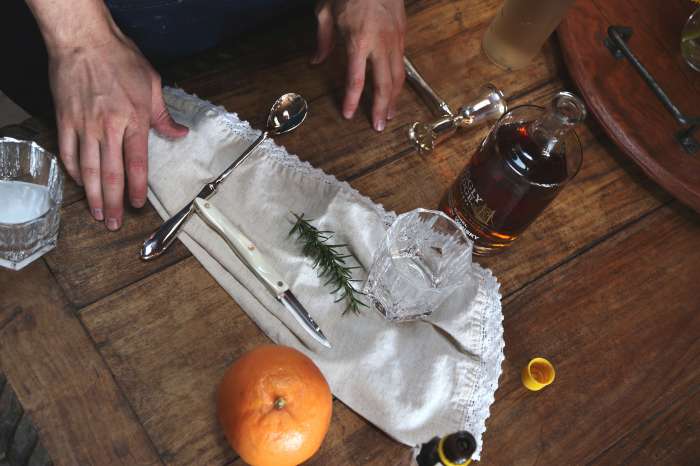 Shakshuka
By: Taylor Hines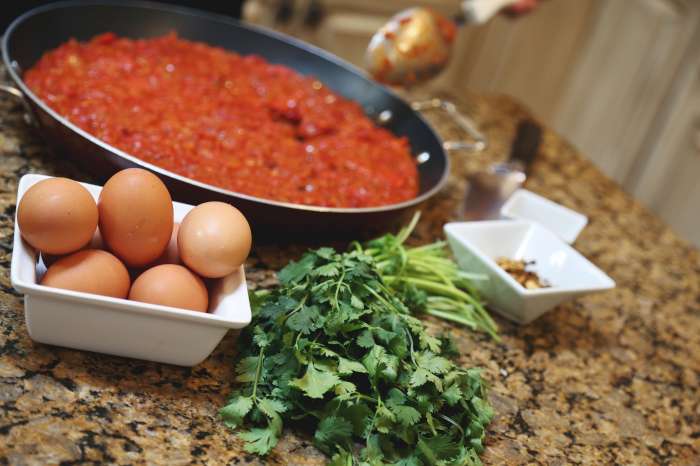 Ingredients:
¼ cup and two tablespoons olive oil
8 cloves garlic
1 ½ teaspoon cumin seed, crushed
1 ½ teaspoon caraway seed, crushed
2 onions, medium, finely diced
1 tablespoon red chili flakes, optional
two 12 oz. jars roasted red peppers
one 24 oz. can crushed tomatoes
1 tablespoon smoked paprika
½ tablespoon curry powder
¼ cup sambal oelek
Salt /Pepper
6-8 medium sized Eggs
½ feta cheese, crumbled
½ bunch cilantro, garnish
Heat ¼ cup olive oil on medium heat in heavy bottomed 14in pan
Take 3 cloves of garlic and cut into evenly sliced chips/slices and combine in small bowl with cumin and caraway seed.
Add seed and garlic mixture to hot pan. Stir the mixture regularly until seeds become fragrant and garlic begins to brown around the edges.
Remove the garlic and seed mix from oil and drain on a paper towel, allowing it to dry. Keep infused oil in pan for further use. Season seed mixture with salt and pepper and return pan to medium low heat.
Mince remaining 5 cloves of garlic, and finely dice 2 onions.
Add garlic and onion to infused oil, stirring regularly until onion becomes translucent. Add red chili flakes (optional)
While garlic and onion cook, drain both jars of roasted red peppers and coarsely chop into large chunks.
When onion becomes translucent add roasted red pepper and stir to combine.
Let roasted red peppers simmer in pan for 5 minutes, while stirring regularly.
Add sambal oelek to peppers, stir to incorporate, let simmer for another minute.
Add crushed tomatoes, curry powder, smoked paprika, and a few grinds of sea salt and pepper. Stirring to mix.
Bring mixture to a medium heat creating a low simmer (looking for small bubbles of air to begin forming) and continue to mix so it does not burn or heat too rapidly. After 10 minutes, turn heat to low and cover. Simmer for 20 minutes allowing flavors to combine.
Remove pan from heat, take the back of a large spoon and create 6-8 divots. Carefully crack your eggs into each divot so they rest within the base, not sit on top. Salt and pepper each egg.
Return pan to stove on low heat, evenly sprinkle with feta, cover and cook for 6-8 minutes. Alternatively, entire pan can be finished in a 350-degree oven for approximately 10-12 minutes. We are looking for "jammy eggs"—solid whites but runny yolks
Garnish with garlic and seed mixture, fresh cilantro, and drizzle of remaining olive oil.
Serves well with a thick and crusty bread and hot sauce.